World Watch News is a blog sponsor and we received this product free for the purpose of reviewing it. All opinions expressed are my personal, honest opinions. You can read my full disclosure policy for more details.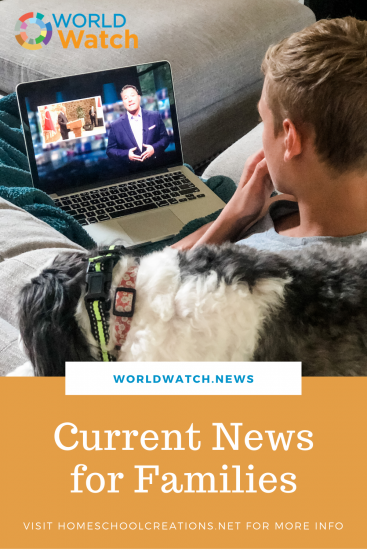 Talking about current events, especially when it involves politics, isn't typically something at the top of my list. Do I try to stay on top of what is happening in the world around us? Absolutely. However, when it comes to getting my kids involved – well, that's where things get a little more iffy.
More and more, we are inundated with news stories on every known topic and from a variety of views and opinions. Some of those news stories involve difficult or sensitive issues, and of course we don't want our children stumbling onto something inappropriate. That said, we do want our kids to be aware of what is happening in the world around us and intelligently take part in conversations about important topics.
This year, the boys and I have started watching a new subscription-based video program: World Watch News. The program is targeted toward middle and high school students (younger students may participate as well, but parents may want to watch a few episodes before everyone jumps in). We are really enjoying the format and have found a few ways to use the 10-minute weekday program to add learning opportunities to our homeschool day.
What Families Need to Know about World Watch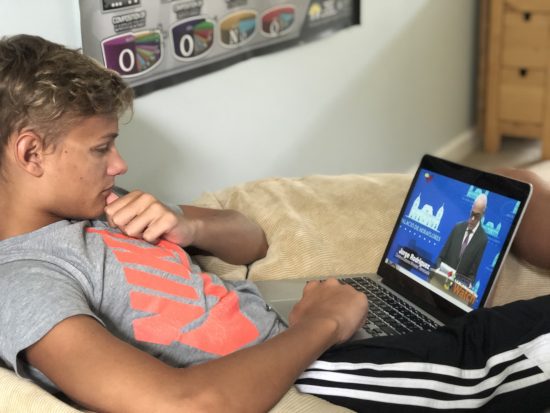 In each weekday 10-minute video segment, viewers learn about a variety of topics: science, technology, politics, arts and culture, politics, natural disasters, and more. The stories are short, but well-developed, allowing students the opportunity to hear top news stories and discuss opinions after hearing the news briefs.
WORLD Watch delivers the news with age-appropriate current events, including issues ranging from science and technology, business and economics, natural disasters, military action, family and society, arts and culture, politics, and more. The program is the newest offering from the trained Christian journalists and editors at WORLD News Group, a news organization producing daily coverage of global, national, and cultural current events, with news stories and commentary grounded in facts and biblical truth.
Parents will enjoy watching the series alongside their children as well (in fact, I would recommend it). Set aside some time each day to talk about at least one of the stories in depth with your children.
Be sure to watch my video review as well, where you'll see a bit of the site and can hear my thoughts in person – because sometimes it's nice to hear instead of just reading!
Our Thoughts on World Watch News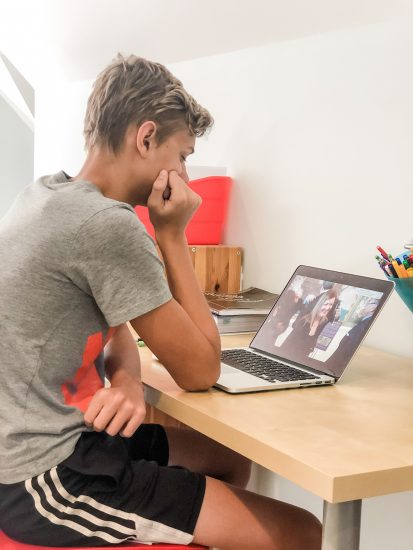 The daily segments have opened up some great conversations between the boys and myself regarding some of the recent news stories (COVID-19, wildfires in California, Supreme Court justices, and our upcoming election). Even though we're all in the same family, we do have some different perspectives on issues, so this has been a good exercise in sharing differing views with grace as well.
Each day's news segment include some "feel-good" portions as well, looking at stories that are happening around the world. Over the last several weeks, they have covered the restoration of Michelangelo's Bandini Pieta, street-side classes in India, the US Open, and a look at the jury systems in the United States.
In addition to watching and discussing the program together daily, we're using World Watch News to work on writing activities with our boys. After the program is over, the boys take a few minutes to summarize their thoughts on our daily news summary sheet (see end of post for the download).
For us, this has been a great way to "see" how the boys are interpreting what's happening in the world around and also discuss how friends or others are viewing the same situation. While we don't want our kids to just mimic us and our beliefs, we do want them to dig deeper and understand WHY they believe what they believe, and we are thankful we have the opportunity to be a part of that process!
One thing that I appreciate, especially with all the crazy that seems to be happening lately, is WorldWatch.news always brings the focus back to the key point: "Whatever the news, the purpose of the Lord will stand." No matter where you stand on issues right now, that alone is a gentle reminder and encouragement to me each time – and there are many days I need to repeat it.
In short, do we love it and recommend it – yes. And we're positive it would be a great addition to your home as well.
Start World Watch in Your Home!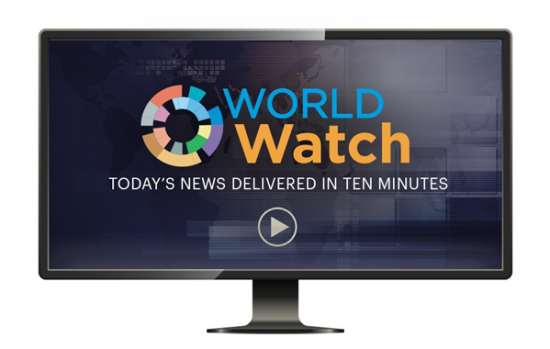 Families can start their World Watch News subscription with a monthly option ($9.99/mo) or a yearly subscription ($79.99/yr).
Homeschool Creations readers will receive a SPECIAL limited-time rate of $69.99/year using THIS LINK.
Want a look at how WorldWatch.news is put together? Be sure to visit them on these platforms for video clip samples as well as a full episode:
WorldWatch.news | YouTube | Instagram | Facebook
Recommended ages: middle and high school. Parental pre-viewing is recommended for lower grades – you know your kids and what they are ready for. :)
---
Download the News Summary Printable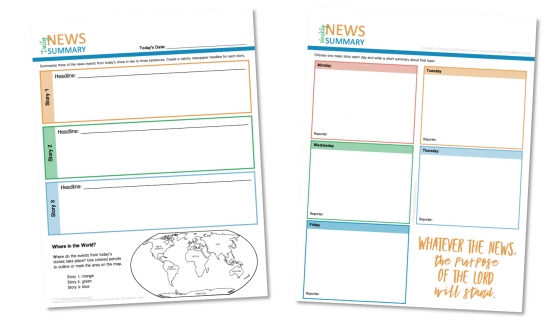 If you'd like to add WorldWatch.news to your daily homeschool time and also use the printable news summary we created, feel free to download it by clicking below!