Ready to start working on time management and study tracking with your kids? These Student Planners will help students keep up with assignments, projects, exams, and important dates for school while simplifying YOUR day.
Our kids worked together with me to create a larger planner (8.5″ x 11″) to use since the half-sized planners just didn't have enough space for them to fit it all in. The result is a student planner that we all love.
These Student Planners are FULL of color, have plenty of space, are undated, and can be reprinted each year to bind however you choose. Having an undated planner allows students to personalize it more to their liking. It also means that the planner is good for years to come. Students have a chance to sit down and set it up the way they want to – one step in taking ownership of their studies.
Inside the Student Planner
Want a peek inside? I promise it's super simple – because we found we really didn't need so much extra stuff – but it's FULL of color and ready to download and print.
A quick note: I figured out that our printer will print BORDERLESS. It was one of the paper choices in settings. In the video you'll see some of the pages that we experiments with (ones that were or weren't printed all the way to the edge). Our front and back covers were printed onto cardstock and then laminated for extra durability. We use a heavy weight paper (24 lb.) to print the planner and make the pages a little thicker.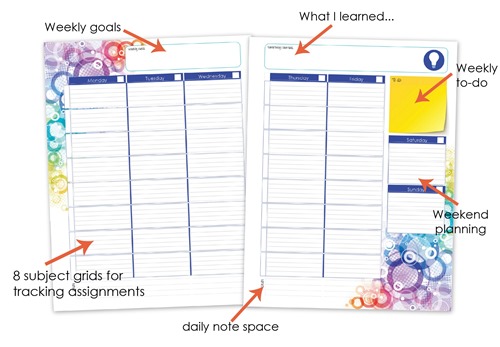 The Student Planner contains :
8 1/2" x 11" undated pages – use it year after year!
Year at a glance dates
Student information and schedule page
12 blank monthly planning pages
Weekly planning pages for 8 subjects
Planning for every day of the week (smaller spaces for Saturday/Sunday)
Goals, notes, and 'what I learned' section
Tracking for books read
2 layouts: August through July or January through December
Two Great Designs
Choose the student planner that best fits your family's needs – or choose both (there's a special bundle price for purchasing two).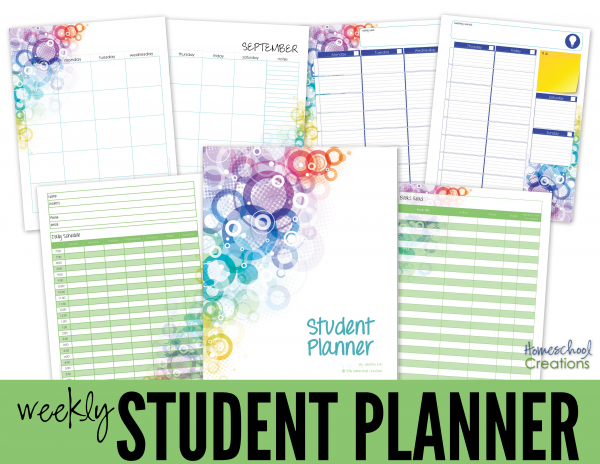 The abstract circle graphic student planner features the colors green, dark blue, and a turquoise blue color for the monthly layouts.

The hexagon graphic student planner features the same inside layout with the colors green, orange, and a medium blue for the weekly layouts.
Purchase a Student Planner
This student planner is undated so you have the option of printing off a new copy each year. Each planner is available for $10 and you are more than welcome to print off copies for each of your children – this year and in years to come. Purchase both planners together in a bundle and save even more!
Your purchase also allows access to a 'buyers only' page where optional pages will be added including additional dated covers and other pages as readers/users request.
The Student Planner is only available as a pdf download and prints off double-sided. There are THREE different purchase options. Choose from the following:
Also Available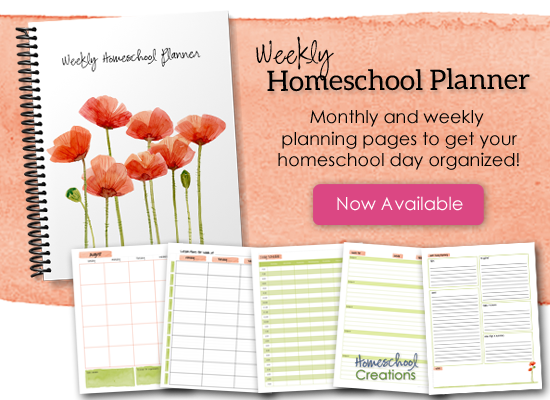 If you love our Student Planner, be sure to check out our Weekly Homeschool Planner as well. It's packed with a heap of organizational helps for mom to get the homeschool year in order.