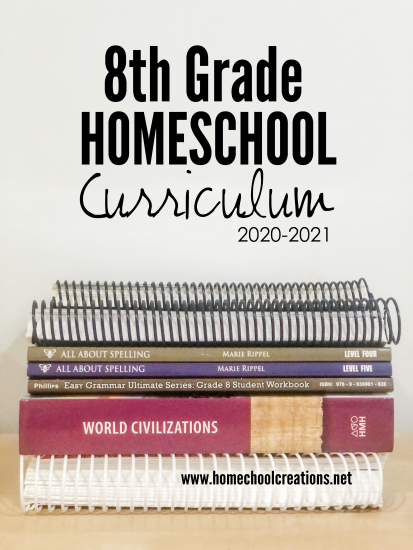 Again this year we've made a few changes to curriculum pieces in an attempt to follow along with our 8th grader's learning styles and help him better manage the areas he struggles – and exceeds!
We'll be focusing on more writing this year and hitting spelling hard as well, but I am really excited about some of the options we have to use now that will (hopefully) work alongside with the other programs we use and still allow him independence in his studies.
That said, below you'll get a peek at our 8th grade homeschool curriculum choices for Kaleb – a look at the new (and favorite) programs we are using for the upcoming school year. An * depicts curriculum/programs that are new to us this year.
New to Us This Year
A few of the new pieces we are using this year (and are really excited about) are highlighted below. We are a little late sharing our picks, so at this point we're about five weeks into our school year, and so far they are all working GREAT!!
History
One thing that we are looking forward using is the World Civilizations program and the interactive version that it provides. Kaleb has been using both the book and listening to portions of the text online via their iPad app. He is able to log in using his student account and also has access to go-along videos that tie in with what he is learning in the lessons.
Typing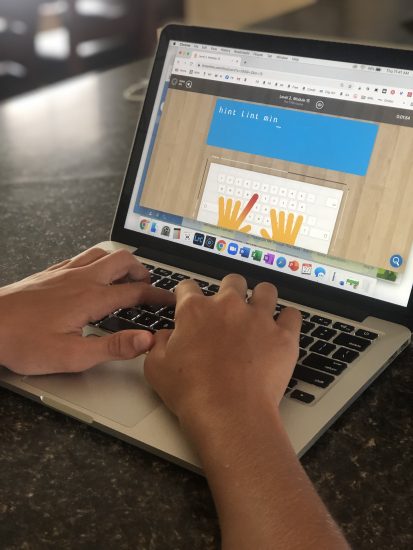 Earlier this year a friend told us about Touch-type to Read and Spell and Kaleb is REALLY enjoying this so far. He is able to work through about 5 lessons every day (essentially working through each module in 5 to 6 days.
Essentially it focuses on both typing and phonics based spelling by embedding word groups within the typing lessons. Kaleb can use help in both typing/keyboarding and especially in his muscle memory on spelling certain words.
Daily News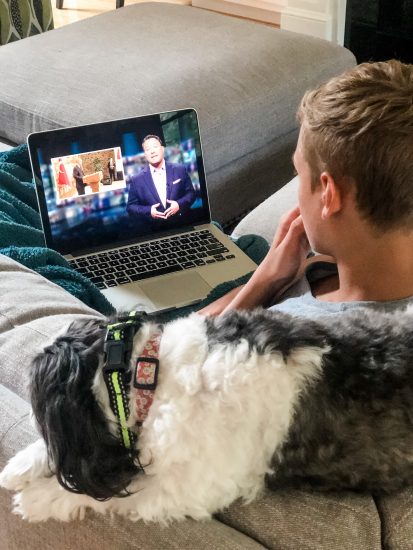 We've tried to stay current with the news, and this year we are using WorldWatch.news each morning and adding in some writing summary along with our 10 minute news segment. Another part of the day we are really enjoying – especially the perspective.
Co-op Learning
There's really only one other person that Kaleb will be spending time with this year (aside from swim team each day), and that's his best friend Caleb. Last year they worked through the first year of The Rainbow program for science and they will continue this year with a weekly lab time after working on their lessons at home.
For Kaleb, it's a fun chance to get together with another family (and especially his friend) – and have a chance to actually talk. :)
Curriculum in Year's Past
In case you are interested in seeing the curriculum that brought us to this point, here's a peek at what we've used with Kaleb the past few years: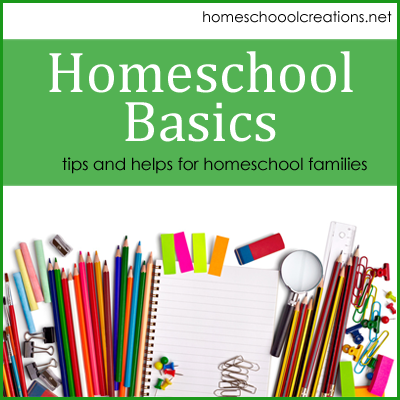 If you are new to homeschooling and aren't sure where to begin in choosing homeschool curriculum, please don't let this post overwhelm you! Check out the entire Homeschool Basics series for answers to more frequently asked homeschool questions.