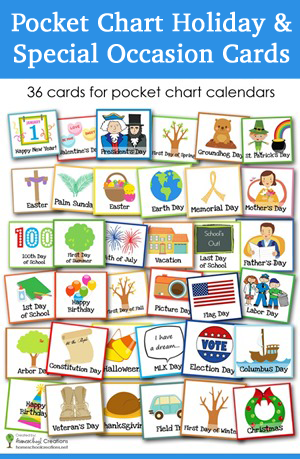 Ready to add a little cuteness and fun to your daily calendar? With the Pocket Chart Holiday and Special Occasion Calendar Cards, you can keep track of the special days throughout the year during your calendar time! The pdf set includes 36+ cards to help you celebrate the fun together!
Buy the Holiday and Special Occasion Cards for $1.00
Cards included in the set:
100th Day of School
Arbor Day
Birthdays (multiple colors for boys or girls)
Christmas
Columbus Day
Constitution Day
Earth Day
Easter (religious and non-religious)
Election Day
Father's Day
Field Trip
First Day of… School, Spring, Summer, Fall, & Winter
Flag Day
Fourth of July
Groundhog Day
Halloween
Labor Day
Last Day of School
Martin Luther King Jr. Day
Memorial Day
Mother's Day
New Years Day
Palm Sunday
Picture Day
President's Day
St. Patrick's Day
Thanksgiving
Vacation
Valentine's Day
Veteran's Day
Directions for Use:
Print the pages onto cardstock, laminate for durability, and cut apart before using. Add them to your pocket chart (or other) calendar.
Is there one missing that you would like to see added? Please feel free to email me at homeschoolcreations@gmail.com and ask! I'd be happy to put them together for you!
Buy the Holiday and Special Occasion Cards for $1.00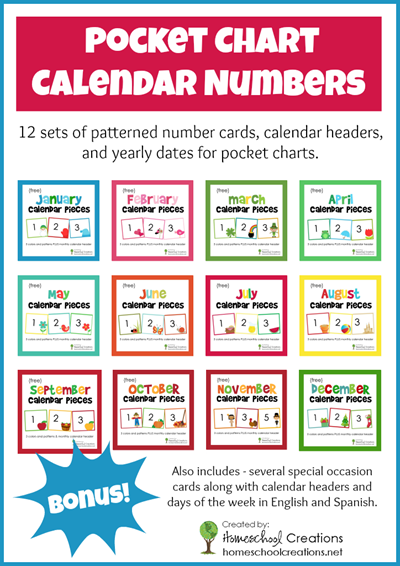 Don't miss the Yearly Pocket Chart Calendar Numbers that would also be a great addition to your calendar time. Each of the 12 months includes a calendar header and 3 sets of number cards that can be used to work on pattern sequences with children: an ABC pattern, ABAB pattern, AABB pattern and other patterns you can make up together.
Images Copyright © KPM Doodles, Little Red's Schoolhouse, Maree True Love, Miss Kate SVG Cuts, BaBa Puff, Digital Bake Shop, JW Illustrations, Pretty Grafic, Zenware Designs, Stockberry Studios, Sanqunetti, Kevin P, Olilliia Illustrations, Maddie Zee, and Jazzy Patterns. All rights reserved.