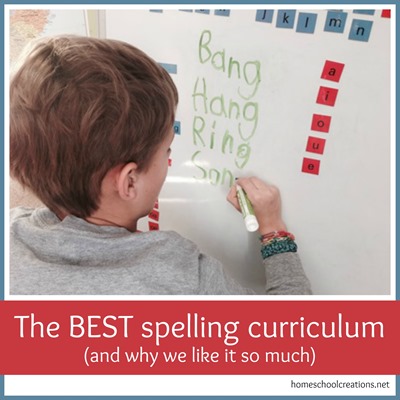 Six years ago our family started using a homeschool spelling curriculum that literally changed the way I looked at curriculum overall.  All About Spelling helped me realize that I COULD teach a subject with confidence, and there were programs available that would reach a variety of learning styles while still keeping life simple for me as a mom and teacher.
Our kids are at different spelling levels now, ranging from Level 1 up to 6, and All About Spelling has been a fabulous addition to our homeschool curriculum. (I have to admit that I am a bit sentimental over the fact that our youngest is just about finished with the first level – and I honestly don't want to give it up!) Each of our children has used the program a bit differently than other siblings, but that is the true beauty of All About Spelling – you can adapt it to fit your family! We are all hooked on the program and look forward to spelling time together each week.
A Quick Look at the Spelling Curriculum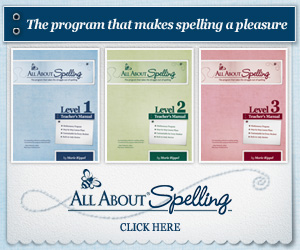 All About Spelling teaches phonograms, spelling rules and patterns, word segmenting, syllables, and so much more.  It is an easy step-by-step spelling curriculum with multisensory lessons that focuses on spelling mastery. The program is based on Orton-Gillingham methods combined with the latest research.
Ten Reasons to Love All About Spelling
Each of our children has used the program a bit differently than the others, but that is the true beauty of All About Spelling.
The lessons are amazingly easy to follow.  Step-by-step lightly scripted plans are given for each lesson in the level being worked on, letting the teacher know what materials are needed. Each lesson also includes 'teacher tips' to explain various concepts and rules.

Lessons can be customized to your child's specific needs. When we first started, we went through the early lessons rather quickly. Now we pace the lessons based on a rate that is comfortable for each child, making sure concepts have been mastered.

Each lesson includes opportunity for review. Lessons Each include a way to review the steps and rules that have been taught in previous lessons, along with reinforcement for the rules that were learned during that lesson.

The materials are hands-on and geared toward a variety of learning styles

. Whether your child is a hands-on, auditory, or visual learner – or anything combined – there is something in the program to help! One of our favorite parts of All About Spelling are the magnetic letter tiles used spell out the words and sounds that are being practiced. Each level also includes flashcards for review. This hands-on aspect has really helped the learning with two of our children. (Not sure about your child's learning style –

check out this post

for a little help.)

The focus is on spelling strategies, not on spelling list memorization. Rather than handing your child a list to memorize and practice, All About Spelling focuses on the rules behind spelling. If there are any exceptions to the rule, they are covered as well (the English language can be tricky, and even I've learned a thing or two over the years!).

Concepts are taught one at a time and introduced at appropriate levels. Let's face it – it's easy to get overwhelmed with all the different rules and phonograms. In All About Spelling, a concept is taught, practiced, and then continually reviewed in upcoming lessons to make sure that mastery is achieved.

The lessons are short and effective. Each lesson takes between 15-20 minutes to complete, but the objectives are clearly stated and there isn't any prep time required. (No excuses for not working on spelling now!)

It is a complete curriculum from preschool to high school. There are seven levels in the program. It's a one-stop spelling curriculum, and I LOVE that! Our oldest is currently 7th grade and working on level 6, but

The program is non-consumable. For our family of four, this is a huge help! Both the teacher's manual and student materials can be re-used with younger children because NONE of it is consumable! That adds up to a huge savings when the cost is spread out between children – AND it can be sold when the level is finished.

The company has a fabulous guarantee and support

. There have been times that I've had questions over the years, and the office support has been a HUGE help to me. In addition,

All About Learning Press offers a wonderful guarantee

– you have a FULL YEAR to try out the All About Spelling program. If it doesn't work for you, just return the materials at any time within one year and they will give you a full refund. (That's how much they believe in their program).
Get Started with All About Spelling

Spelling Materials (Teacher's Manual and Student Packet)

: Each level of

All About Spelling

comes with a materials packet that includes flashcards,  a progress chart, a completion certificate, and other tools to help you teach. The program also uses letter tiles that can be used in all seven levels. The letter tiles are not included in the material pack of each level (so that you wouldn't have six sets). If you are teaching more than one student at a time, you can order additional materials packets.  

Spelling Interactive Kit

: The

basic or deluxe interactive kit

is used through all seven levels of All About Spelling – and you only need to purchase one (even if you are teaching multiple children). Kit components can be purchased separately – I personally recommend buying a few extra

review boxes

and

divider cards

to store all of the cards for the seven levels. Don't miss their

FREE phonogram sounds app

either!
There is nothing that I haven't been pleased about with this curriculum – seriously! If you are interested in learning more about how to teach using All About Spelling, know that they a 100% learning satisfaction guarantee. This is definitely a program that we recommend – and also that you check out their homeschool reading programs!
Not sure where to begin? Find out if your child is ready to begin spelling or determine what level to start with by visiting the All About Spelling site.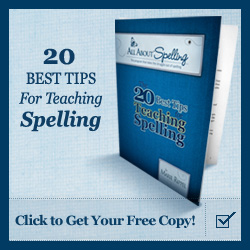 New to Homeschooling?
If you are new to homeschooling and aren't sure where to begin in choosing homeschool curriculum, please don't let this post overwhelm you! Here are a few posts that you might find helpful as you discover what is best for your family. Be sure to check out the entire Homeschool Basics series for answers to more frequently asked homeschool questions.
This All About Spelling Review was written based on our personal use of the program over the past six years.