At a homeschool convention a few years ago, I sat in on several sessions by Adam Andrews from Center for Lit. After pouring for quite some time over their resources, one of the books that made it into my bag was Reading Roadmaps: a Literary Scope & Sequence for K-12. Since that day, there are multiple dog-eared pages in the book and it has become one of my favorite helps for choosing books for our children.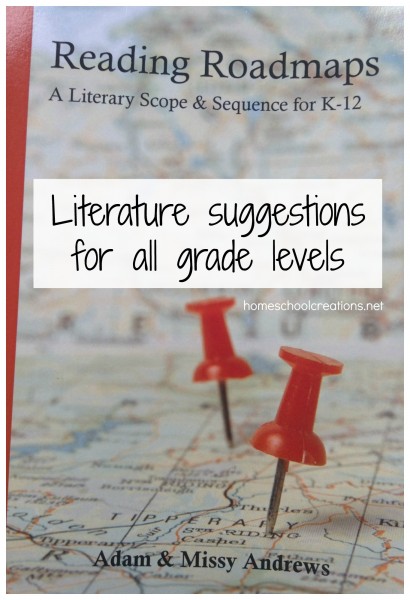 When I shared a post on Instagram about this book and immediately received several emails from readers asking to know more about the book (and why I liked it). So – here goes! For those of you wanting a peek inside the book, watch the video clip below.
feed subscribers can view the video here
Reading Roadmaps contains and entire year's literature suggestions for each grade level from K-12. The lists are sequential (so they build in difficulty) and multiple models are provided. You can choose a weekly, monthly, six week, quarterly, or seasonal model which will vary the reading and study time.
Each book title recommended includes the following: plot summary, conflict, story themes, stylistic devices used (alliteration, rhyming, etc…), additional resources if available, and an alternate story suggestion. The last few chapters of the guide offer a variety of literature teaching helps: assigning and grading essays, grade level objectives, grading and credits, and time periods in the history of literature.
Overall, this has been a great 'go-to' resource for me and is how I am building each of our children's literature lists for the year and one that is kept handy and within reach.
Reading Lists for Our Children
Interested in seeing reading lists for our children this past year? Check out some of our past reading choices by clicking on the images below.