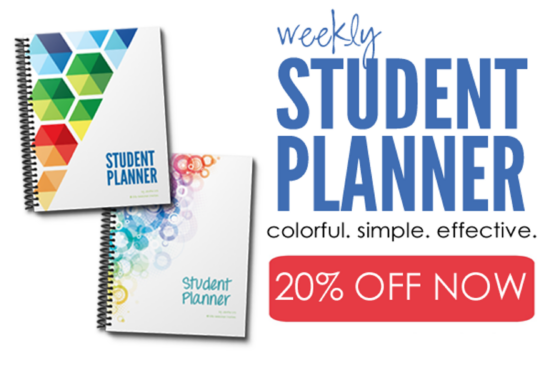 This Student Planner was the PERFECT fit for our our kids during their middle and high school years. It's full of color (which they loved), very simple in layout, and helped them track all of their studies and goals each week. That made my job so much easier as they took responsibility for tracking their daily work.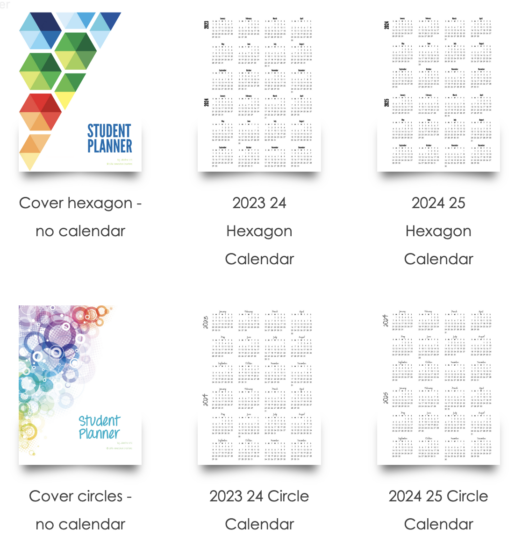 Because it is an undated planner, the front cover needs to be updated every now and then with a new calendar year. For those of you who have purchased the planner in the past, there is a bonus (password protected) download page where you can find updated covers each year.
If you haven't purchased a copy and are wanting to help your students get a little more organized this year – read on and see how you can save 20% on a copy of the Student Planner (through 8-31-23).
Inside Our Student Planner
Want a peek inside? I promise it's super simple – because we found we really didn't need so much extra stuff, full of color, and ready to download and print.
A quick note: We printed our planners using the BORDERLESS option in our printer settings. In the video you'll see some of the pages that we experiments with (ones that were or weren't printed all the way to the edge). Our front and back covers were printed onto cardstock and then laminated for extra durability. We use a heavy weight paper (24 lb.) to print the planner and make the pages a little thicker. We then had it spiral bound at Staples for about $5.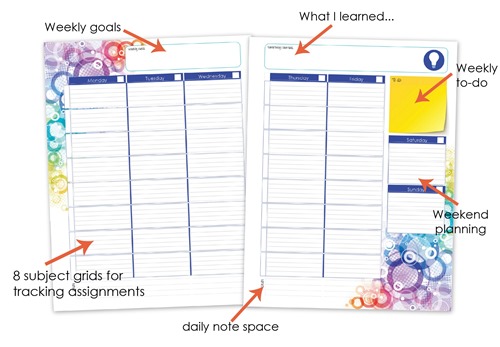 The Student Planner contains :
8 1/2" x 11" undated pages – use it year after year!
Year at a glance dates
Student information and schedule page
12 blank monthly planning pages
Weekly planning pages for 8 subjects
Planning for every day of the week (smaller spaces for Saturday/Sunday)
Goals, notes, and 'what I learned' section
2 layouts: August through July or January through December
Bonus download page link – some extra pages that are added as requested, including an address page, updated covers, field trip trackers, books read tracker, note pages, and days to remember (link is on last page of planner)
Two Great Designs
Choose the student planner that best fits your family's needs – or choose both (there's a special bundle price for purchasing two).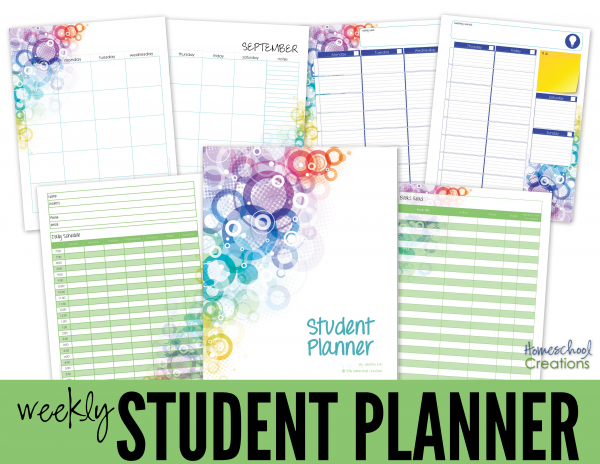 The abstract circle graphic student planner features the colors green, dark blue, and a turquoise blue color for the monthly layouts.

The hexagon graphic student planner features the same inside layout with the colors green, orange, and a medium blue for the weekly layouts.
BONUS Download Pages
Your purchase also allows access to a 'buyers only' page where optional pages will be added including additional dated covers and other pages as readers/users request.
Purchase a Student Planner
This student planner is undated so you have the option of printing off a new copy each year. Each planner is available for $10 and you are more than welcome to print off copies for each of your children – this year and in years to come. Purchase both planners together in a bundle and save even more!
The Student Planner is only available as a pdf download and prints off double-sided. There are THREE different purchase options. Choose from the following:
SAVE 20% when using the code STUDENTORG until August 31, 2023 at 11:59 pm