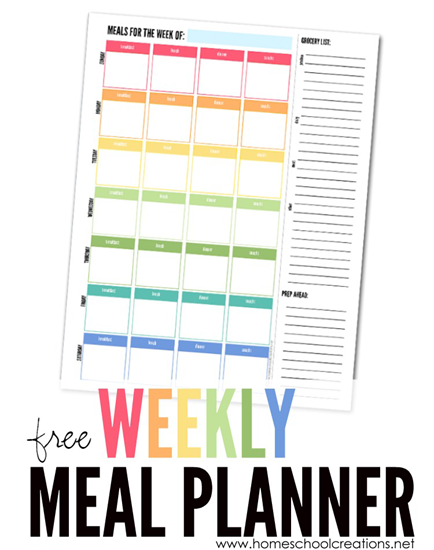 While I am a huge fan of planning my meals a month at a time, the last few months I've focused more on a week (or two) at a time. Our schedule has been very different this last school year and blocking things out in shorter segments was a way my brain coped a little easier – enter a weekly meal planner.
But of course that needed a pretty printable to go along with it. Because pretty = more fun and useful, right?
In a little over a week, I'll be sharing more on meal planning when I speak at Teach Them Diligently, but you all – this weekly meal planner is something I can quickly plug meals into using my Main Dish Menu Planner, write up a quick grocery list and be DONE in under 15 minutes. I may have timed myself this past week and it was actually a smidge over 10, but I'm not competitive or anything.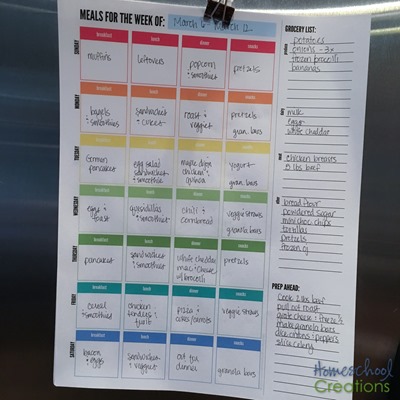 The Weekly Meal Planner printable is 8.5" x 11" and ours is hanging from a simple binder clip and a small 3M adhesive hook on the front of our fridge. I'd use a pretty magnet, but our fridge isn't magnetic. (I'm not bitter.)
There are two versions available to download: one that runs from Sunday through Saturday and a second version that shows the week Monday through Sunday, depending on how you plan your week out.
A Look at the Weekly Meal Planner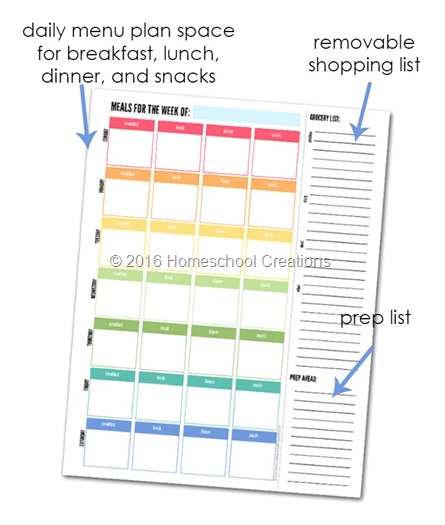 There is plenty of room to write out breakfast, lunch, dinner, and snack plans for the day. And think of it this way – when it's hanging on the fridge for all to see, it will field about 3, 276 questions each week alone and stop constant barrage of the question "What's for breakfast/lunch/dinner/snack?" Not that every single one of my kids asks the same question. Repeatedly.
(Keeping it real here.)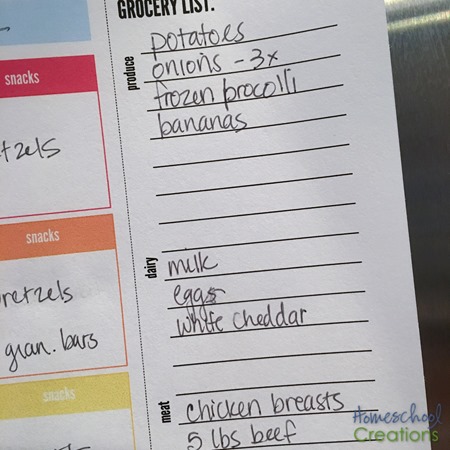 Cut/tear the shopping list off once you fill it out and take it grocery shopping (or leave it at home, like often do. I find the challenge of trying to remember what is on the list so much fun, don't you?).
On a side note, I highly recommend these pens to use for anything – because they erase and make it so much easier to move things around on the plan if needed. I only mention this because I am the type of person who wants to use pen, but then when I make a mistake the crossing off and mess of the paper can drive me batty…and I may print off another sheet to redo it. These pens are saving trees all over the world from my craziness.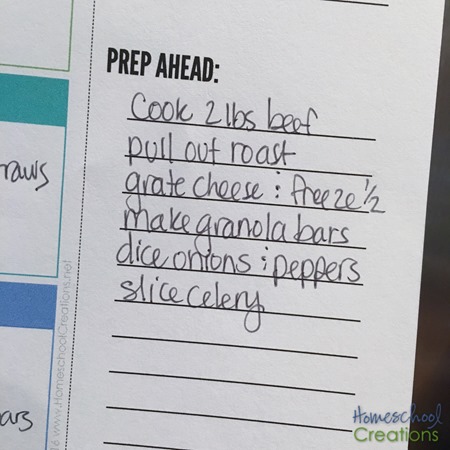 There's also an area to make notes on what you can prep ahead of time. This week I needed to remember to pull some things out of the freezer, cook a little meat, and spent some time on Sunday prepping veggies and putting them in the fridge so I could be ready to go each day for meals.
Download the Weekly Meal Planner
If you'd like to use the Weekly Meal Planner, feel free to download a copy below. (p.s. would you pin and share if you love it? Thanks!)