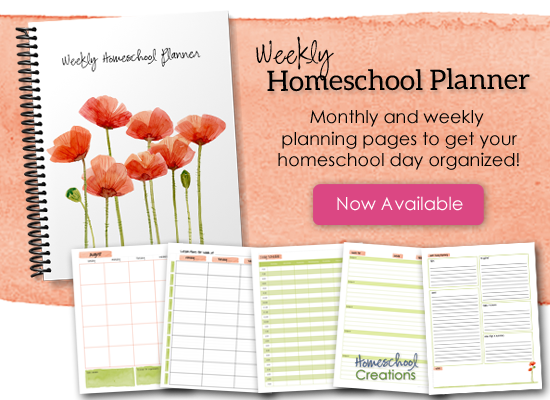 For the past three years I have been working on something behind the scenes, but never got around to actually DOING anything about it – as in sharing it with you. If I'm being honest there are a lot of things I've started and never completely finished. The main reason is perfectionism.
It's something I've struggled with for a very long time. While it may seem like I procrastinate on projects (which I do, in a way), the honest truth is – if it isn't matching up to what I picture in my head, something inside me shuts down and doesn't keep going. My brain has a million ideas, and there isn't enough time. I can't get it put together the way I envision, so it gets pushed aside.
The last few years have been a process of me working toward getting over that hump, one baby step at a time. I'm definitely not all the way there yet, but maybe you can relate?
One of the things I've been working on is a paper and pen version of my homeschool planner. I've been using it the past few years and love it – it's simple but pretty. Efficient. While I love my other planner, staying off my laptop during school time has been important to me. This planner makes me smile (and that's a great thing) and keeps my focus on the four people in front of me, rather than off on a rabbit trail. For my brain too, putting pen to paper really helps me connect the dots and remember things.
Because I love it so much, I really want to share it with you all – and I truly appreciate your patience in waiting with me. I'm still tweaking a few things, but the best part is, I can share those tweaks via a bonus download page available only to those who purchase the planner!
A Peek Inside the Weekly Homeschool Planner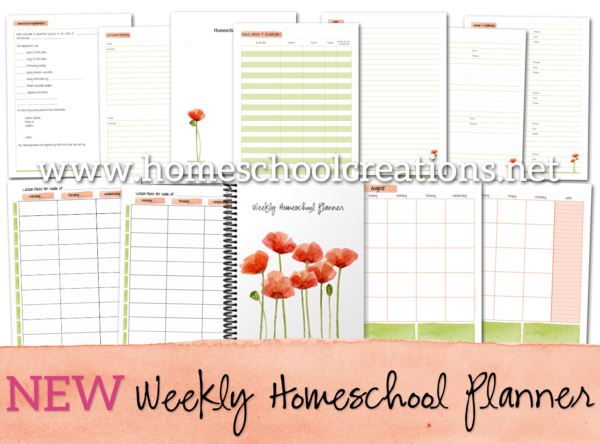 A few things to know about this planner:
8.5" x 11" undated pages – over 150 pages to use year after year (just like our Student Planners)
Colorful – not overly crazy, but subtle. Pretty makes planning fun!
Plenty of room for both weekly planning and a month-at-a-glance overview.
10 subject areas with lined planning space
Planning pages include a month-at-a-glance, a weekly layout, homeschool vision, homeschool requirements, curriculum planning, daily schedules, and more.
Bonus download page (password protected) where you can find additional pages to add to your planner: curriculum wish list, field trip planning, goals for children, names/addresses, notes, unit planning, yearly attendance, and (coming soon) editable monthly and weekly pages.
2 layouts: one labeled Monday-Friday and another with no days of the week so you can write in your own schedule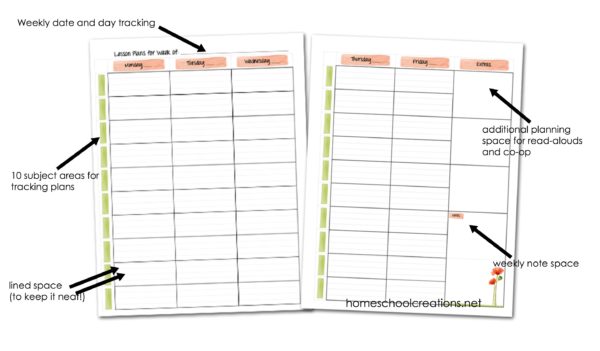 A quick note: Our printer will print BORDERLESS. It is one of the paper choices in our printer settings. Our front and back covers were printed onto cardstock and then laminated for extra durability. We use a heavy weight paper (24 lb.) to print the planner and make the pages a little thicker.
Purchase Your Copy of the Planner
If you would like to purchase a copy of the new Weekly Homeschool Planner, you can do so by clicking the link below.
This planner is undated so you have the option of printing off a new copy each year. The pdf planner is available for $10 and you are more than welcome to print off copies for yourself – this year and in years to come. Please note the Weekly Homeschool Planner is only available as a pdf download and prints off double-sided.
Your purchase also allows access to a 'buyers only' page where optional pages will be added including additional dated covers and other pages as readers/users request.
I truly hope this planner is a blessing to you all!