Over the last few months, our family has taken serious advantage of our first round of freezer meals. On busy days and nights, it has been such a HUGE help to be able to throw something into the crock pot and return home to a meal that is ready to go! Maybe you are wondering how this applies to homeschooling? Some days we are home all day, but other days our lives can be just as hectic as every other mom on the planet – co-op time, sports practices, etc. If it makes life easier, I'm game for trying it!
Since we are dwindling down to our last few freezer meals, it was time for another round of freezer cooking – our goal was twenty-one meals, and we each finished with twenty-two (a total of 44 meals between the both of us!) – not too shabby!
The freezer is now well stocked and super happy to have job security. (grins)
FREE Freezer Cooking Labels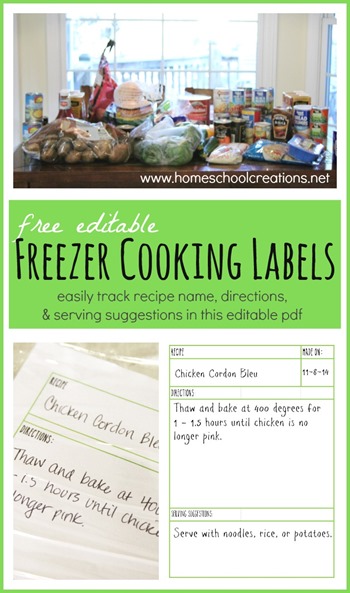 Before I share all of the meals that we worked on (a few were repeats from our last
freezer cooking session
), you might be interested in the freezer cooking labels that we used. To make life a little easier for myself, I put together some simple labels to stick on the front of each of our freezer bags and containers, and
you can download them for FREE
!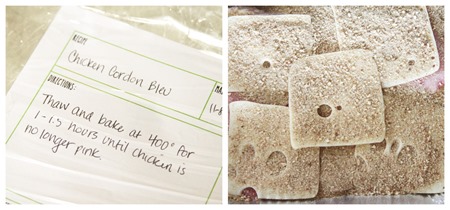 The freezer cooking labels give an area to write the recipe, the date the meal was made, directions for cooking/thawing, and serving suggestions. For my labels, I added side dishes that are also in the freezer (rice, buns, mashed potatoes, etc…). Once the labels are filled out, use packing tape to stick them on Ziploc bags. For aluminum containers, wrap the container in tinfoil and put the label under a layer of saran wrap (rather than taping them to the package). These labels are editable as well! You can either print them off as they are and write out your recipes, or you can type them in to save some time!

Freezer Cooking Recipes We Used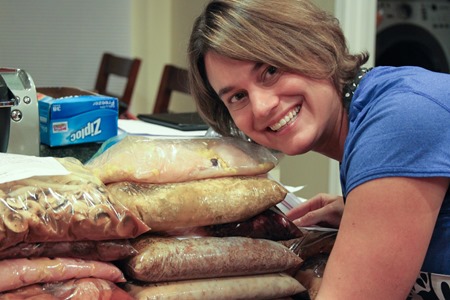 Some of the many meals we made!!
There were a few recipes we used last time that we loved, so we included them in this round of freezer cooking. After some more digging in our cookbooks, recipes, and online, we found additional recipes to add to rotation. Several of the meals in this freezer cooking session are casseroles that we froze in metal pans, a few can be simply cooked or reheated in the frying pan, and the bulk will be cooked in our crock pot. All in all – a total of 22 meals went to the freezer, and we had Sloppy Joes for dinner.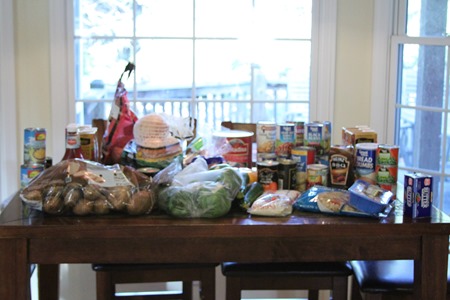 Lots of food to prep – not including all the meat and fridge stuff!
Our main goal was to have meals that were ready to go when we pulled them out of the oven, crock pot, or pan – not just a main dish that needed boatloads of additional sides. It needed to be filling and require little additional work. The only thing that we both did ahead of time was cook 2 pounds of pork for the pork bbq – otherwise, all the cooking was done day of the freezer cooking session.
Overall, I think we did great on time, especially since we had to prep several of the meals separately because of a gluten allergy for my friend's son. That meant washing dishes between cooking/prep, creating a few special gluten-free sauces, and just general goofing off. Pulling the 23 meals per person (46 meals total) took us a little over 6 hours, and that included most of the clean-up and packing/storing of meals, as well as taking care of a nursing baby.
Note: several of the recipes called for cream of…. soup, so we created a cream base using chicken stock, heavy whipping cream, a mix of spices (a.k.a we threw in what tasted good), and thickened it with arrowroot powder – worked great!)
A Few More Quick Freezer Cooking Tips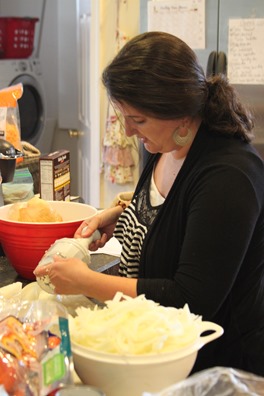 Freezer cooking is more fun with friends!
After sharing five freezer tips (and the 17 recipes we used last month), there were a few additional things we did this month that helped us this go-round.
Create a spreadsheet of recipes and links that you love. While many of the recipes we use are on my Pinterest Freezer Cooking board, this time my friend and I created a Google Spreadsheet to track the recipes that we were using. We divided them up into categories (beef, chicken, etc…) and were able to put a link to the recipe and make additional notes. It streamlined it for us since we were working together on the meals. She can edit/make changes to it as well, and it was a huge help for both of us.
Label bags and containers before you start! All of the cooking directions and serving suggestions were written ahead of time, taped to the bags, and ready to go. Made it so much easier!! While it would have been great to have them all stacked in prep order, our order changed a few times during the process – such is life!
Know your prep order when you start. We had a general idea of recipe order, so we were able to prep food as we went along. We tried to group similar meats and/or recipes together. Chilis were made in one batch. Simple to assemble was another. One of us worked primarily on assembling the meals, while the other diced, sliced, and peeled (I am ever-so-grateful for a friend who handles onions and smiles – while crying onion-tears).
Work with a friend. I can't say that our cooking sessions have necessarily been faster (we may get distracted talking…ahem), but it really does make the day go by so much more quickly – and it's a much more fun.
Wear an apron. Unless you are incredibly un-messy (I am not), you will be covered in many things throughout the day. Splashed with bacon grease or chicken juice (shudder to the chicken). You can't quite see it above, but I L.O.V.E. my Flirty Apron (affiliate link) – it's cute and has saved many an outfit.
See the Last Freezer Cooking Session Post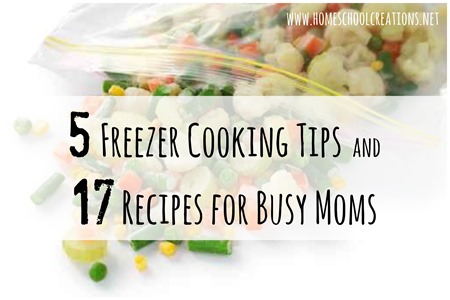 A few months ago I shared five freezer cooking tips and the seventeen freezer cooking recipes we used. Hopefully it will be help to you!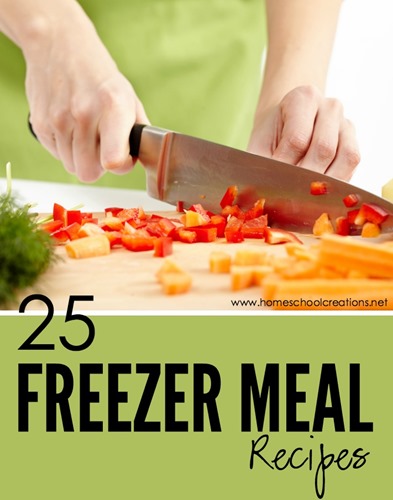 You may also be interested in my 25 Freezer Meal Recipes post where I share many newer recipes and a few more tips on freezer cooking!
Have you tried freezer cooking yet? (I promise, it's worth it!) Share a link to a favorite recipe – I'd love to hear!