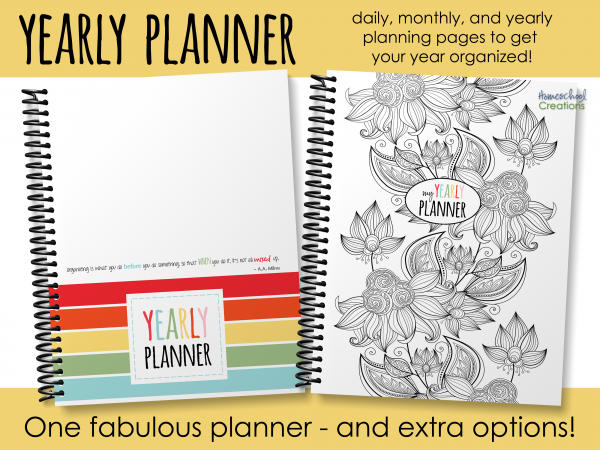 Last year I started working on something for myself, and because I loved it so much, it turned into something that I wanted to share with you all – my yearly planner – a place where I can keep all our day-to-day happenings in one place.
Life gets busy and truthfully my brain just can't remember it all. I'm a paper and pen kind of girl, and seeing my week laid out in front of me is so helpful in keeping things straight. Appointments in one place. Goals and reminders of 'to-do' stuff. I can pull it out, open it up to the week on hand, and get a great picture of what is happening.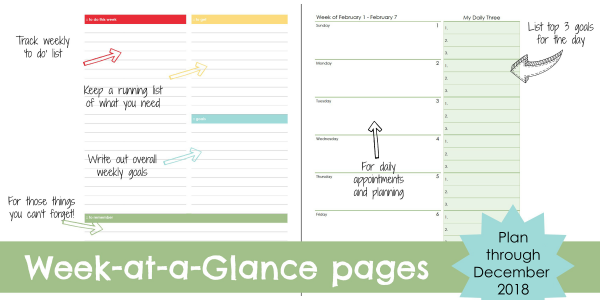 Here are the highlights that will help you get your weeks and months quickly organized:
January 2017 – December 2018 weekly and monthly calendars – 24 months!!
a 2-page weekly spread that lays flat, 8.5″ x 11″
one page to track a weekly "to-do" list, keep running lists, write out weekly goals, and write down things you don't want to forget.
a one page layout for weekly appointments and top 3 daily goals
a link to unlock planner extras – additional pages to help get you organized, including bonus covers, address pages, note pages, and more to come!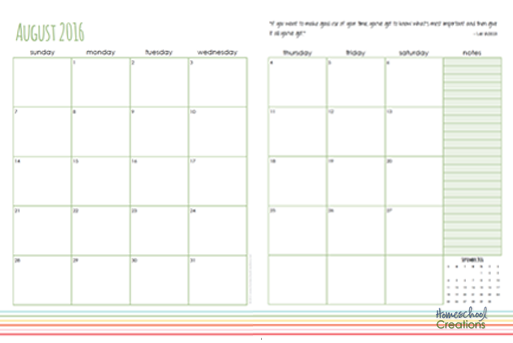 The yearly planner also includes a two page month-at-a-glance spread. These are the pages that I use to write down any major stuff first (trips, big events, etc…) and then do a rough meal plan (before I plug meals into my monthly meal planner).
Just for fun, I added quotes that I love to the month-at-a-glance pages too. It's something little, but I love reading them!
The pages are all 8.5" x 11" in size, so they fit great in any standard binder. Personally I'm in love with this Martha Stewart binder and dividers – which is why you'll notice the rainbow colors along the bottom of the calendar. Those are the primary colors in her collection.
Bonus Pages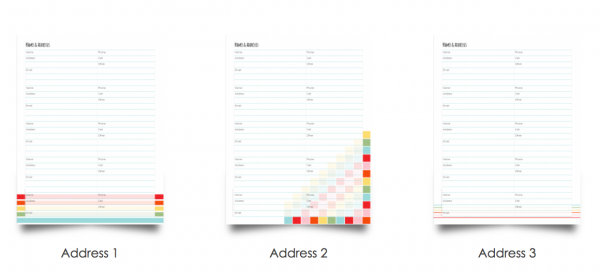 This year I'm adding something new to the Yearly Planner – bonus pages! I realize not everyone wants the same (or huge) file, so at the end of each planner you will find a link to a webpage where you can download extra pages to print off and use with your planner. Currently you will find:
address/contact page
books to read
notes pages
birthday/anniversary tracker
project tracker
More pages will be coming – and if there is one you would like to see added, please let me know!
How I'm Using My Yearly Planner
Here's a peek at my planner so you can see how I'm using it.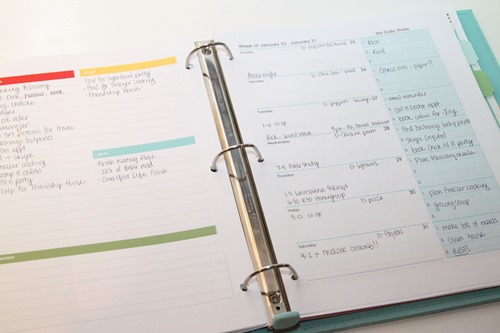 The above is part of my January week – which is still missing a few things. I'll admit that a huge lack of sleep is contributing to some fuzzy thoughts. Especially the time I need this as my 'brain'.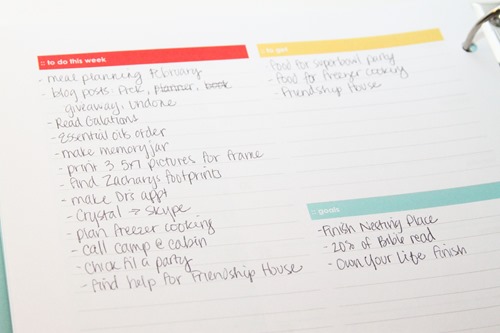 My weekly to do list is just the running list of overall things that need to get done (I keep a longer list on a sheet of notebook paper in another section – until I finish up a cute printable for that!). My goals are broken down from my yearly overall goals. During January I'm trying to finish up a few books (need to get some of that book list knocked out).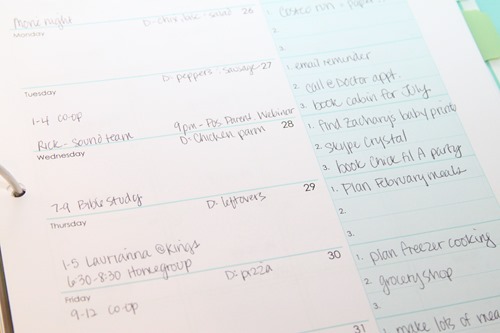 There is always a list of things to do (I also have a list of projects that can be finished in 20 minutes or less). Every day I try to focus on THREE main things that need to be done and then work on other things. Those three are the ones that really need to be worked on at that point.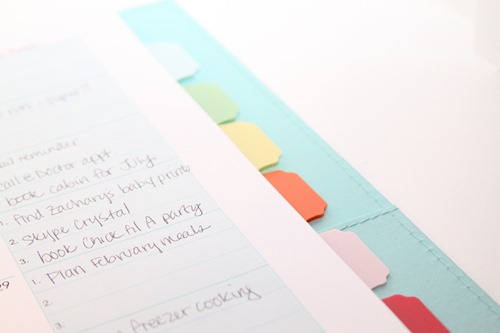 And pretty always helps out too. The (pretty) tabbed dividers are great for sectioning out different things that I want to keep handy: my cleaning schedule, meal planning, essential oil info, recipes, finances, and other important information.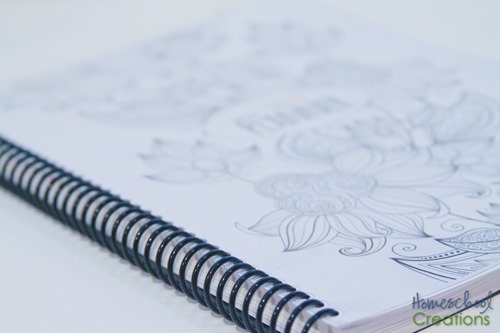 An alternative (for those of you who don't like a binder format) is to have the planner spiral bound once you print it off. For the 2016 year, I took mine to Staples and they coil bound it for me for $3.99. I am loving the different format this year and the fun new cover option as well!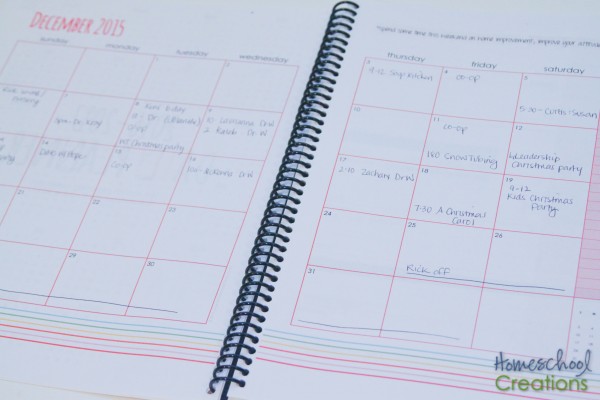 Here's another look at the month-at-a-glance pages with the coil binding, in case you'd like that option.
Purchase the 2017-18 Yearly Planner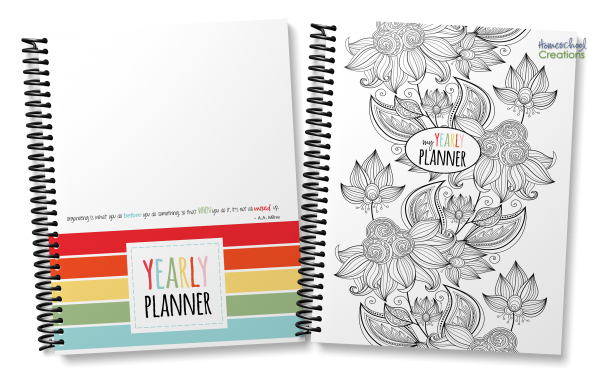 You can purchase the full Yearly Personal Planner pdf for $4.99. The calendar includes 24 month-at-a-glance pages and dated weekly pages through from January 2017 – December 2018.
When your purchase is complete, you'll receive a download link – be sure to check the last page for a link to the bonus pages and password!
Enjoy!