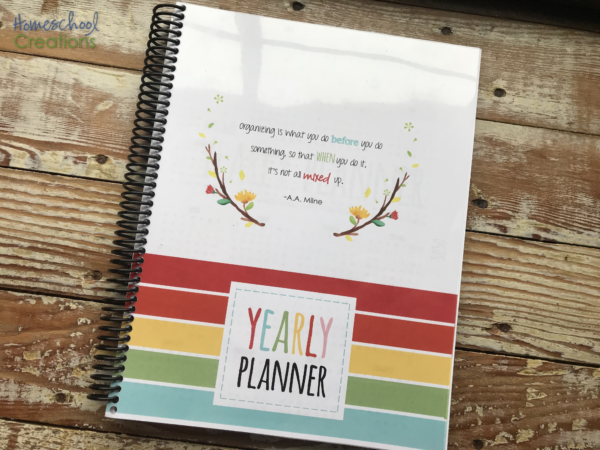 A good planner and lots of color are two things that I love. I'm a visual person, so although I use Google Calendar for my phone, there's something therapeutic for me in seeing our week laid out and physically putting pen to paper to record life's happenings and the things that need to be done.
Four years ago I created a yearly planner for myself that turned into something I've enjoyed sharing with you all as well. My Yearly Planner has become a place for me to track all of our day-to-day happenings in one place – and been something I enjoy using (because visually, it's something I love to look at!).
Life gets busy and truthfully my brain just can't remember it all. With my planner, appointments are all in one place. Goals and reminders of 'to-do' stuff can be updated. I can pull it out, open it up to the week on hand, and get a great picture of what is happening.
Maybe you're looking for a planner that will help you track everything – take a peek inside mine and see if it's what you need!
Inside the Yearly Planner
Here are the highlights that will help you get your days, weeks, and months quickly organized: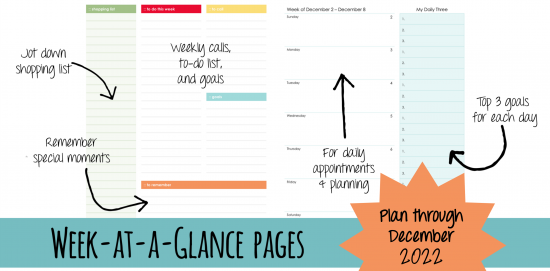 November 2020 – December 2022 weekly and monthly calendars – 24+ months!!
a 2-page weekly spread that lays flat, 8.5″ x 11″
one page to track a weekly "to-do" list, keep running lists, write out weekly goals, and write down things you don't want to forget, including shopping lists
a one page layout for weekly appointments and top 3 daily goals
a link to unlock planner extras – additional pages to help get you organized, including bonus covers, address pages, note pages, and more to come!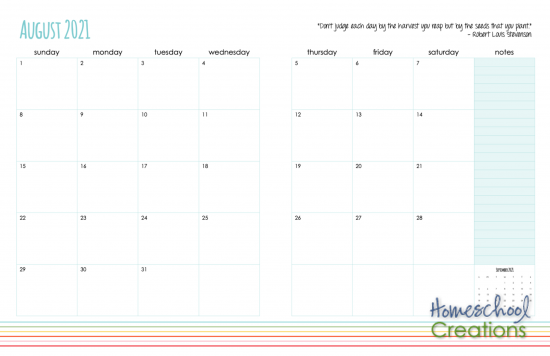 The Yearly Planner also includes a two page month-at-a-glance spread for each month from November 2020 to December 2022. These are the pages that I use to write down any major stuff first (trips, big events, etc…) and then do a rough meal plan (before I plug meals into my monthly meal planner).
Each month features some of my favorite books quotes I've been jotting down over the years. It's something little, but it's fun to mull over them.
Pages are all 8.5" x 11" in size, so they fit great in any standard binder, can be coil bound, or used with the disc. The last few years I've had mine coil bound at Staples (for around $5) because I like mine to lay flat.
Bonus Pages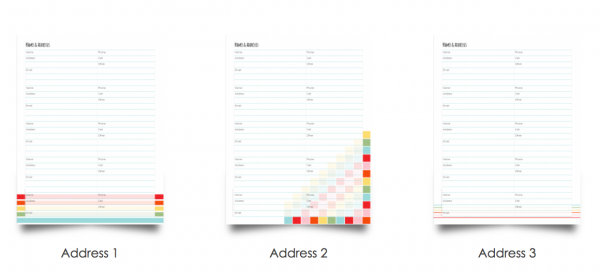 Along with your purchase, you'll find a web link on the last page of your planner that unlocks additional bonus pages to add to your Yearly Planner! While several of them are at the very end of the planner, sometimes people prefer a different background, cover, or need a little something more.
Feel free to download the pages to your computer and print them off along with your planner. Currently you will find:
address/contact page
weekly routine/scheduling pages
books to read
notes pages
birthday/anniversary tracker
password tracker
project tracker
additional covers
More pages will be coming – and if there is one you would like to see added, please let me know by emailing me at homeschoolcreations@gmail.com.
How I'm Using My Yearly Planner
If you'd like to walk through my planner and "see" it for yourself, here's a quick peek at one of the past years. Below you can see some sample pages from past years as well.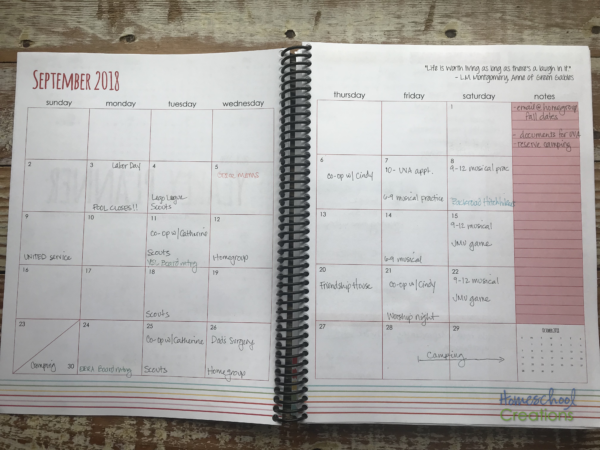 If you'd like a quicker picture tour, the above is part of a past year. Essentially the month-at-a-glance is an overall view of the month so I can get the "bigger picture" of how everything fits together with school and other important events.
The monthly calendar layout is my place to put the "big stuff" that is happening that month – not every little detail, but enough to help me map out the major stuff and make sure we don't have any overlaps or conflicts.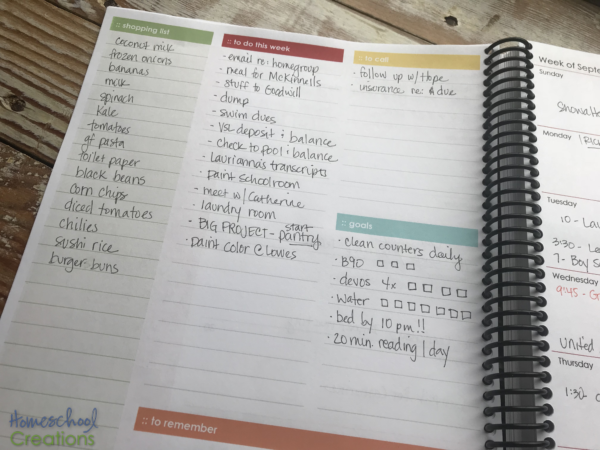 My weekly to do list is just the running list of overall things that need to get done (I keep a longer list on my project tracker sheet in another section near the back. My goals are broken down from my yearly overall goals.
In the yearly planner there is room to write down a grocery list as well. Otherwise, the left facing page has space to track your to-do list, weekly calls/emails, personal goals, and special moments/milestones to remember.
By the way, if you like using pen, but are prone to making mistakes (like me), GO BUY YOURSELF A SET OF THESE PENS (referral link). They are not only pretty, but they are erasable! And don't ask how many sets I have, ok?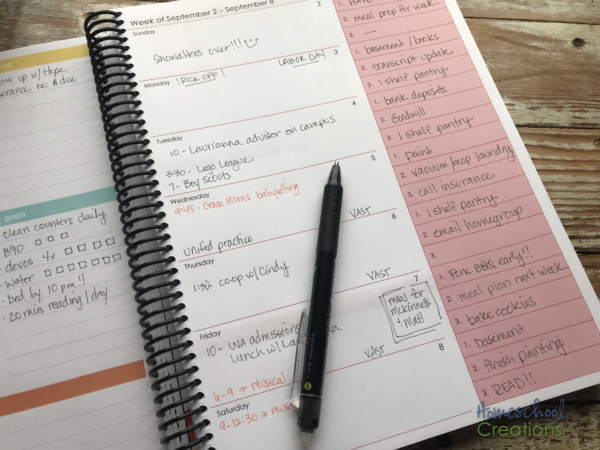 There is always a list of things to do (I also have a list of projects that can be finished in 20 minutes or less). Every day I try to focus on THREE main things that need to be done and then work on other things. Those three are the ones that really need to be worked on at that point.
Purchase the 2021-2022 Yearly Planner
You can purchase the 2021-2022 Yearly Personal Planner pdf for $4.99. The calendar includes 24+ month-at-a-glance pages and dated weekly pages through from November 2020 – December 2022.
When your purchase is complete, you'll receive a download link – be sure to check the last page for a link to the bonus pages and password!

And don't forget to grab what will become your new favorite (erasable) pens!
A Few More GREAT Planners