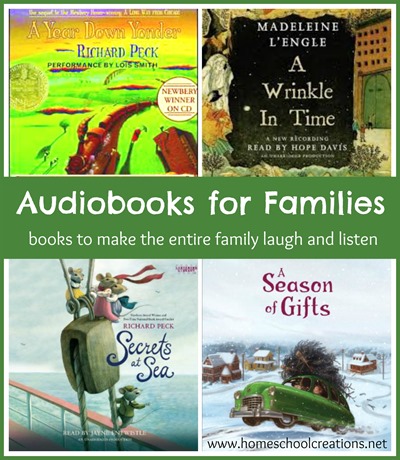 Our library has an amazing audiobook section (huge score for us). Every now and then we find a new author or book that we just love. Equally, there are a few that we try so hard with, but they just don't click.
Trips in the car are made much more enjoyable when an audiobook is running. Typically that means peace and quiet as everyone listens along, compared to the arguing over what music to listen to or who gets to sit where (Side note: My kids are just like yours. Unless your kids don't argue. Then they aren't just like yours, and we need to chat sibling dynamics).
But I digress….
Audiobooks We Recommend (or maybe don't)
Here's a quick look at what we've been listening too, age recommendations, and a little blurb about the story/plot.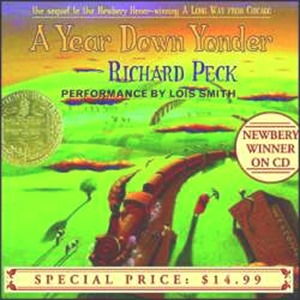 Last month we started listening to A Year Down Yonder by Richard Peck (read by Lois Smith), and we fell in love with Grandma Dowdel and her crazy antics. We laughed and practically cried at some of the things she puts her neighbors through. The story follows a 15 year old girl who moves to live with her grandmother  – and the happenings in their small town. All of our kids enjoyed this one so much that on our next trip to the library we bulked up with a few more audiobooks by Peck. Recommended ages 9 to 13.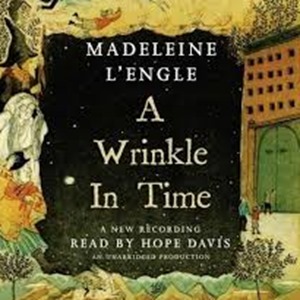 Next up for the CD player was A Wrinkle in Time by Madeleine L'Engle (read by Hope Davis). Years ago (back in my 5th grade year, and we won't talk about how long ago that was), our teacher read the book aloud to us as a class. Either I have fond memories of another book (or just the read aloud time), because we were only able to get through about two of the six disks before we called it quits. Quite honestly, even though we listened to that much…I'm still lost on the story.  Maybe it was the weird way some of the characters were read, but we just had a hard time getting hooked. (Makes me sad, but on we go.) Recommended ages 10 to 14.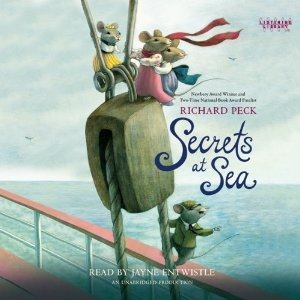 Our 7 year old picked out the next audiobook, Secrets at Sea by Richard Peck (read by Jayne Entwistle). This fun story about a family of mice traveling to  England with their human family. Super cute book that made us giggle at their trouble with the ship's cat and love Peck even more. Recommended ages 9 to 14, but I think 7 and up based on content.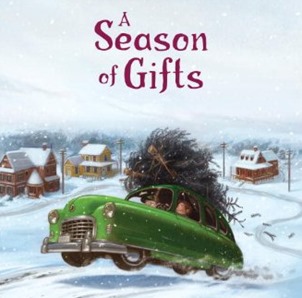 Have I mentioned how much we loved Grandma Dowdel? Next up for listening was A Season of Gifts by Richard Peck (read by Ron McLarty). In this adventure set in 1958, there's a new pastor in town and his family moves in next door to Grandma Dowdel. While it seems like the last place on earth they want to be, the small town quickly becomes home. Recommended ages 9 to 14 – there are a few things that would definitely stick it close to this age range, especially the outhouse scene (funny, but might need some explaining – nothing bad!).
Other Audiobooks We've Enjoyed
That's what we've been listening to lately, but below are a few other audiobooks that we've loved and recommend. Click on the cover to find out more!
What audiobooks are YOU listening to?