We are so excited to have Heirloom Audio as a sponsor of Homeschool Creations. Be sure to read through for some special savings just for readers of our site!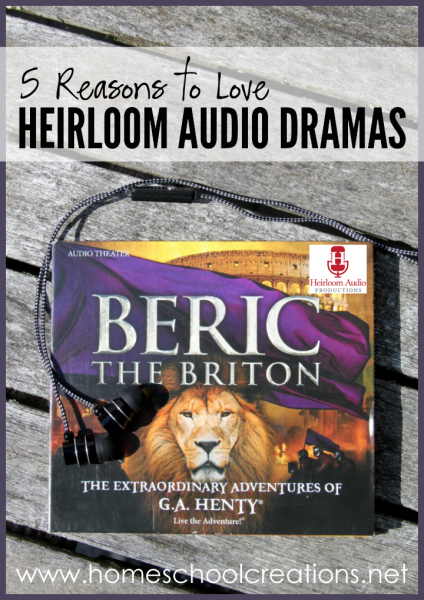 Confession. Audio books and drama weren't always high on my list of homeschool priorities. There was a time early on in our homeschool journey (until the last 3 years or so), that I considered it something akin to cheating if we listened to an audio book instead of reading the book. Then our family was introduced to Heirloom Audio and our perspective completely changed. We have grown to love a good audio book, and so far nothing can compare to the audio dramas from Heirloom Audio. I'd love to share five reasons we recommend that your family drop everything and pick up one (or more) of their audiobooks.
5 Reasons to LOVE Heirloom Audio Dramas
Have a few minutes? (Hang in until the end of this post too, since I have a great coupon code for you to use when ordering! Email subscribers can view the video clip using this link.)
1. The entire family will enjoy them. The productions from Heirloom Audio are something the entire family will enjoy – from younger children (ages 7 through adults), they are something to listen to and get caught up in, no matter what your age.
2. They are incredibly well-produced. Unlike boring narrators and ho-hum story plots, Heirloom Audio productions will pull you in from the first few moments of listening with their full cast (a different actor for each character), music score, and stories that follow G.A. Henty books. From the actor voices of Kirk Cameron to Helen George (Call the Midwife), the directors have worked hard to provide a quality cast and drama you will want to listen to over and over again.
3. Car trips become enjoyable and quiet. While this may seem like a silly reason, if you have loud kids and/or a lot of them, you'll fully understand the wonderful thing that happens when children become enraptured in an audio drama. Squabbling stops and quiet reigns as everyone focuses on something they love!
4. History comes ALIVE (and you'll learn a lot!). Aside from quality production, the audio drama Swords clash. Music soars. And listeners are drawn into the historical period and feel a part of the scenes. Each drama will teach your family little nuggets of history in a memorable way. These are perfect for auditory learners!
5. Each audio drama includes a full teacher's guide. Expand your listening adventure with the discussion questions, activities, Bible study, and more that come along with each of the different adventures from Heirloom Audio. There is enough included to use the guide as a curriculum guide and talk with your children on how the lessons learned apply to their lives today – and the best part is, they've done all the hard work for you.
Latest Audio Drama from Heirloom Audio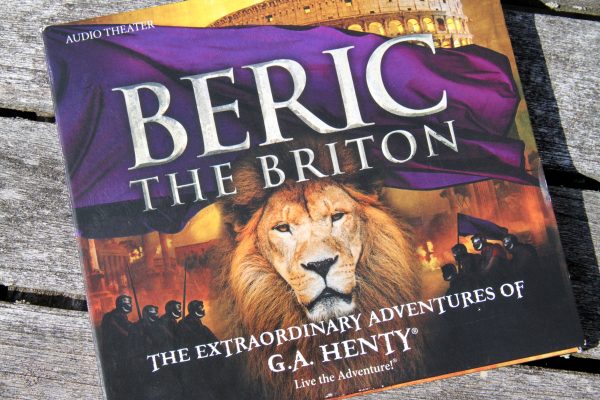 As I mentioned in the video, there are five audio dramas available from Heirloom Audio, including their most recent addition, Beric the Briton.
Under Drake's Flag
In Freedom's Cause
With Lee in Virginia
The Dragon and the Raven
Beric the Briton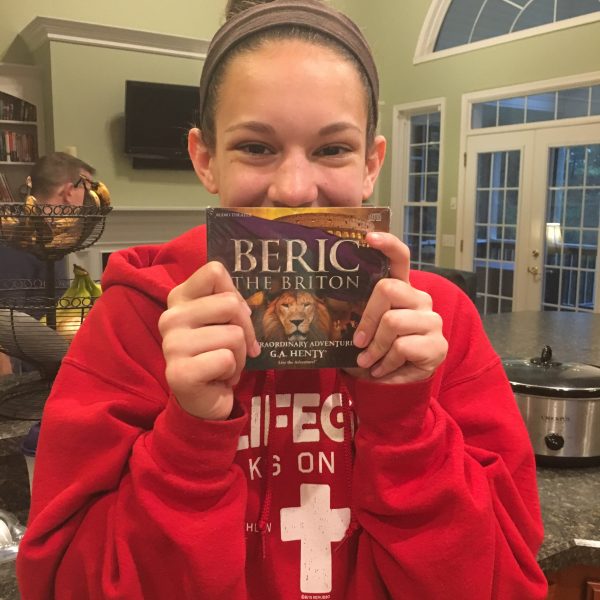 Our kids were ALL thrilled to see a new adventure arrive from Heirloom Audio (there may have been a literal squeal from McKenna when she saw it sitting on the counter). The only problem for our family is finding a time that everyone in the house can listen together. There is MUCH discussion on how the audio book may not, under any circumstances, move one iota of a second because a family member may miss crucial information. Thank.you.very.much. That family member may at times even be a parent.
Personally, Beric the Briton has been my favorite of all the CDs we've listened to so far (granted, I've loved all of them). Beric takes place during the spread of the Roman Empire into Britannia and follows Beric and his friend as they are put in service to Nero and still long for the freedom of their own country.
"This tale of the Roman invasion of ancient Britannia remains one of G.A. Henty's most popular novels of all time. Join Beric and his best friend Bodouc as they live the adventure of a lifetime – captured by the Romans, trained as gladiators, and placed in the service of Emperor Nero himself! When the story of a mysterious "Christus" begins to circulate the Roman Empire, Beric and Bodouc are forced to confront their pagan past. Will the two young prisoners be able to overcome their thirst for revenge and discover the source of true forgiveness?"

Adapted from the book, Beric The Briton, by G.A. Henty
One of the things most interesting to me in this story was the battle formations and the differences between the Romans and the Britons. Beric studied and learned from their battles, understanding that his tribe needed to change their methods in order to see different results. The kids and I talked about how battles have evolved over the years – different weapons, materials, and strategies – and it was a great jumping off point for more discussion!
Introduce Your Family to Heirloom Audio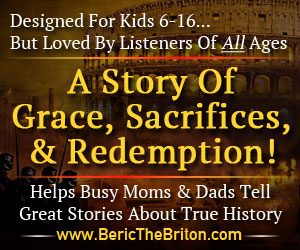 Each CD set is normally $29.97 and available for individual purchase, but different specials are available including this special offer for my readers. If you are at ALL interested in these audio adventures, you'll want to CLICK HERE and view the special (includes eight total audio books – 2 of each, one to keep and one to share, at $10 each CD set). Note: Be sure to put "2" in the quantity field when you checkout to receive the discounted price.
Has your family listened to any of the Heirloom Audio adventures before? I'd love to hear your thoughts as well and what you most enjoy!
We received Beric the Briton at no cost from Heirloom Audio to review. All opinions expressed in this post are our honest thoughts and feelings.