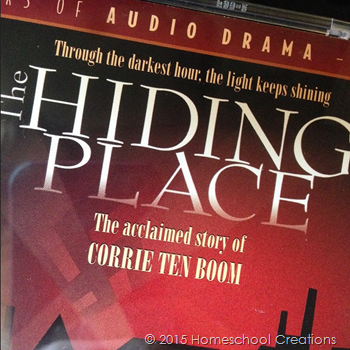 During our history time we are easing out of World War 2 and moving into the cold war era, but while in the thick of German invasions and concentration camps we pulled out The Hiding Place by Corrie ten Boom.
While the holocaust can be a very heavy topic with kids, it's one that we want our kids to understand – and not gloss over. The Hiding Place audio drama version can be a bit deep (especially for younger kids – our youngest is 8 and I felt comfortable letting him listen to it), but it really brings to life scenes from the life of the ten Boom family and what they, and many others, endured while helping Jewish families escape during World War 2.
Netherlands with Corrie ten Boom, 1974
The Hiding Place holds a very special place in the hearts of my family. While I don't remember the above picture, there was a time many years ago that I met her (grins). My mother worked for Corrie ten Boom as one of her secretaries before she and my father were married, and both Corrie and Brother Andrew (God's Smuggler) were part of my parent's marriage ceremony. When the audiobook opened with Brother Andrew introducing the life of Corrie ten Boom, I have to admit to tearing up – it's so neat to hear the hearts of people that poured and were a central part of my parents life.
Reading The Hiding Place together has reminded me again and again how important it is to talk to our kids about history and how it impacts and affects us over the years. Corrie is one of the 'heroes' of Christian faith that I have admired over the years, and listening and hearing her heart and desire to honor and serve God – even in the midst of pain, sorrow, and not understanding – truly makes me want to be and do more in my faith.
Another great book for kids to read and learn about Corrie ten Boom is Corrie ten Boom: Keeper of the Angel's Den.
What are YOU reading or listening together right now?
Books We've Previously Read Together
Here are a few other books that we've read together and blogged about. Click over to see our thoughts on them!