When you all are driving around town and have a van full of kids, does silence seem to disappear? Our kids are rather boisterous (I'll admit it), and we have two kiddos that tend to find every little reason to pick at each other. It can drive one crazy. Audiobooks have become a great way for us to all relax and enjoy something together, especially since we've been in the car a lot lately with swim meets and nightly practices.
In the next few weeks I'm hoping to share a list of our favorite book series, but in the meantime, there is a new set of books that we are getting hooked on. When I say hooked – I mean, absolute golden silence abounds as everyone in the vehicle listens to catch every single word from the narrator. Blessed moments. For the record, I won't take phone calls, and I'm as equally enthralled when we really get into a book and the CD player is running. It's a family venture, these audiobooks!
While I love reading out loud with the kids (and we do that together too), in the last bit audiobooks have been a huge blessing with late night practices (no time for read-alouds once the kids get home) and quick turn around times to be out the door for things. Part of me misses the cuddles on the couch and the opportunity to read together in the traditional sense, but for the stage of life we are currently in, I love that I can listen and enjoy it as well, and we're getting other things done too.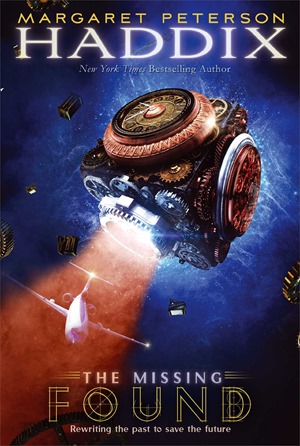 A few weeks ago we picked up Found (aff link), the first book in The Missing series by Margaret Peterson Haddix (aff link).  Our oldest read the first book several years ago and it was one she wanted to continue with, so we borrowed the audiobook from the library.
The Quick Summary:
One night a plane appeared out of nowhere, the only passengers aboard: thirty-six babies. As soon as they were taken off the plane, it vanished. Now, thirteen years later, two of those children are receiving sinister messages, and they begin to investigate their past. Their quest to discover where they really came from leads them to a conspiracy that reaches from the far past to the distant future—and will take them hurtling through time. (via Amazon description)

Recommended grades: 4-8
What We're Loving
The kids have enjoyed the twist of future/past time travel and the different ideas presented in Found (aff link), along with the plot twists and mystery that surrounds the children on the plane. It is full of suspense, trying to decide who can be trusted and figuring out exactly what is happening. The end of the book left the kids hanging – literally – in time.
While the first book is set in modern time and begins to explain the time travel possibility and a peek into who the children really are, the second book begins in the 15th century, and future books involve different time eras as well. I'm interested to hear how historical figures and such are handled, especially when some different names were mentioned and the kids are trying to 'fix' some of the problems created by several people that messed with time.
There are a total of eight books in The Missing (aff link) series, but we are obviously enjoying these so far. While Kaleb (almost 9) needs a few things explained to him and doesn't always grasp all the time travel explanations, he is still enjoying them as well. Have you listened to them or read The Missing series? I'd love to hear your thoughts too!
What are YOU reading or listening together right now?
Books We've Previously Read (or Listened to) Together
Here are a few other books & series that we've read together and blogged about. Click over to see our thoughts on them!