Our homeschool time is moving along. There have been a few bumps the last few weeks (we'll talk about that later in the post), but for the most part, it's been going along well. All of our subjects are in full swing, we have a fairly good routine down, and the weather is just plain beautiful. That last part may not have anything to do with school, but it makes life fun, right?
Vocabulary
McKenna has been enjoying her Word Up vocabulary lessons from Compass Classroom (aff link). We'll usually hear her cracking up and don't have a clue what she is laughing about since she wears headphones while working on her lesson, but she pulled out the headphones one afternoon to show us the above clip. We all laughed so much – and it may make me happy to see a reference to that movie included (and that my kids get it!).
The kids and I have also been working through some new vocabulary cards together (Marie's Words). Every day we are reviewing a few words together and seeing how many they can recall. The cards offer a unique approach – a visual of the vocabulary word on the front of the card along with the definition and use in a sentence on the back of the card. So far we haven't made it through many of the 'A' words, but they really enjoy it before our history time.
History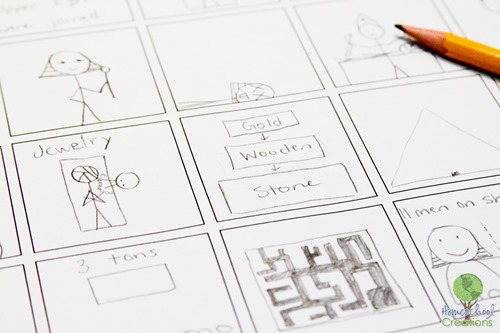 Our history time has been going much more smoothly as well with the comic strip templates already printed off. Each of the kids has their favorite grid layout, and I have them ready to go each week. We've been working our way through early world history, still going between Story of the World (aff link) and Mystery of History (aff link). I promise a post is coming about that – along with a million other things I just need to sit down and do!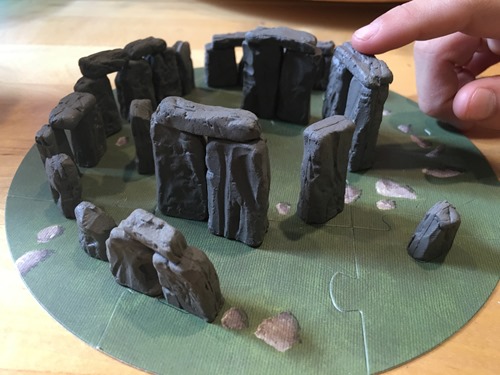 One of our lessons recently was about Stonehenge, and I fortunately remembered that we had a miniature Stonehenge kit (aff link) on our shelves. The boys worked on building it together while we finished up the lesson and then we watched a billion YouTube videos so they could get a visual on how big the stones were.
Learning Cursive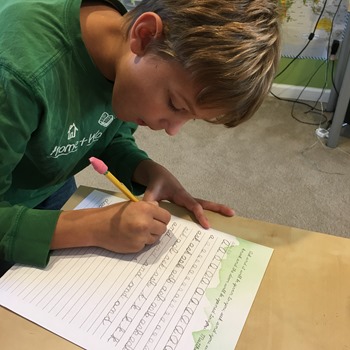 Another one of my goals over our vacation week was to work on some cursive handwriting pages for Kaleb and Zachary based on our favorite Seeds Family Worship songs. He is LOVING them and while cursive is new for him, he is diving into it with much happiness.
The Joy of Book Reports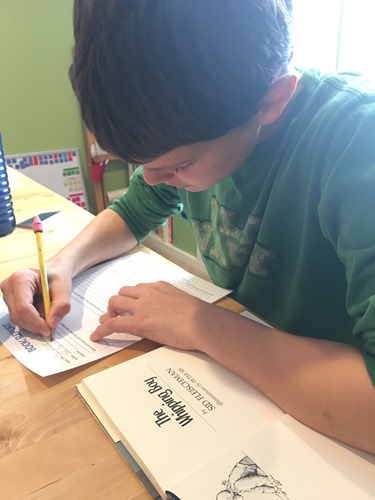 Zachary has been working really hard on his reading this year. It's been great seeing how one of his least favorite subjects has grown into something he actually enjoys now. Granted he isn't too thrilled about the book reports that he is writing, and we do have a little work to do on how to properly summarize a book, but it is progress, and that alone is worth so much!
Chemistry Atoms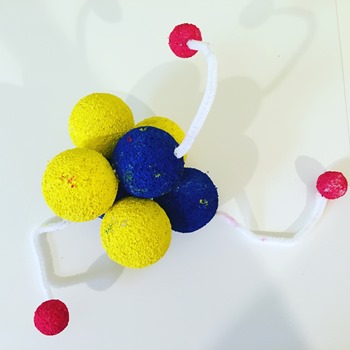 Zachary has been LOVING his Christian Kids Explore Chemistry program (aff link) from Bright Ideas Press. His last unit had a 3D hands-on project for creating a model of a lithium atom. There was a lot of paint splatter, but it turned out great and gave us a good discussion point on the whole 'following directions' when he initially felt you could put it together however you wanted to. One of those 'aha' moments, and now something that he is proud of having on his desk as something he did.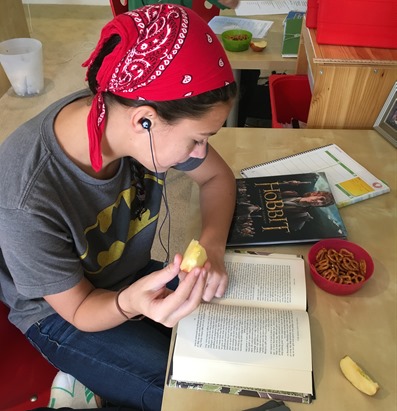 McKenna has been busy reading through The Hobbit (aff link) and one thing that has really helped her keep the names straight (I have a hard time with that too) is having a movie reference guide next to her. When a new character is introduced or she needs to remember who someone is, she opens up the book and looks up info on them. See our full 7th grade reading list here.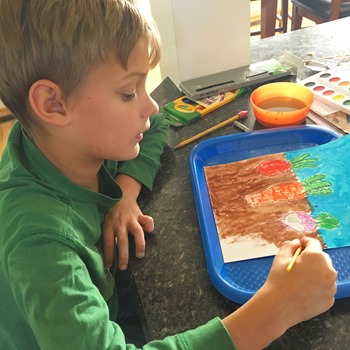 Kaleb has been busy creating art projects to fill picture frames in the classroom. His latest painting was the roots watercolor from Home Art Studio. He wanted to badly to use some watercolor pencils for it (but couldn't). It turned out great though and was promptly framed!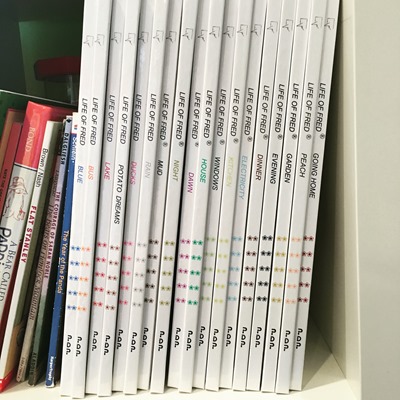 Our bookshelves became a little fuller this week too – the rest of the Life of Fred beginning readers arrived from Educents (use coupon code HSC10 to save an additional 10% on ANY products!!). Today Kaleb pulled out a stack of books and we sat and read for 45 minutes together. This is SO BIG for him it just makes me abundantly happy! We are reading and re-reading the books together, and truthfully it just doesn't get old at all.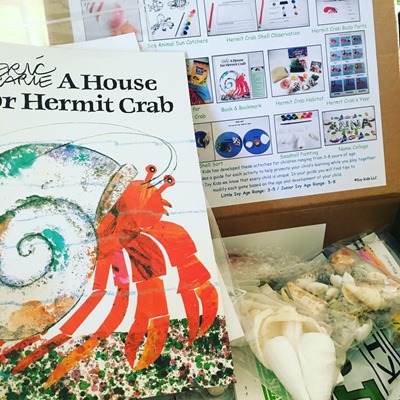 One thing we are looking forward to in the upcoming weeks – a few literature kits from Ivy Kids showed up on our doorstep this last week! Kaleb and Zachary are going to work on them together and I'm excited to dig into some fun literature packs with them.
Life as a Mom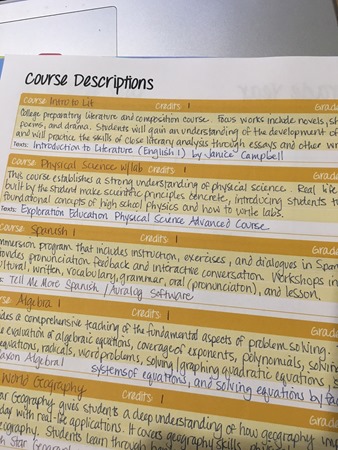 Our week off didn't go quite as I anticipated, but it did mean I was able to get a few things caught up, including wrapping up some grading that I misplaced at the end of last year. I had all but one subject wrapped up for Laurianna and put a pile of papers somewhere….and it turned up in the oddest place. One of my main goals was to get a grading system in place for her and also add in all her course descriptions into our Middle and High School Planning Pages. Coming up with the 'right' terminology can be tricky, but it's done now and this year's is almost completely caught up as well.  Phew.
This last week has honestly been rather difficult, especially with one of the kids. There is a delicate balance between letting kids work independently and being able to trust/believe that all things are getting accomplished without being the hovering parent. There have been a few tears and frustrating words spilled over the last few days as we've dealt with some issues – and you know, it's just tough. I get it. I am far from perfect and my kids aren't either. There are bad attitudes (on both sides). We've had to put some boundaries in place – again that fine line of letting them learn the hard way, but I'm glad that our kids can learn to fail in a safe place and know there is grace when needed, but also guidance to help them get back on track. Parenting isn't for wimps, y'all. Add homeschooling to that and OY! But I wouldn't trade it. For real.
So – that said, how are YOU doing? I'd love to hear what your favorite part of homeschooling has been the last few weeks. And if you want a mom to pray for you (because I know we all have struggles) feel free to email me or leave a comment. I'd be honored to pray for you.