Exploration Education is a blog sponsor and we received this product free for the purpose of reviewing it. All opinions expressed are my personal, honest opinions. You can read my full disclosure policy for more details.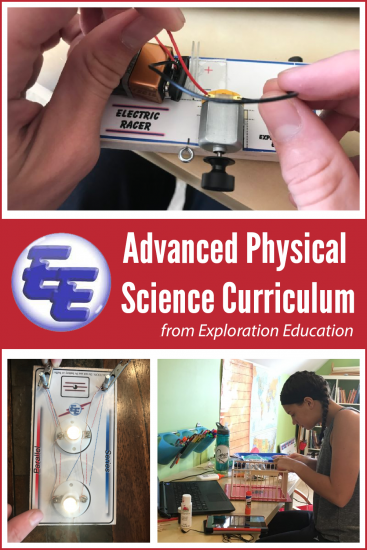 Taking a look back through our high school curriculum choices, there are very few programs that we have used consistently with all four of our children. There is one that definitely makes the cut though – every single time: Advanced Physical Science from Exploration Education.
We first heard of the program from a local friend and decided to use it in a small co-op setting for Laurianna's physical science high school credit, way back in 2014. Since that time the company has made a few minor adjustments to the program, but the result is still an amazing, hands-on program that our children have loved and learned from! Next year our youngest will be starting his freshman year and we already have our box of material ready to go and plan to use it alongside a friend so our boys can enjoy the experiments and learning together.
About Exploration Education's Advanced Physical Science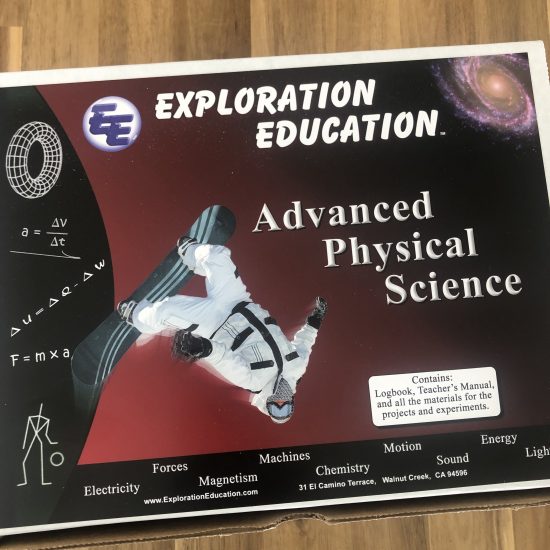 Featuring daily lessons broken down over thirty-six weeks, Exploration Education's Advanced Physical Science class includes everything your family will need to earn a full high school credit. Rather than a dry curriculum, the program allows students to learn science concepts by using a hands-on and project-based approach: building, creating, and exploring through lab activities.
Each level of the program includes all the needed materials for the year (see a full list here).
Instructional Materials — student logbook, teacher's manual, online access to the interactive student text.
Project Materials — motors, wood, solar panel, wire, bulbs, wheels, rubber bands, magnets, Alka-seltzer, etc.
Experiment Materials — nails, paper clips, sandpaper, pH paper, string, balloons, wire, steel wool, etc.
Templates and Sticker Pages — project templates, sticker pages, experiment supplements, etc.
Using the text and lab activities, students study forces, machines, motion, energy, electricity, magnetism, sound, light, density and buoyancy. Students will also study general chemistry concepts including the structure of matter, the periodic table, chemical bonds and reactions, mixtures and compounds and the chemistry of food and living systems. In addition, students will learn the fundamental physics concepts of the earth and solar system, thermodynamics, and fluid dynamics. Throughout this course, students discover the relationship between science and daily life. The students will gain a solid understanding of the scientific method and learn to write thorough and accurate lab write-ups.

course description of Advanced Physical Science
Watch a brief video overview here
Our Experiences with Advanced Physical Science
Advanced Physical Science from Exploration Education is the only science program we have consistently used in high school with our children, and I am so thankful to the mom who introduced us to the program so many years ago! Our three oldest have thoroughly enjoyed the program and projects, and we have so many fun memories over the years of the different labs we have worked on individually and with our friends.
A typical week using Advanced Physical Science involves daily lessons with the first three lessons covering the overall concept for the week and the final two lessons going a little deeper and focusing on lab write-ups. The student text is online and interactive (when you first receive your program, you will register online and students will work through the lessons online).
Students read the chapters on their computer and then answer questions on the computer and use their logbook to record their answers. Each of the 36 chapters are broken down into five lessons in the student logbooks (i.e. 1.1, 1.2, 1.3, 1.4, and 1.5) for students to complete and also use as review for quizzes and exams.
As a parent, I appreciate the variety the program offers: online and interactive text, the student workbooks to fill out, as well as the hands-on projects because it appeals to different learning styles, helping children remember and recall information by using these various methods. Our hands-on learners loved the building and creating, and lesson concepts were cemented into his mind because of this learning. The same child may have loved the steamboat project solely because it involved the use of matches.
With two of our children, we used the program as a part of a small co-op and it was a great fit. During the week we would study the lessons and work on experiments independently, and then once a week the co-op group would work on additional experiments and review the learning material together. Our co-op time was usually about an hour and a half or so – just enough to squeeze in a little more learning and review together if there were any experiments gone awry.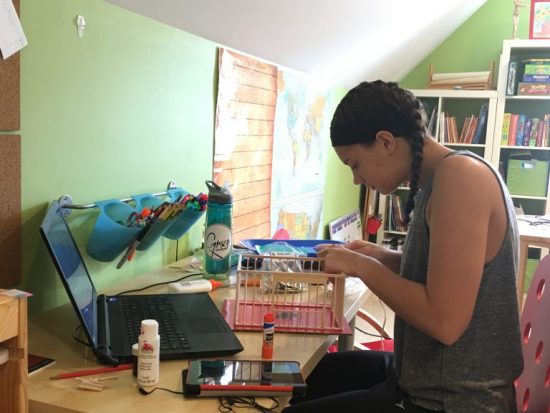 Personally, I love the way Advanced Physical Science incorporates so many different learning styles as it introduces science concepts. While some of the projects are more typical (completing a circuit, for example), the program includes a large amount of science projects and labs that you don't typically see, such as the steamboat and the miniature house construction. These were some of our favorite projects because of that very fact.
What Moms Need to Know
Having the entire curriculum packaged neatly in a box for you is definitely a huge plus to this program! Each of the activities is neatly packaged and labeled, ready to be pulled out and used with your children. Literally all you need is inside the box, so all you have to do is activate your online access to the interactive text and start learning.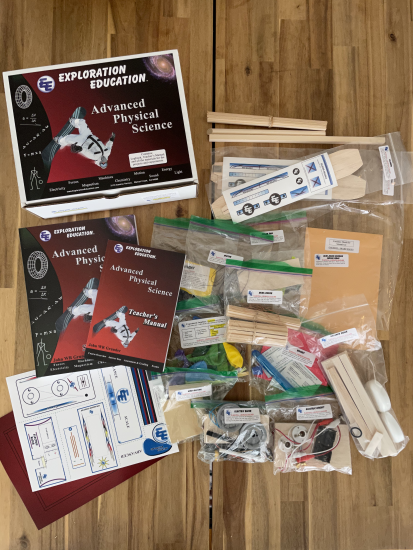 Teacher's Guide – Each program includes a teacher's guide with detailed helps, including blank quarterly exams, answer keys, and a grading rubric. As with any program, I highly recommend reading through the manual prior to starting. There is also a short online overview for teachers to go through online with tips for users.
Time Required – 36 weeks/5 lessons per week. Each lesson takes and average of 45 minutes to one hour. Also includes 40 lab hours.
Grading/Assessment: The teacher's manual includes an area to record your student's grades and progress. Throughout the course there are quizzes (vocabulary and section reviews) as well as quarterly exams. Grades are calculated using an average of weekly activity, quizzes, and exams.
Parental involvement: varies based on child, but time each week may require more assistance depending on your child since some experiments/builds require more detail and focus. For parents of children who like to skip steps, your attention to detail may benefit your child greatly. For example, SAVE YOUR EXPERIMENT MATERIALS because some of them will be used in future lessons (just ask me how I know).
Worldview – Text is written from a neutral worldview.
High School Credit: one high school credit can be awarded for this class. Approximately 150 hours with 40 hours of labs.
Perfect for grades 7-10.
Something for ALL Age Levels

Exploration Education offers three levels of science programs: Elementary (K -3rd), Standard (4th – 6th), and Advanced (7th – 10th). Learn more about the different levels HERE.
You can purchase any of the programs from Exploration Education on their website. Additional logbooks or kits can be purchased for students if you are working on the program with multiple children.