EEME is a blog sponsor and we received this product free for the purpose of reviewing it. All opinions expressed are my personal, honest opinions. You can read my full disclosure policy for more details.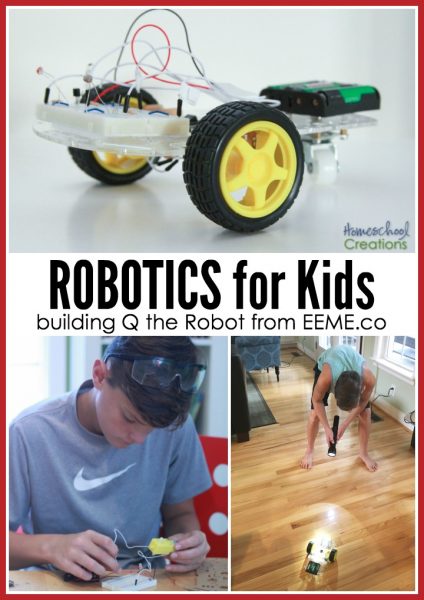 Over the last year Zachary has learned so much about circuits, and this past month he was able to dip his toe into a bit of robotics thanks to EEME. When you add in his curiosity of robots thanks to movies like Star Wars, the opportunity to create his own robot was something he couldn't wait to do. I am beyond thrilled with the new line of robotics products coming from EEME – and I think you will love them too.
Q the Robot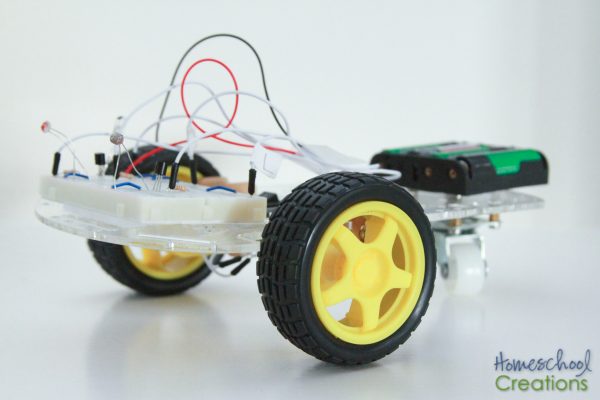 Q the Robot is a project kit that will guide your child through the process of building a 3 wheeled robot that follows light. He is the first in a series of robotics projects from EEME – and there is no coding required to get started! Once completed, Q follows light around using two sensors, or photoresistors. When light is shined directly onto the sensors, Q turns to follow the light.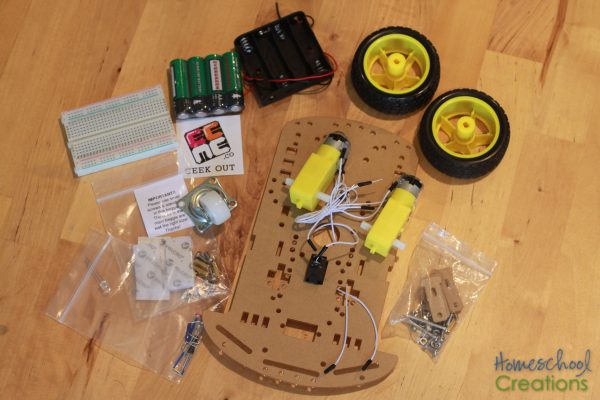 Included in the kit:
4 AA batteries (if you accidentally leave your robot on, you'll need to replace these – *cough*)
2 large wheels and a caster wheel
2 motors
chassis platform for body of robot
a LOT of small parts (screws, nuts, capacitors, photoresistors, labels, velcro, brass posts, switch, resistors, transistors, wires, and LED light)
Over the course of 34 short lessons, kids ages 10 and up will be able to build their own robot. For our 11 year old, it took a little over an hour.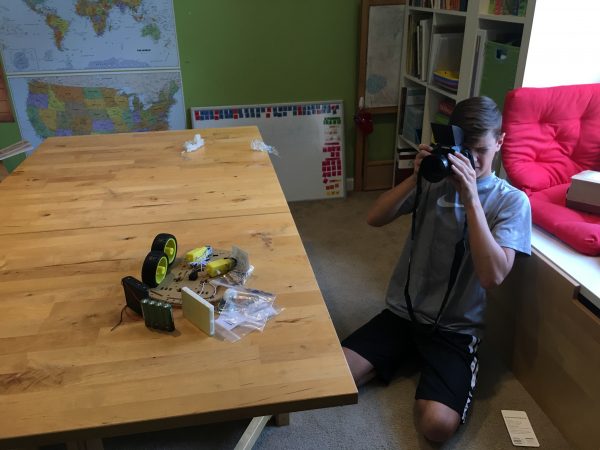 I managed to snap a few pictures of Zachary in the building process, but the truth is – he did the bulk of it on his own. Initially I walked into the schoolroom one afternoon and found him snapping his own pictures to show the building process.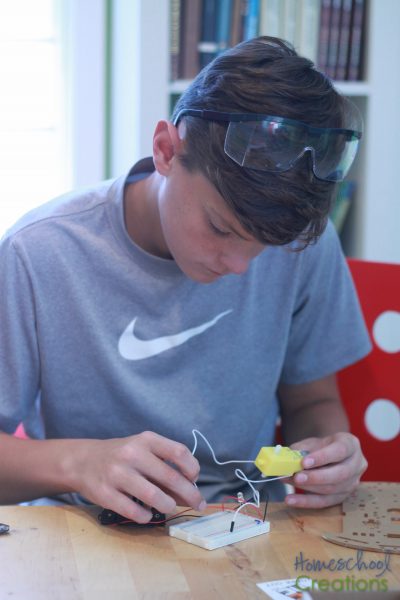 After snapping a few pictures, Zachary went to work on the body of the robot. With this project we did need to pull a few supplies from around the house, including a screwdriver, scissors, a pen, and a flashlight stronger than 300 lumens.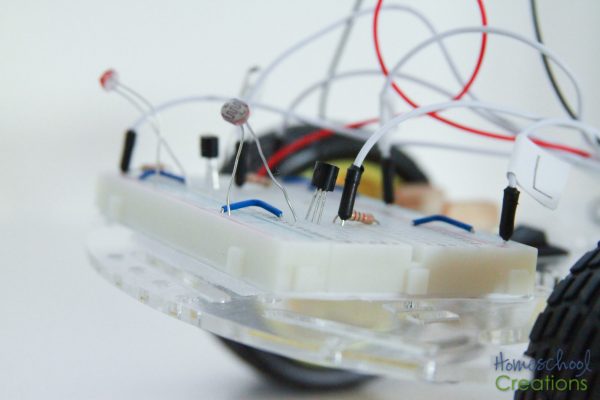 All in all, it was a project that didn't require as much wiring as some of the past projects we've worked on from EEME, a little more 'building,' and a lot more learning about how photo resistors work.
Below is a short clip where Zachary explains the various components of the robot and how everything works. (Feed readers can watch here).
Skills Learned from EEME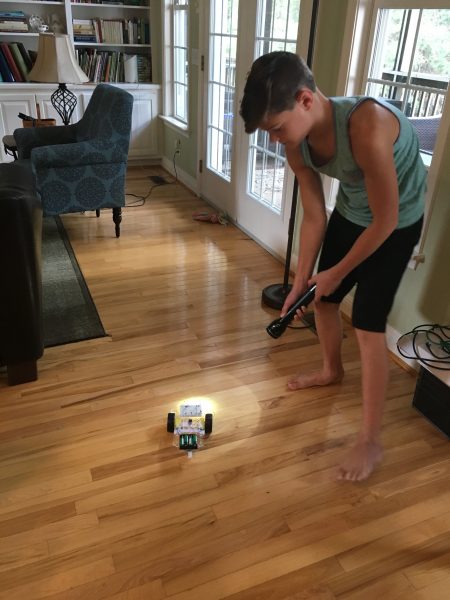 One of the things I love most about the projects we've worked on with EEME is the independence Zachary has learned in the process. While I typically am around while he works on his latest electronic creation, and was very excited to see the Q the Robot project, I managed to miss out on the bulk of his newest creation because he has become so independent. Zachary pulled out the iPad, logged onto the site for the video tutorials, and completed the bulk of the project without me knowing he was working on it. I only knew he was done when Q started running on the floor behind me!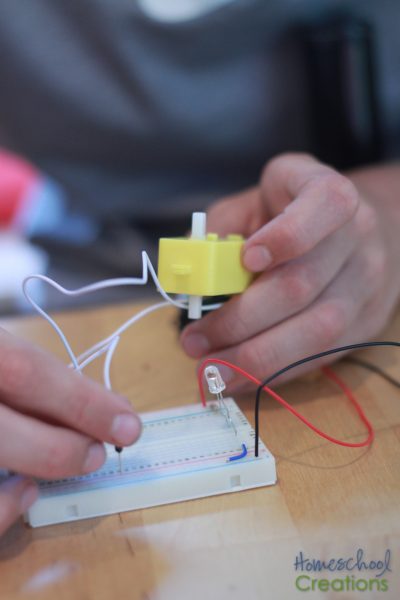 He has learned to problem solve and review if he cannot figure something out – before coming to me with questions. When his robot didn't initially work, he went back to watch a few short videos and see what he may have missed – turns out it was something he connected wrong. Although it was frustrating for a moment, he is also learning to pay careful attention and not try to skip ahead all the time (something he tends to do). Working with circuits and electronics has taught him there is a process to getting things done.
Here's another quick video showing how Q moves around in the house – just remember to turn the switch off when you're done, or you may need to replace the batteries (wink). Fortunately, that was MY fault. There is a handy light to alert you the battery pack is still on.
More Q the Robot to Come!!

EEME makes hands-on projects and provides FREE online lessons to teach kids electronics, fostering their curiosity for how things work and prepping them for the STEM opportunities of tomorrow. Each project kit is paired with online curricula to not only show your family how to assemble the kit, but more importantly, teach them how it works.
Continuing robotics projects are in the works (one level is already available) that will build on the base Q the robot – and the next step involves coding! Read more about the future EEME robotics projects on their blog.
Monthly subscription projects and various project kits are also offered from EEME. Be sure to check out a few of our other project reviews: Project Amp, Project DIY Light Display, Project Attraction, Project Tentacle, and Project Genius.
Don't miss the FREE interactive online lessons to teach your family the fundamentals of electronics. Sign up for FREE to access EEME's online lessons.
Follow the EEME blog or find them on Facebook, Pinterest, Instagram, and Twitter.
Perfect for ages 10+
Time Required: 1-2 hours
Parental involvement: varies based on child