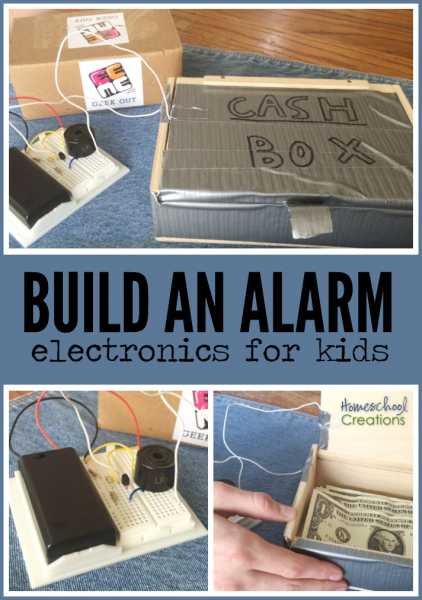 Apparently Zachary has something special that needs protecting from his dangerous siblings or the animals roaming in our woods. He had the option of creating a door alarm, but decided instead that his cash box needed more protection. Using our most recent EEME kit, Project Tentacle, Zachary worked to build an alarm using electronics.
Over the past six months, Zachary has learned so much about bread boards, resistors, capacitors, and how to get his wires crossed (or not). It has been a fabulous learning time for him and something he has soaked up and absolutely loved.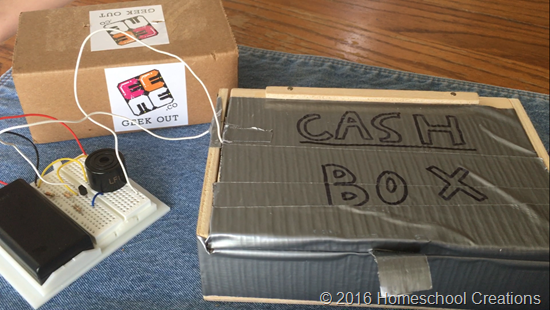 While we made a suggestion to not label his cash box, the alarm he built using the lessons from EEME were clearly a better option (grins). The alarm system using Project Tentacles was definitely a more creative option for his cash protection, and again Zachary learned more about circuits and different components, including NPN transistors – this was fun for me to learn as well, and you'll hear more about it in the video clip below.
Building an Alarm – The Process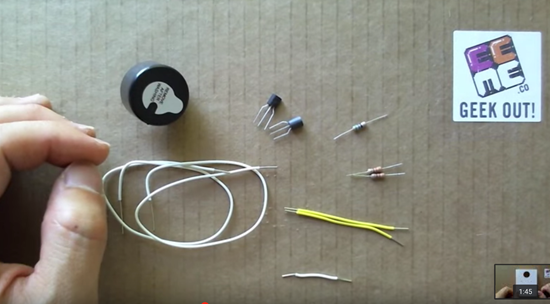 Because we have worked on several other projects from EEME, we had a few of the key components already on hand: a power supply and a breadboard. Otherwise, we received the following items in our kit:
buzzer

2 – 6+" long white wires

2 – 2" yellow wires

1 – 1" blue wire

2 resistors: orange band

1 resistor: blue/green band

2 3-prong transistors
I'll be honest and tell you, the name of the project scared me a little bit at first! Fortunately, it wasn't anything that involved lots of legs and crawled around the house – although the finished project did have some long wires that were all over the place.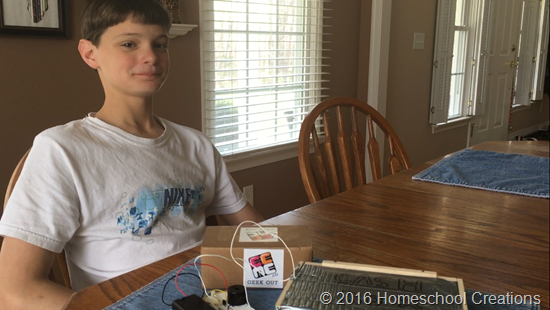 Zachary has a much better understanding of circuitry now that he has completed three projects with EEME, so it didn't take him as long to complete this project overall other than figuring out the best way to 'rig' his cash box with an alarm and make it work every time the box was opened (a little duct tape goes a long way).
A Peek at How the Alarm Works
Zachary did a great job explaining the different components and how his alarm worked (ignore that I called the base a breadbox, please? I do know better than that!). Feed readers can click here to watch the video.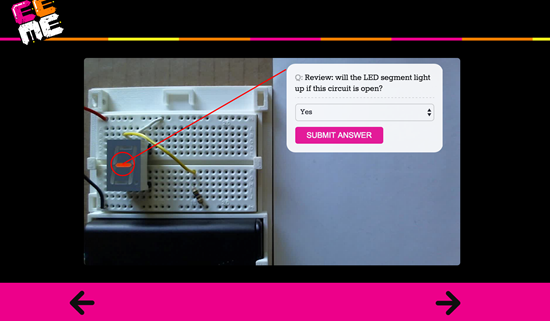 One thing I really appreciate about the projects from EEME is the constant review between the video clips. Some are review from the lesson while others are overall electronic questions based on what they have learned throughout.
You can see the three other projects we've worked on here:
A Little More About EEME
EEME makes hands-on projects and provides FREE online lessons to teach kids electronics, fostering their curiosity for how things work and prepping them for the STEM opportunities of tomorrow.

Each project kit is paired with online curricula to not only show your family how to assemble the kit, but more importantly, teach them how it works.

They also have FREE interactive online lessons to teach your family the fundamentals of electronics. Sign up for FREE to access EEME's online lessons.
Project Tentacles is one of the projects in the Builder Basic 6 Project Set and also the third project in EEME's monthly subscription program. Zachary has thoroughly enjoyed all he has worked on (especially Project Amp) – a HUGE thumbs up from our family!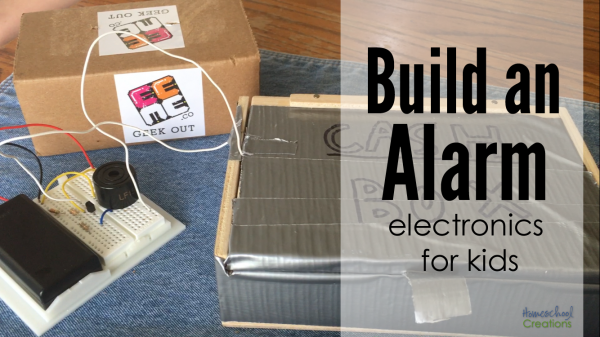 Perfect for ages 7+
Time Required: 1-2 hours
Parental involvement: varies based on child