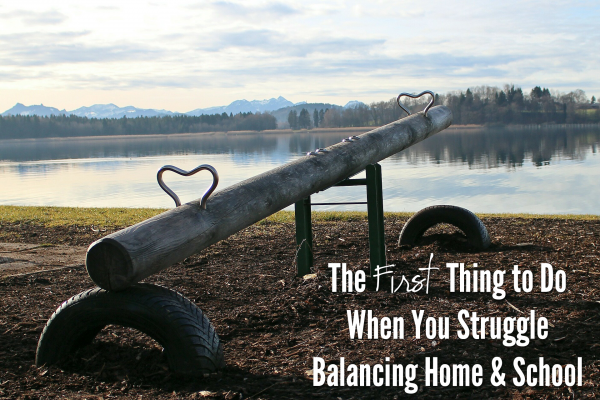 Recently I asked a question on Facebook of you all: What is your biggest struggle in balancing home and school? The answers ranged from "everything" to finding quality time with spouse, meal planning, and keeping our home clean.
As homeschool parents, we have a lot on our plates trying to balance our homeschool time with the everyday happenings at home: meals, cleaning, shuttling kids, working, more feeding of the children, grocery shopping, marriage, and the many other commitments we have outside the home. It can seem like it never ends.
Overwhelm can sometimes be an understatement in how we are feeling.
So – how do you do it all? Isn't that a question that we all ask? We see all these amazing images and status updates on Pinterest, Facebook, and Instagram from other moms with immaculate homes and (seemingly) idyllic families. Kids who are dressed and have combed hair (the struggle is real onthat one in our house), perfectly plated food, laundry that is folded…and then put away. Often we're struggling to keep up with the bare minimum and just see the bottom of the kitchen sink and remember about thirty minutes before 6 that we have to figure out what's for dinner.
Let's face it – it is SO easy to get overwhelmed and feel like life is out of balance. Quickly!
I'd love to share my heart (and home) in a short series on balancing home and school in the upcoming bit on the blog (because I can use a refresher too!), but I need to put out a few disclosures.
I don't do it all
My all is different than your all.
Sometimes we desperately need to redefine 'all' to match what is reality – not expectation.
Maybe you are looking for a few tips on tightening things up. Maybe life feels completely out of whack. Regardless, in this series we're going to talk about some ways we can approach different areas of our homes and lives and try to bring things back into a more organized state.
But today, there is one thing that I think is so very important to not only understand in our minds, but especially in our hearts.
Know that you can't do it all.
No matter what you think, there is no mom that is doing it all. Everyone has different priorities and things that make their families unique. There are days in our home when we are lucky to finish the basics of school and have three decent meals (because those kids keep asking for food. And the husband – he likes to eat too). Housework may be pushed to the side for a day or two…or more. Other times we may even be scraping the bottom of the fridge to find something edible.
There definitely is something to be said for having an organization plan in place (a routine or schedule), but remember – life happens. You need to know what your top priorities are and what is most important to you.
Pinterest can be one of my biggest downfalls and if I'm being honest, Facebook too. It's easy to see and read how everyone's life around us is going along so amazing. Their kids are sleeping through the night after just 2 weeks, while yours are almost 10 months and can't make it more than 3 hours (been there, friends). It's easy to make life look "good" for others to see, but part of that transfers into a struggle when we begin comparing what friends or others have that we don't. And then we begin the process of beating ourselves up for not having it look JUST like an image we see or an impression we got from something.
Can I tell you something? There's a lot that we miss in all those pictures and status updates. We are seeing what others are allowing us to see. A picture of a happy family taking a road trip together can be shared on Instagram, but I can guarantee they aren't sharing a video or picture of the same kids that have already started fighting in the backseat over just fifteen minutes down the road. (I have zero experience with said issue. Zero.)
We don't see the messes or the many hours that go into making something Pinterest-worthy. But our hearts take in what we are presented with and then latch onto our lack.
And friends – that is SO not my heart for you. This is something I have struggled with tremendously over the years and it has eaten at me, stealing joy from the moments I should instead be savoring.
If you are struggling…
While I may not know what area you feel you struggle most with, I do know there are many resources (and friends) available to help us each out along the way. Can I encourage you to pick one area in the upcoming week and spend 20 minutes a day focusing on that area? If you need accountability – ask a friend! (I will be!)
Here, the newness of spring has been inspiring to me to change up some things in our home and get back on track in multiple areas. I'm committing 20 minutes twice a day – starting the day with time to prioritize and focus and then making a "clean sweep" of the house each evening so we have a fresh start the following morning (clean counters and a tidy living area).
What area will you focus on this week – and remember: focus on the unique priorities YOUR family has. Don't worry about what others are doing. Do what is best for you and yours!