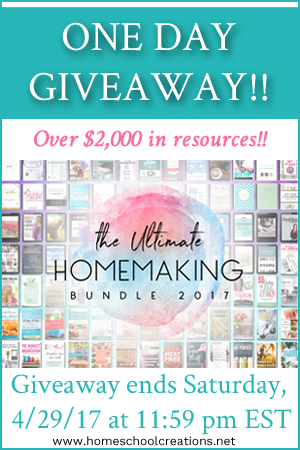 You have likely seen all of the posts that I've shared this past week about the Ultimate Homemaking Bundle. BUT maybe it just isn't in the budget for you to purchase it right now – and I completely understand that!
Today I have a ONE DAY ONLY giveaway for you of theUltimate Homemaking Bundle with the eReader upgrade! I'll announce the winner both in this post and on Facebook by Sunday afternoon, that way those of you who would still like to purchase one have time. (p.s. if you have already purchased and would like to enter, feel free – I'll reimburse your purchase for you!)

This week I shared one help in dealing with anger in parenting and also a few of my favorite things from this bundle, so check those out if you haven't seen them. Don't forget, all purchases made through THIS LINK also includes a special bonus from me – my brand new homeschool planner!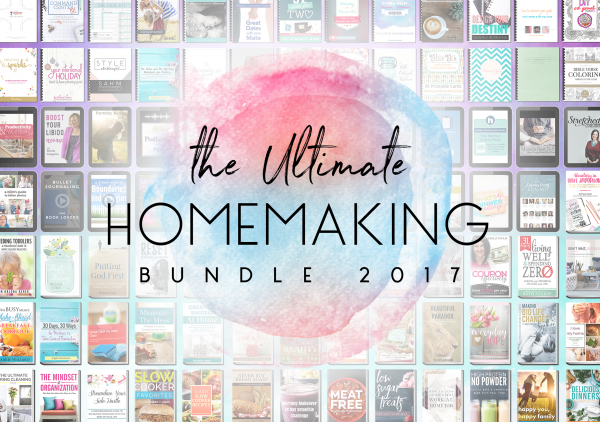 The Ultimate Homemaking Bundle sale ends on Monday, 5/1/17 at 11:59 PM – and after that, it's gone, so be sure to order your copy before it's too late.
Don't forget – if you purchase the Ultimate Homemaking Bundle using my link, you will receive a copy of my brand new Homeschool Planner (which hasn't even been released yet!). Email me with your invoice/receipt to claim this offer.
Enter below using the Rafflecopter widget to win a copy of the 2017 Ultimate Homemaking Bundle ($29.97). Entries are open worldwide and the giveaway ends on 4/29/17 at 11:59pm EST. Winner will be announced on Sunday.