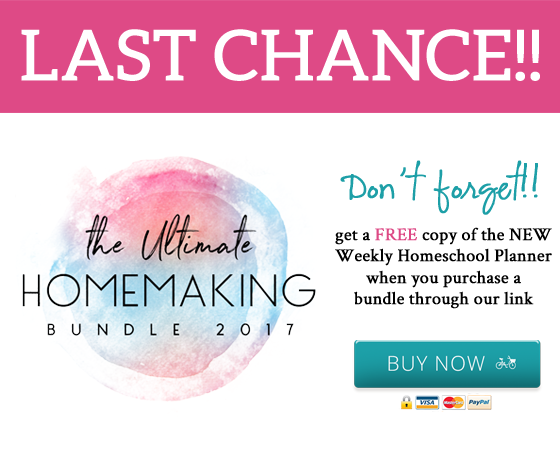 Before the day gets too crazy and gets away from you, don't forget that today is the LAST DAY to get the 2017 Ultimate Homemaking Bundle. These top-quality resources cover everything you need to make homemaking and mothering feel less stressful… quick & healthy recipes, homemaking printables, cleaning tips, sizzling date night ideas, parenting helps, and so much more.
I know have talked a lot about this bundle over the last few days, but it is because it is one that I personally purchase and highly recommend because it has so many amazing resources!
For less than the cost of a meal out (and you won't need to be rescued by drive-thru after this!), you'll get a complete library to help you:
Cook up wholesome recipes for your family
Build stronger relationships with your kids (even your teens)
Discover speedy cleaning routines for the toughest messes
Rekindle the romance in your marriage
Put self-care back into your life
and finally enjoy homemaking.
Becoming efficient as a homemaker is one thing. Fully embracing all the messy moments and hard times and loving it (most days) is another. But it's not out of reach.
If you don't have time to find a bunch of online resources or a lot of extra money to spend, you'll appreciate how the Ultimate Homemaking Bundle will make your homemaking less stressful.
If you agree, now is the time to act. Let's make the next 12 months your most relaxed homemaking year ever.
At 11:59 P.M. Eastern Time, the bundle will come off sale for good!

P.S. It all ends soon! Grab your copy before the sale ends tonight at midnight!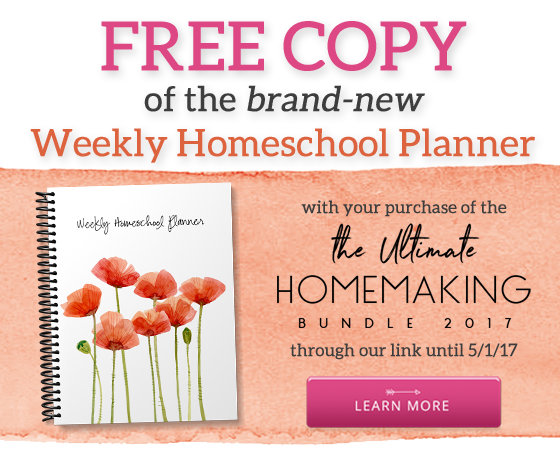 Don't forget – if you purchase your Ultimate Homemaking Bundle USING MY LINK, email me and you will receive a copy of my brand-new Weekly Homeschool Planner as my free gift to you!