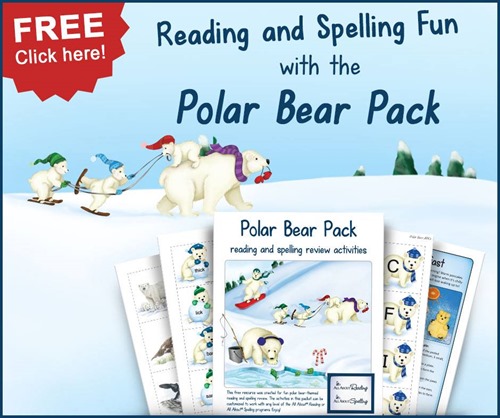 Just in time for some winter fun, All About Learning Press is offering a limited time freebie for reading and spelling practice – the Polar Bear Pack! This full-color pack contains 30 printable pages of delightful reading and spelling activities that are positively popping with polar bears. Included in the pack you will find:
Polar Bear ABCs – practice letter knowledge, handwriting, and letter sounds with some help from these cheerful polar bears! Perfect for preschoolers!
Rhyming Polar Bears – Match up the pairs of rhyming polar bears and build important reading skills.

Polar Bear Word Searches – Word search puzzles are a great way to practice reading and spelling skills, as well as a great way for children to have fun with words. Great for all ages!

Arctic Animal Fun Facts – Polar bears live in the far north, but many other birds and animals live in the Arctic region as well. Explore sixteen different Arctic inhabitants in this fun fact booklet.
Polar Bear Breakfast – A fun polar bear breakfast treat to enjoy on a wintry morning.
Polar Bear Library List – A list of books you need to check out at your local library!
All of the activities included in the Polar Bear Pack correlate with All About Reading and All About Spelling and will give you a fun peek into the quality of their products. If you aren't using either of those programs, don't worry – they will easily go along with any curriculum you are using and will be a fun addition.

See Why We LOVE All About Learning Press!
Curious about All About Reading and All About Spelling? Our family has been using both programs for years and we highly recommend them. Get a peek into some of their different programs and how they've worked with our children in the following posts: