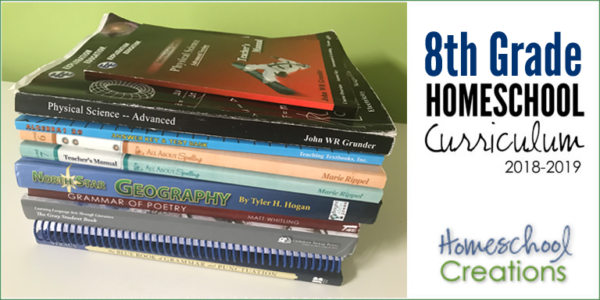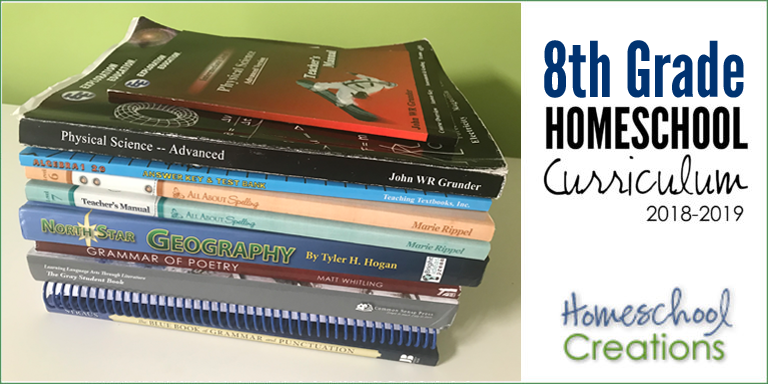 My word for Zachary this year is FOCUS. He is a boy with many interests who can excel in many things, but sometimes his focus can be hard to refine. Along with the focus, we are honing in on doing things well and completely (the first time).
He is a teenage boy. :)
Both of our girls worked on a few more credits their 8th grade year, but if anything I'm realizing that each of our kids has different learning curves, interests, and also doesn't need to start on credits as early. Yes, it's a bonus, but not a necessity. That said, Zachary isn't in the same place academically (and that's perfectly fine), so he will be working on 3.5 credits overall throughout the year.
Below you'll get a peek at our 8th grade homeschool curriculum choices – a look at the new (and favorite) programs we are using for the upcoming school year. An * depicts curriculum/programs that are new to us this year.
*feed readers, please click over to the blog for some of the additional links to curriculum
8th Grade Homeschool Curriculum Choices
Credits to earn: 3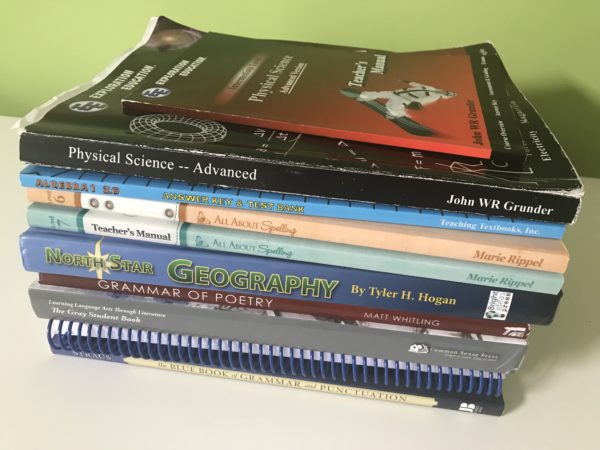 Math
We have the paper version of the Algebra 1 book, but this year Zachary will be working on the online version of Teaching Textbooks Algebra 1 (3.0). It follows along with the book, and I'm excited that I can log in on my laptop and see what he is doing since everything is stored online! (He'll earn 1 credit for this class.)
Geography
Another program we will be using again is North Star Geography. In the past we have worked through it in one year, but this time we are choosing the two year schedule for Zachary. When completed, he will have earned a full credit as a high school class.
Language & Spelling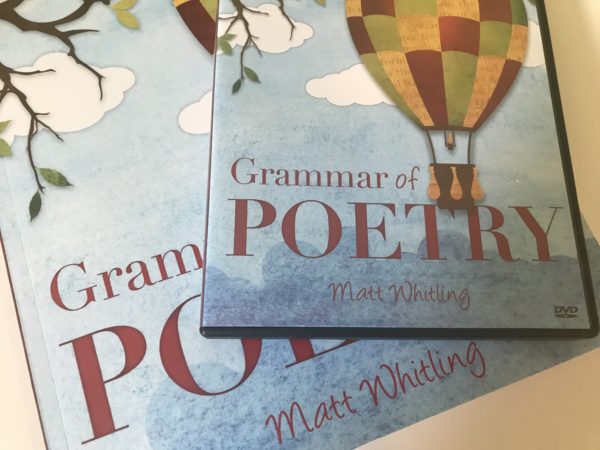 Zachary will be using Learning Language Arts Through Literature Gray, and his reading will be tied in with his language/grammar program. There are four main books as the focus of the curriculum: Daddy-Long-Legs, A Lantern in Her Hand, Eric Liddell, and God's Smuggler. We will likely add on an extra book or two over the course of the year, but these are the four we will start with.
This year we will also be working through the Grammar of Poetry from Compass Classroom. There is a local workshop that will tie-in with what we are learning in the program, and Zachary will earn .5 a high school credit for this class. We will also be continuing with All About Spelling Levels 6 for spelling.
Writing
We will be continuing with the second half of WriteShop (Zachary completed WriteShop Basic Set 1 last year). Used it with both girls and LOVE it!
Science
Both Laurianna and McKenna used Physical Science from Exploration Education. When they worked through the program, they were in a smaller group co-op setting, so this year will be a little different with Zachary doing it with me each week, but he is really looking forward to the program and the hands-on projects.
Swimming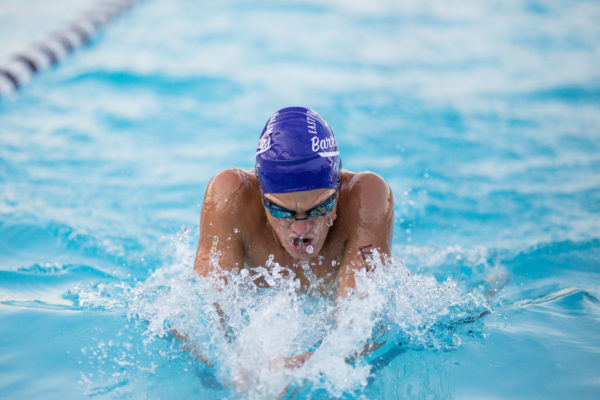 Zachary and Kaleb have both asked to swim the full year again. With Zachary's growth the last year, he has been dropping time like crazy and is hoping to qualify for nationals (he did last year), but this year will definitely be more difficult for him. The last few months have seen him becoming more focused on what he enjoys and loves and how it will impact him in the future (thinking ahead to college – yikes!).
Curriculum in Year's Past
In case you are interested in seeing the curriculum that brought us to this point, here's a peek at what we've used with Zachary the past few years:
Planning the Middle and High School Years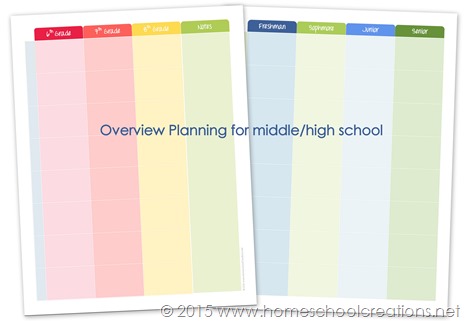 One thing that has been a huge help to me in mapping out the upcoming years with our kids is this middle school and high school planner. Essentially I am able to get an extended view and map out the future years to see what we need to work on and when it might fit in best -and make sure we aren't missing anything overall.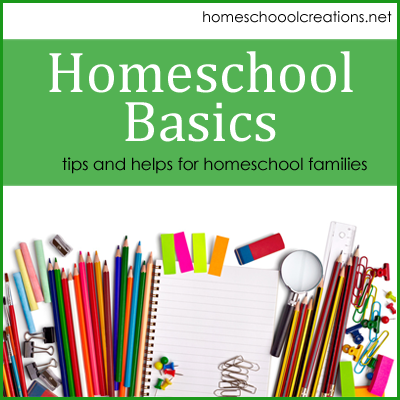 If you are new to homeschooling and aren't sure where to begin in choosing homeschool curriculum, please don't let this post overwhelm you! Check out the entire Homeschool Basics series for answers to more frequently asked homeschool questions.
See What the Other Kids Are Up To…
Click one of the images below to see curriculum picks for our other children.