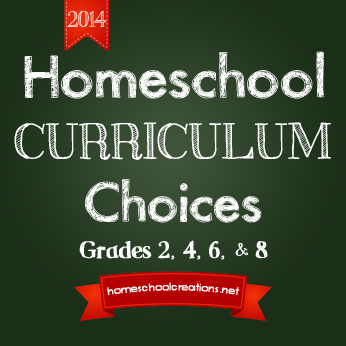 This year (our ninth year homeschooling – woot!) we're adding a few new pieces to our homeschool curriculum choices and venturing into the world of high school credits. Gah!
It was a bit intimidating at first, but after putting together an overall plan for high school, it was a bit easier. Several of our friends are also venturing into the homeschool high school realm, so that helps even more! We'll be participating in a small-scale co-op this year for two of our high school credits which will make several of the subjects a LOT of fun.
New to Homeschooling?
If you are new to homeschooling and aren't sure where to begin in choosing homeschool curriculum, please don't let this post overwhelm you! Here are a few posts that you might find helpful as you discover what is best for your family. Be sure to check out the entire Homeschool Basics series for answers to more frequently asked homeschool questions.
Here's a look at the overall plan for the homeschool year. This year our kids are working on 8th (Laurianna), 6th (McKenna), 4th (Zachary), and 2nd (Kaleb). Our 8th grader will be working on 5-6 high school credits. Something may have been left off the list despite my ridiculous list making, so it's entirely possible that this list will be edited during the year.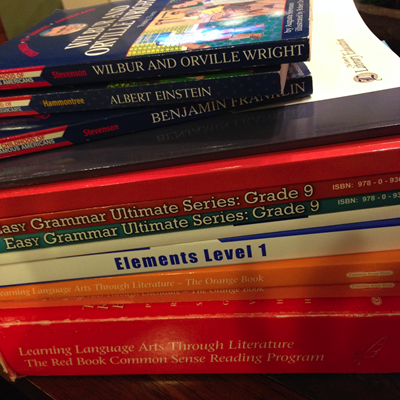 2nd Grade Curriculum Choices
4th Grade Curriculum Choices
6th Grade Curriculum Choices
8th Grade Curriculum Choices
Laurianna will be working on 6 high school credits this year. We are also a part of a small co-op and will be combining a literature class and science labs with them.
History as a Group…
Our history text will be our core focus for the year and we will be working on Mystery of History 4 as a group (Early American History to Modern Times). As they fit in, we'll add lessons from Story of the World 4. Depending on the levels of the kids, they will also use the following resources. The bulk of our resources are from Bright Ideas Press with a few from Amazon:
Mom's Curriculum & Additional Helps
In addition to a lovely collection of teacher's manuals that go along with all of the kid's books, here are a few things that I have on hand to keep me organized:
Additional Resources: Unfamiliar with some of the curriculum choices above? Follow the links below to learn more about the companies and resources:
Curriculum Choices from Years Past…
If you'd like to see what curriculum we've used in years past, click on one of the posts below. Grade levels taught each year are listed with the posts.