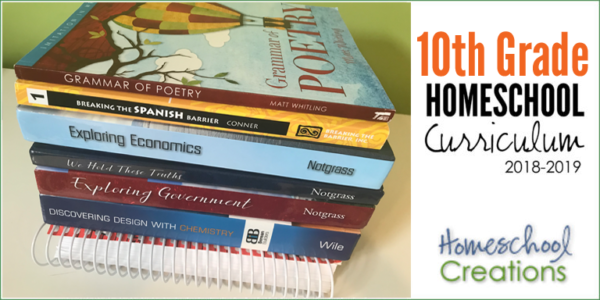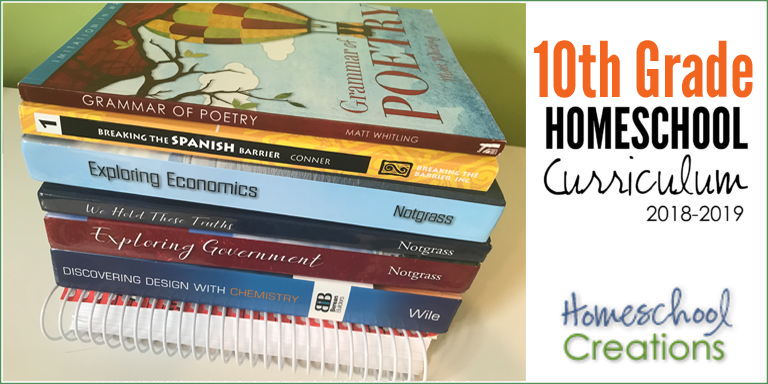 So far, McKenna has earned a total of 13.5 credits toward high school diploma. At the end of her 10th grade year she will have completed 6.5 more credits, making a total of 20.5 credits toward her diploma. Several of her classes will require a bit more from her (hello, we're looking at you chemistry).
McKenna did a fairly good job establishing her own routine last year, but this year we are going to tweak it a little bit and set it up together. McKenna has a tendency to over-plan and over-do and be very thorough in her work. Sometimes a little too much (gotta love the girl). This year I'm hoping to help her establish a little more balance so she isn't quite as hard on herself, since she tends to stress herself (and those around her) out.
Rule #1 for the year though is to make sure her cell phone (and mine) are put aside during our school time. Distraction can be a huge impediment to our day, so the phone will disappear fairly early in the day and provide incentive for her to get through her work. :)
We will be working with one other family in a small co-op to complete our chemistry review and labs as well as our literature class.
10th Grade Curriculum Choices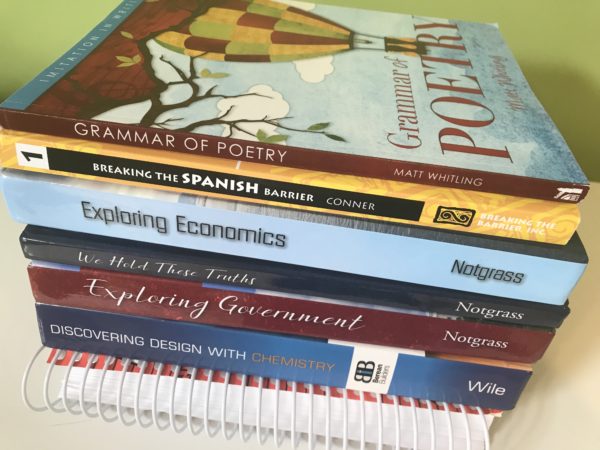 Credits to earn: 6.5
Algebra 2
We've used Teaching Textbooks in past years and this year we will be continuing, but instead of using the typical textbook/CD-rom we are switching to the Algebra 2 3.0 online version. I'm really excited about this switch since I can log into the account at the same time and view the lesson, and we can access from any computer, not just one specific (which we had to do with CD-rom version).
Government/Economics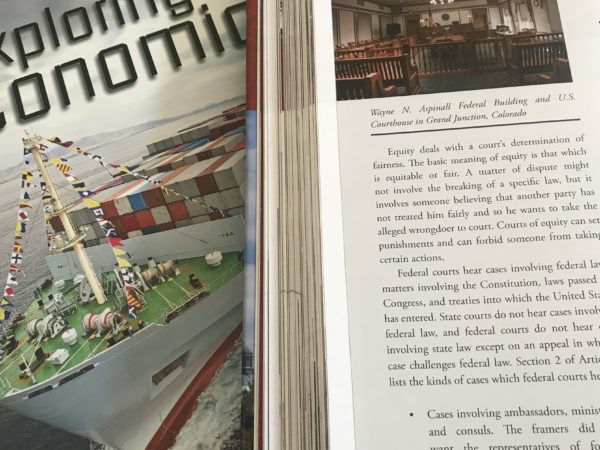 Each of these classes will take place over a semester (each a 1/2 credit). We're planning to start with government and will then move into economics. We've used Notgrass other years (for different subjects), but haven't used the Government or Economics specifically. McKenna really enjoyed the format of the books last year, so we're looking forward to the continuity and familiarity of the layout.
Spanish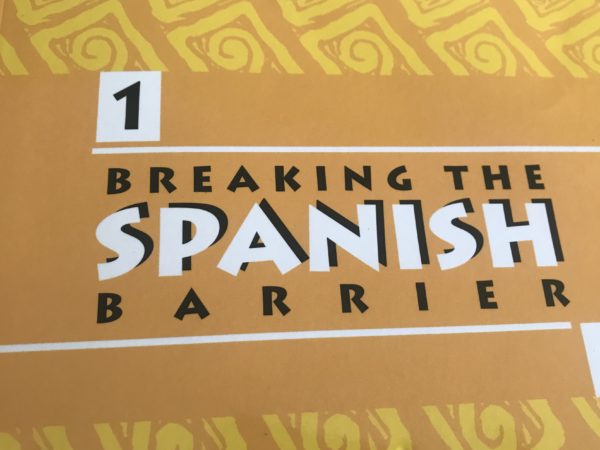 We're switching to a new Spanish curriculum this year. I did a lot of research over the last year trying to figure out what to use with McKenna (Spanish with Laurianna wasn't one of our favorite subjects at all and we really disliked the format of what we started with – and that the program had no support since it was bought out by another company).
A few friends recommended Breaking the Barrier, and while it is not online, we're hoping the workbook format will be a little more user friendly for us overall and easier to follow.
Chemistry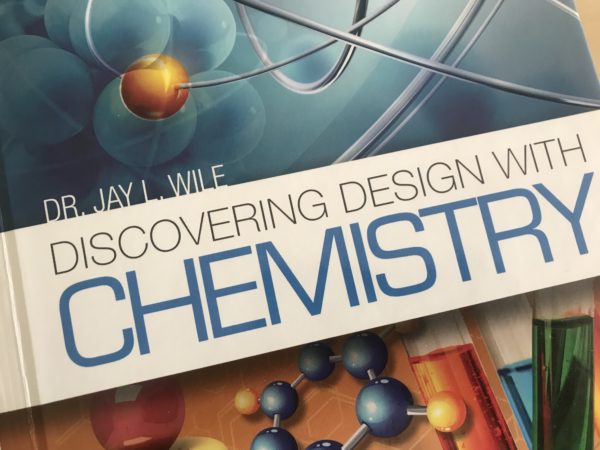 This is another new-to-us curriculum. After Carisa's son used it last year, we sat down and reviewed it with her and decided to make the switch to this program. Truthfully, I'm a little nervous about this class since Laurianna went through chemistry in a co-op setting. BUT, if anything, we have a great teacher's manual and will have fun working on experiments/labs together. :)
Literature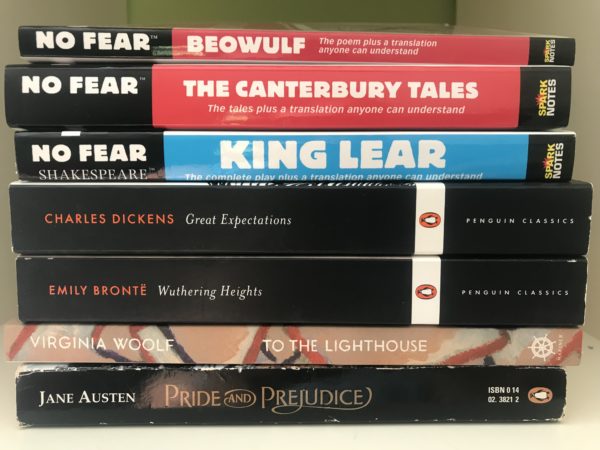 The last few years we have used two of the literature programs by Janice Campbell and love the format of them. This year we are using her British Literature program. It isn't one we've used before, but has a few books I can't wait to dig into with McKenna.
Drama
McKenna is really excited to be taking another theatre class at our local community college. Each week she is participating in workshops, vocal training, and at the end of the semester the group will be performing the musical, Urinetown (I know it sounds crazy, but it looks hilarious). Because this is an intense class with a lot of in-class and out of class hours (and she will be one of the leads!!), she will earn 1/2 credit for the class. If she decides to participate in the spring semester class as well, we will bump it up to a full credit.
Poetry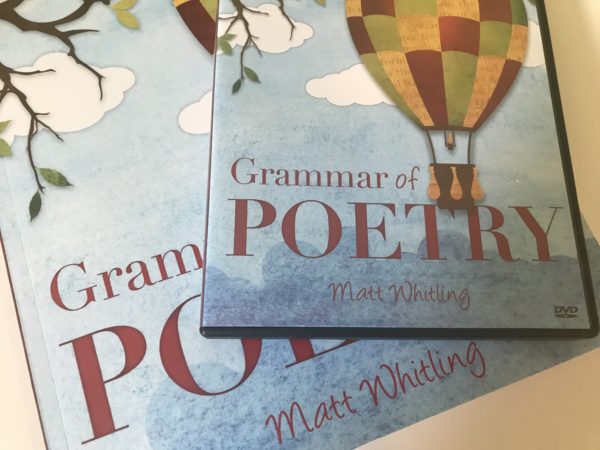 This year we will also be working through the Grammar of Poetry from Compass Classroom. There is a local workshop that will tie-in with what we are learning in the program, and McKenna will earn .5 a high school credit for this class.
Curriculum in Year's Past
In case you are interested in seeing the curriculum that brought us to this point, here's a peek at what we've used with McKenna the past few years:
Planning the Middle and High School Years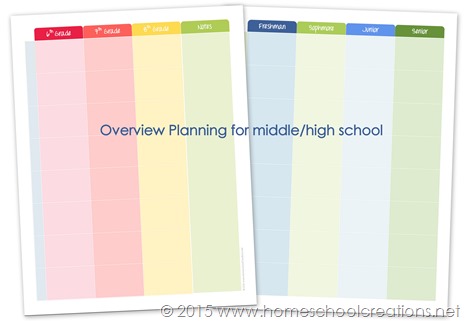 One thing that has been a huge help to me in mapping out the upcoming years with our kids is this middle school and high school planner. Essentially I am able to get an extended view and map out the future years to see what we need to work on and when it might fit in best -and make sure we aren't missing anything overall.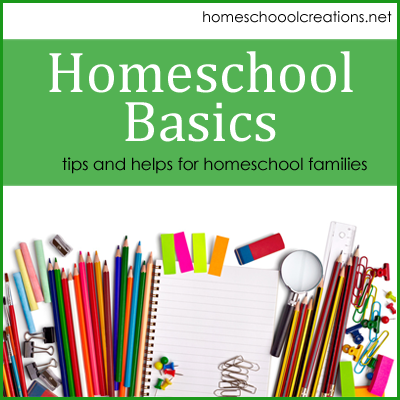 If you are new to homeschooling and aren't sure where to begin in choosing homeschool curriculum, please don't let this post overwhelm you! Check out the entire Homeschool Basics series for answers to more frequently asked homeschool questions.
See What the Other Kids Are Up To…
Click one of the images below to see curriculum picks for our other children.