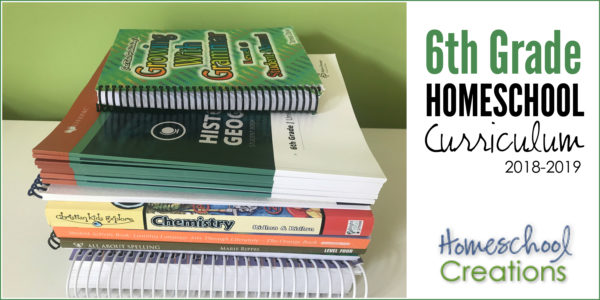 This year our youngest, Kaleb, is in the 6th grade – it seems strange typing those words. Last year Kaleb made some great progress in a few areas he struggles (specifically reading and handwriting). We were able to make adjustments and he took keyboarding (which he loves) and his reading made some great jumps, which was encouraging to him.
While typically we add more and more independent subjects as the school levels progress, Kaleb will still be working a little more 1:1 with me until I'm sure he has a firm grasp on reading comprehension. His tendency is to get a little more frustrated – he gets it when he reads it, but the speed/fluency is more his struggle. That said, I'll be sitting along side him for a bit more than I normally would. Besides that, he's our youngest and frankly, I want to enjoy every last moment I have with him.
We've stuck with some tried and true curriculum pieces, but we are also adding in a few new things this year, tailored more to Kaleb's learning/doing process. One of them does involve a little more reading (another reason why I will stay alongside), but it's one he can pace himself and work ahead (he likes seeing he is completing something), so hopefully that will work to our advantage. :)
Below you'll get a peek at our 6th grade homeschool curriculum choices – a look at the new (and favorite) programs we are using for the upcoming school year. An * depicts curriculum/programs that are new to us this year.
*feed readers, please click over to the blog for some of the additional links to curriculum
6th Grade Homeschool Curriculum Choices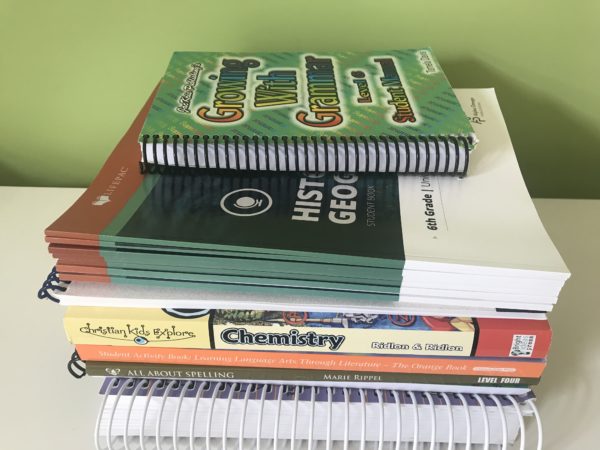 History & Geography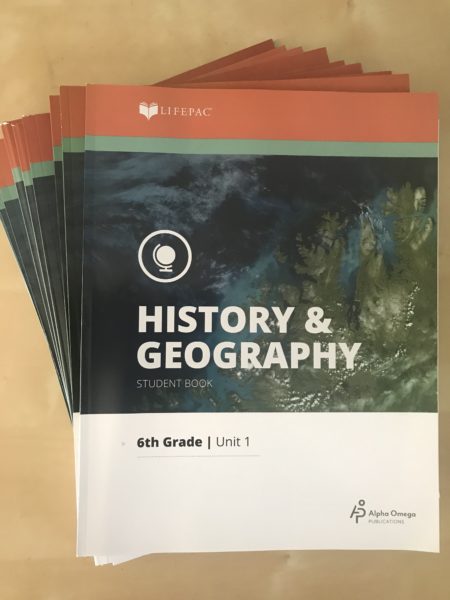 For history this year we are switching things up and trying something new to us: AOP Lifepac History and Geography Units. The older kids each have their own programs they are working on, so this is one Kaleb and I will be going through together. There are ten units for the entire year, and each unit is broken up into small booklets which will be an encouragement to Kaleb (seems less overwhelming, but gives him bite-sized chunks to work through).
Math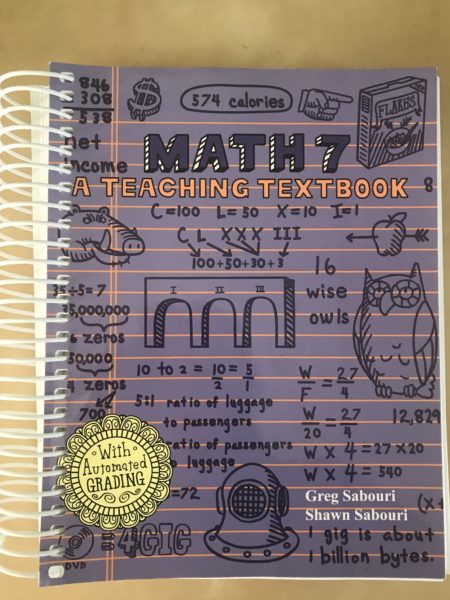 Although we have the paper version of the book, this year Kaleb will be working on the online version of Teaching Textbooks (3.0). It follows along with the book, and I'm excited that I can log in on my laptop and see what he is doing since everything is stored online! (WOOT!).
Handwriting/Cursive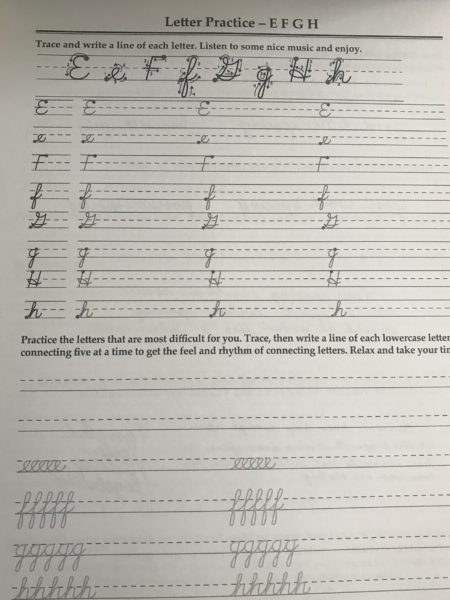 As I mentioned earlier, Kaleb really enjoys the subjects that are do "this" and you are done. He struggles with his handwriting and keeping his letters smaller, but is really fascinated with cursive writing (last year he kept practicing different letters and his name), so he will be using Teach Yourself Cursive. Copywork is something he doesn't mind as much, even though he isn't a fan of writing in general, so we'll use that to our advantage.
Language & Spelling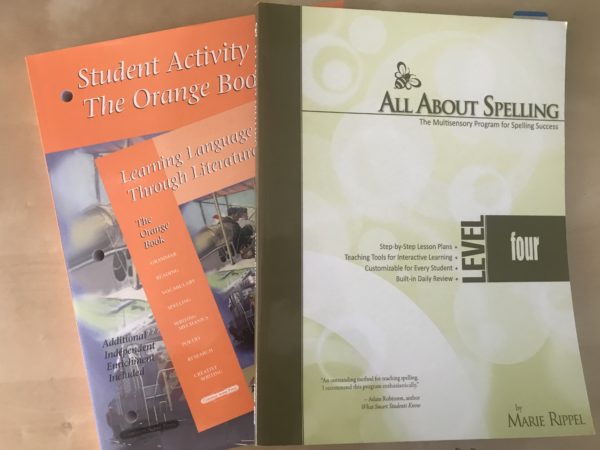 To keep reading a little more laid back for Kaleb, we will be using Learning Language Arts Through Literature Orange. There are four main books as the focus of the curriculum, one of which Kaleb has already read. All About Spelling Levels 4 will be our primary spelling curriculum.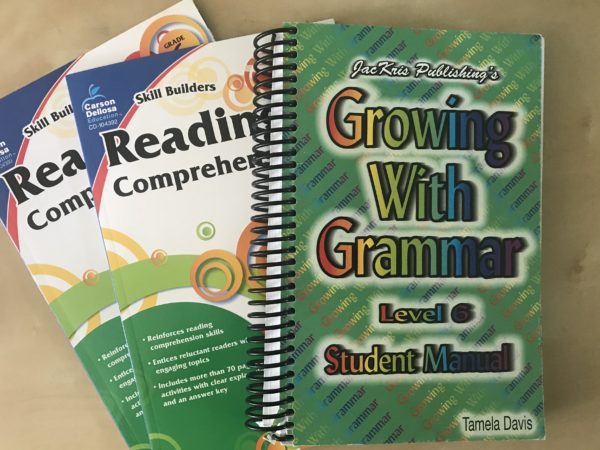 We're also continuing with Growing with Grammar (Level 6) and working through several of the Reading Comprehension skill builder books from Carson Dellosa. We used one last year and they were great for helping Kaleb with not only his reading speed, but his comprehension and confidence in his reading.
Science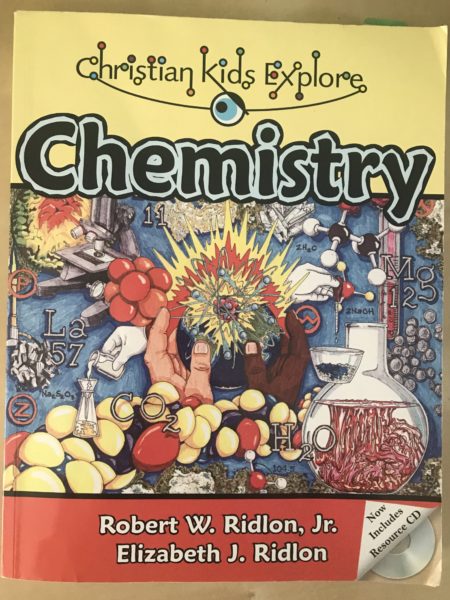 A few years ago we used Christian Kids Explore Chemistry with Zachary and he loved it. Kaleb remembers the fun hands-on projects that went with the program and was really excited when I mentioned we would be working on it this year. He especially remembers the atomic cookie skillet models we made and is looking forward to those!
EEME projects are going to be a 'bonus time' at the end of each day for him for some STEM work.
Lego League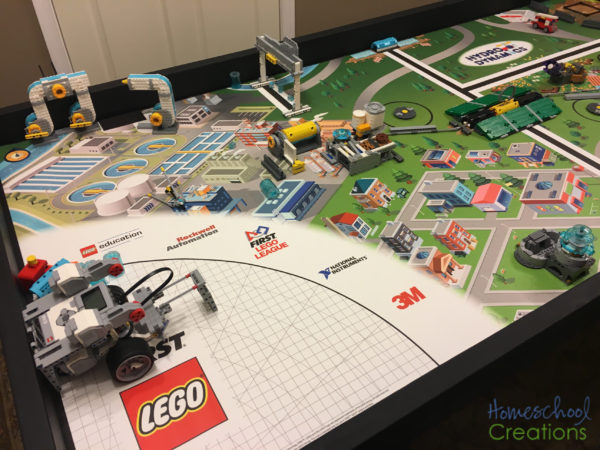 This year we will continue with our small Lego League group. Last year was Kaleb's first year participating and at first he wasn't too sure about it all. As the year progressed he started enjoying it more and more (despite the practices typically falling during Sunday afternoon football – the boy is serious about his football!). We're excited to see how the boys do this year!
Curriculum in Year's Past
In case you are interested in seeing the curriculum that brought us to this point, here's a peek at what we've used with Kaleb the past few years: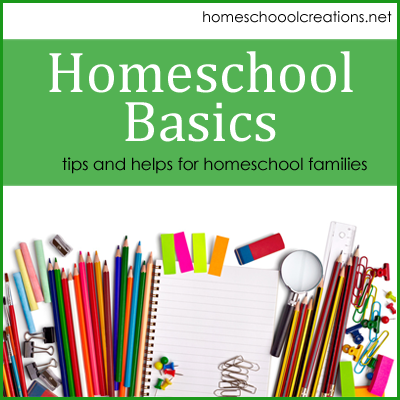 If you are new to homeschooling and aren't sure where to begin in choosing homeschool curriculum, please don't let this post overwhelm you! Check out the entire Homeschool Basics series for answers to more frequently asked homeschool questions.
See What the Other Kids Are Up To…
Click one of the images below to see curriculum picks for our other children.