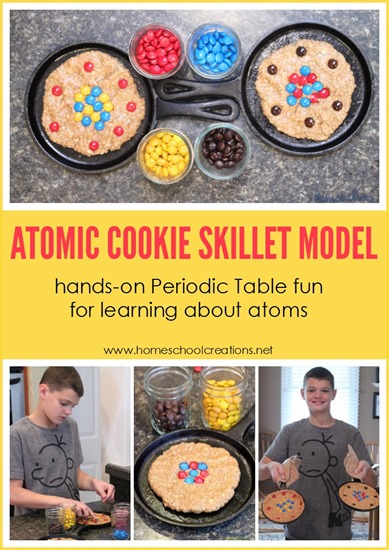 One of the things that I want science to be (or any subject) is FUN. If there are opportunities to do something hands-on that will tie in with a lesson and make it 'stick' – well, count me in.
This year our fifth grader is studying Chemistry using Christian Kids Explore Chemistry (aff link). To understand how atoms look, we decided to go the edible route and follow an idea in our lesson on atomic numbers – atomic cookies. We are big proponents of making cookie skillets in our house, so the bigger the atom model, the better!
Note: In an effort to ensure I had enough different colored M&M's, I may have gone a wee bit overboard at the store trying to find bags of them. If the store would QUIT MOVING the candy, it would also be extremely handy. I ended up with a fall bag, Christmas bag, and a mixed bag, as well as Reese's Pieces. Just because.
If you'd like to share in the yumminess, you can use the recipe below and make your own as well.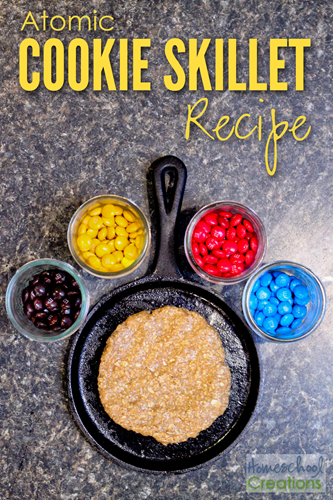 Atomic Cookie Skillet Recipe
2 eggs

1/2 cup sugar

1/2 tsp corn syrup or honey

1/4 cup butter

3/4 cup brown sugar

1/2 tsp vanilla

1 tsp baking soda

dash of cinnamon

2 1/4 cup rolled oats

3/4 cup peanut butter
Preheat oven to 350 degrees. Beat eggs and add remaining ingredients in order listed, mixing well. Place a chunk of the dough into the center of the skillet and press down, leaving some room around the edges for spreading while baking.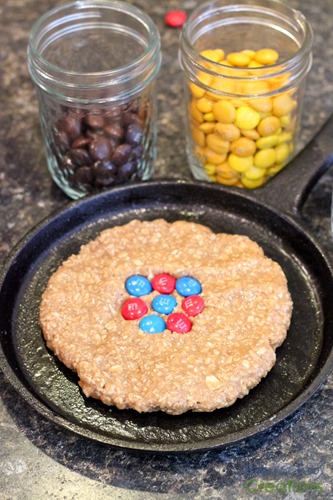 Create a nucleus using the correct number of protons and neutrons. Place them close together in the center of your cookie dough. You'll have to decide which color you'd like to have representing protons and neutrons. Each atom has a specific atomic number (i.e. oxygen has an atomic number of 8, so there would be 8 protons and 8 neutrons as a part of the nucleus).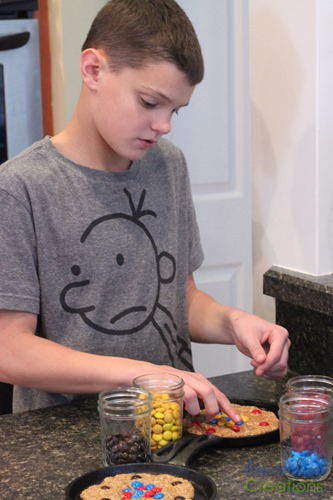 Once your nucleus is in place, choose a different colored M&M to create your electrons and place them along the outer edge of the cookie. Use the same number of electrons as the atomic number (so oxygen would be 8, the same as the protons and neutrons in the nucleus).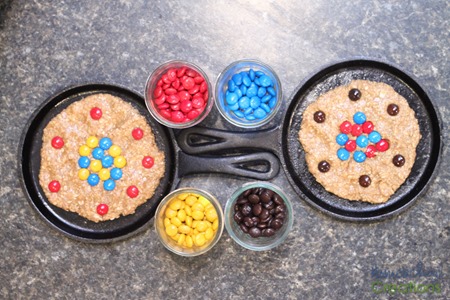 Marvel at the yumminess that will be yours in less than 15 minutes and see if you can identify the different atoms that you created. Bake for 12-15 minutes, or until the cookie is baked to you liking (ours took between 14-15 minutes).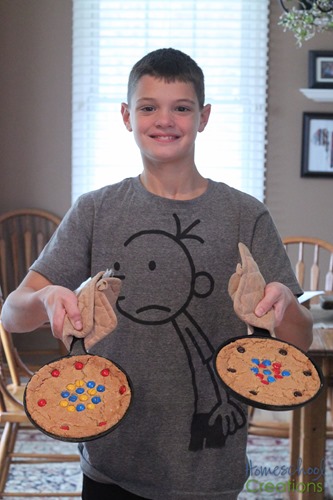 Enjoy your atomic cookie skillets! Can you guess which atom models we made above? (Hint: count the nucleus or electrons and check your periodic table). And if any of you decide to make an atom representing gold (79), I'd really like to see pictures of that model. Or eat it with you.
Note: You can also make monster cookies with this recipe. Double the ingredients and add in 1 cup of M&M's and 1 cup chocolate chips. Use an ice cream scoop to portion on cookie sheet and bake 12-15 minutes.
Building Atom Models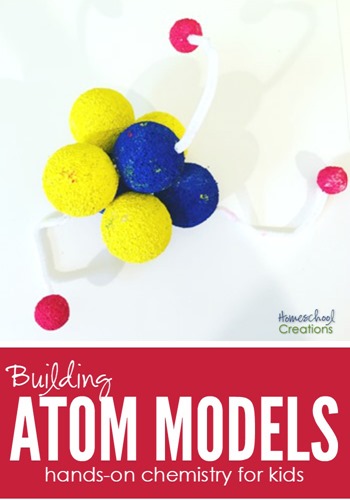 Looking for another hands-on idea for learning about atoms? Building atom models is an easy and memorable way to work on chemistry.