Last spring (and partway through the summer), freezer meals were such a huge lifesaver for me and a few friends. Between swim practice, afternoon co-ops, and just running around, having a chance to sit down and make a really good (and hearty) meal for the family was sometimes hard. But those freezer meals helped so much! Yes, it took a little planning and much of a Saturday with friends, but the result is worth it.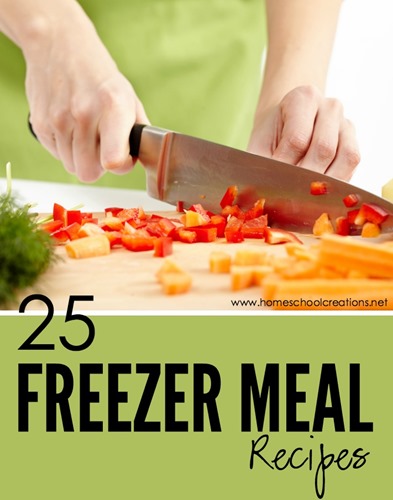 Many of you have emailed or commented on Instagram and Facebook asking me to share our latest freezer cooking session, and here it is! I fully intended to take lots of pictures, but somehow only managed to get two crummy pictures on my cell phone. That said, our freezer cooking session was very successful and each of us finished with 25 meals packaged and ready to pop in and out of the freezer, as well as two batches of homemade spaghetti sauce (since we were left with a giant bowl of green peppers we forgot to add to another recipe – oops!).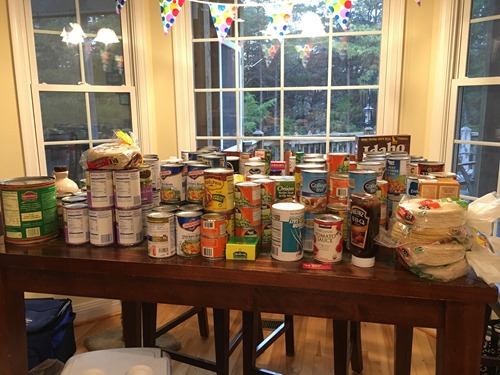 A few of the recipes we used were ones from our previous freezer cooking sessions (you can read more about our first session here and our second one here).
One thing I will say before much more – prior to starting I was really getting discouraged about how long the process typically takes us. Most times (including this one), we are usually together from 9:30 until about 5. We do take a few breaks to keep our energy going, but for the most part we are working solidly the entire time. On Pinterest I've seen so many "50 Freezer Meals in 1 Hour" (I may be exaggerating a wee bit), and it was getting me discouraged because we were going way over the one hour mark!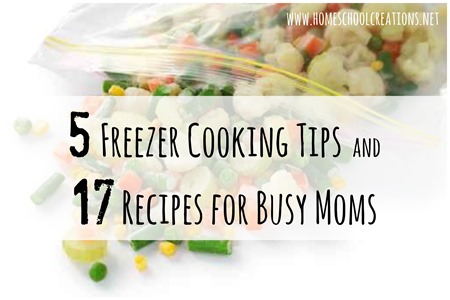 I definitely recommend these freezer cooking tips (and these as well) before starting to help the process go much more smoothly, but one thing I was reminded of was the bulk of meals that we plan do not typically need more to go along with them. We do have a few 'dump a few ingredients in the bag' but my friends and I have tried to pack lots of healthy veggies, meat, and substance in our bags and pans so they are complete meals. I do cook rice ahead of time and freeze that as well to go along with meals, but many of these require little else to be added to them. Besides, our cooking session really resulted in 75 meals altogether – that's pretty great! (And working with friends is SO much more fun!) One of the families also has two GF members, so we made sure to prep her meals first so there wasn't any cross contamination or ingredient confusion (you really would be amazed if you saw some of the things that have gluten in them!).
25 Freezer Meal Recipes

Here's a peek at all of the meals that we worked on this time around. We try to have a good variety of pork, chicken, beef, and other meats to rotate through so it isn't all chicken 24/7. Our families so appreciate that!
A Few Timesaving Tips
Here are a few things that we did beforehand to save time the day of our big freezer session:
Prepped most of the meats so they were ready. The bulk of the meals do not require the meat to be pre-cooked, but we did need 2 lbs. of shredded pork BBQ, so we threw that in a crockpot the day before and also browned a pound of hamburg for the Tater Tot Casserole.

Bought flash-frozen chicken. We picked up the large bags of chicken at Costco from the freezer section and in recipes that called for chicken breasts we just dropped the pre-frozen breasts into the bag or into the foil pan.

Labeled all of our bags so they were ready to go. When we cut the larger chunks of meat the next morning (such as pork), we grabbed those bags and dropped the roasts or pieces into each bag as we needed it and then put the bags in the cooler until we were ready to add the remaining ingredients.

Pulled out every cooler that existed in our house so we could drop each meal into the cooler as it was finished.

BOUGHT AN ELECTRIC CAN OPENER – Praise the Lord for electric can openers. We've done three rounds of freezer cooking prior to this and my hand hurt so badly after each of those. Pay the $10 for an electric can opener and smile every time you don't have to manhandle a lid.
All in all – woo hoo!! My freezer is happily stocked for the upcoming few months, just in time to get through the holiday craziness. I am so very thankful for friends that are willing to spend a Saturday with me and have some cooking/assembling fun!
FREE Freezer Cooking Labels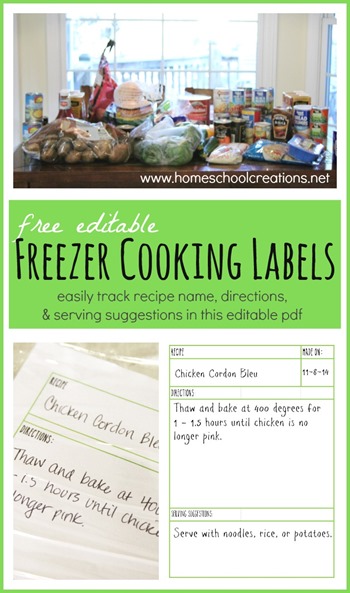 You might be interested in the freezer cooking labels that we've. To make life a little easier for myself, I put together some simple labels to stick on the front of each of our freezer bags and containers, and you can download them for FREE and see our second round of freezer cooking 22 meals!
What are your favorite meals to freeze ahead? Have a freezer tip to share with readers? We'd love to hear!