Ready for another week of linking up and sharing ideas? I am so glad that you are stopping by today (really, I am!) and can't wait to see what you all have to share this week. Be sure to stop by our PreK & K Pinterest board to see a collection of the different posts we are pinning – including yours!
Don't forget to link up a post or two of yours and share what you've been working on with your kids! Here are a few fun ideas from last week's linkup.
30 November Crafts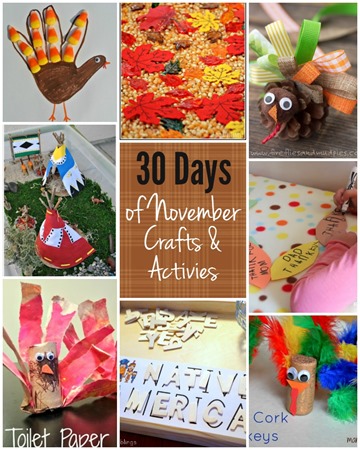 Even though we're almost halfway through November, you'll still want to check out 30 Days of November Crafts and Activities from Where Imagination Grows. So many fun ideas that you still have time to work on together!
Pumpkin Seed Tree Craft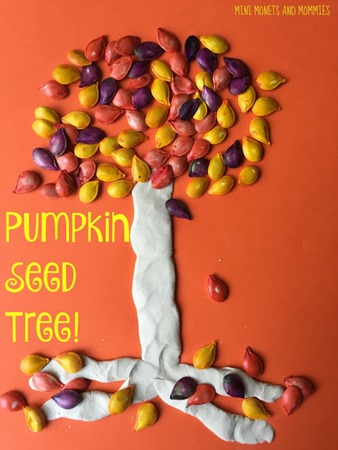 How cute is this pumpkin seed tree! Visit Mini Monets and Mommies to see how she put together this activity full of texture and color.
G is for Gobble Turkey Snack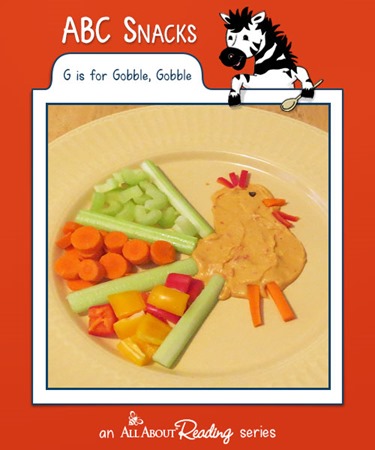 This or G is for Gobble snack (or T is for Turkey) from All About Learning Press is so colorful – and healthy! This is one of the fun snack ideas included in their FREE ABC Snacks Cookbook.
Report Writing for Younger Children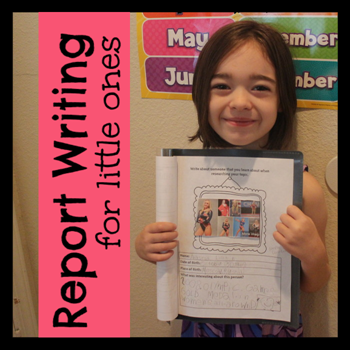 PK1Homeschool shares a simple report writing sheet for little ones that is based on their interests – no pressure to write! Love how she let her girls base it around books they chose at the library!
FREE Thanksgiving Printable Pack
Here's a peek inside the new Thanksgiving Printable Pack!
Looking for a little Thanksgiving learning fun? Grab a free download of the Thanksgiving Preschool Pack to use in the days leading up to Thanksgiving, or even as a Thanksgiving Day activity to keep younger ones occupied.
Follow the PreK and Kindergarten Community Pinterest Board
Each week I am  pinning many of your links onto the Preschool and Kindergarten Community Pinterest Board. I'm a visual person, so having pictures to help me remember posts is super helpful. Be sure to jump over and follow the board – and find some fun ideas at the same time!
Were You Featured in the Preschool & Kindergarten Community?
If you were featured in one of the weekly posts, feel free to grab the button coding below and display it on your site!
Link Up with the Preschool and Kindergarten Community!

Share what you are doing with your kids! Please link your exact blog post to the Mr. Linky below and link back here too! Grab a button for your post and be sure to take a minute to visit the person who linked up before you.