Many years ago our family was introduced to an Advent series for families when I was literally cornered by a 10 year old boy in church and told about the many adventures of Jotham. He and his family were reading through the book Jotham's Journey (aff link), and he shared in great detail all that was happening as they were reading. The story pulled him in, and in more recent years the life of Jotham has been something that our family has enjoyed as well.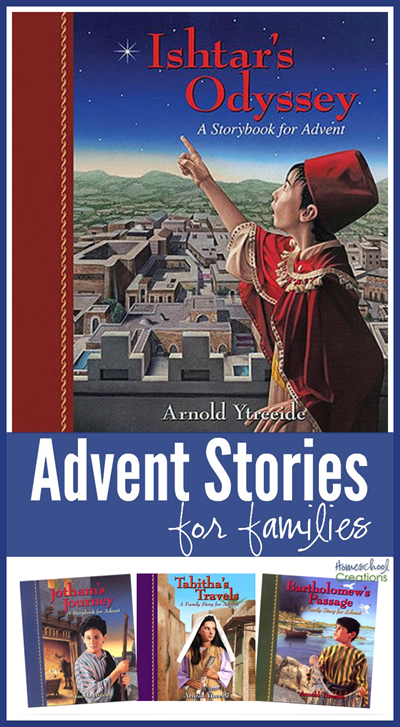 The author, Arnold Ytreeide, weaves the lives of four children through his stories: Jotham, Tabitha, Bartholomew, and Ishtar. After Jotham's Journey (aff link), there were additional stories written about two of the other children, Tabitha and Bartholomew, and finally this year a NEW story has released just in time for the upcoming Advent season: Ishtar's Odyssey (aff link)! I cannot tell you how excited our family was when the new book arrived!
About Ishtar's Odyssey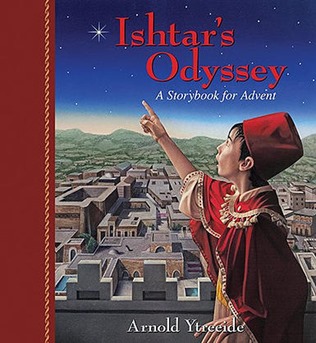 Here is a quick overview of the book from the author:
Ten-year-old Ishtar has a great life.  He's a Prince of Persia, son of the chief of the Magi (wise men who advise the king), and lives on the top floor of the royal palace.  With his bodyguard, Kazeem, never more than a few paces away, and with all the delicacies of the empire to eat, servants to take care of his every need, and a stream of exotic visitors coming for dinner every night, Ishtar has a great life!

Of course, he does have to attend lessons all day long — languages, mathematics, politics, history, and so on.  It's during his astronomy lesson one night that Ishtar sees something strange — a new star in the sky that no one has ever seen before.  His father and the other magi get all excited, and Ishtar doesn't understand what all the fuss is about.  He also doesn't understand that his life is about to change drastically.

Soon Ishtar finds himself amongst a caravan of smelly camels, walking in the heat and dust of the desert, with little to eat, little to drink, and having to learn all sorts of new lessons.  His new tutor is the wilderness, and his new lessons are in survival.
Daily Readings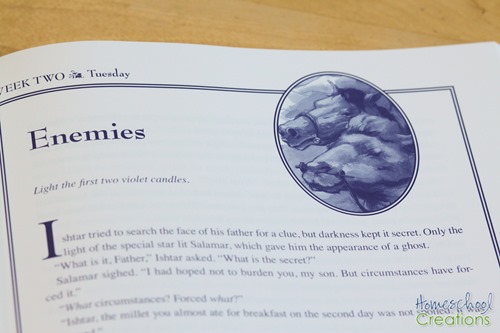 Ishtar's Odyssey (aff link) is divided into daily readings for each of the days of Advent, leading up to Christmas morning. There is an Advent chart in the back of the book giving the Sunday on which Advent begins (through the year 2081…so you should be good!). This year Advent begins on November 29th, so the first reading would begin that day.
Because Christmas falls on different days of the week, the readings in the final week are much shorter so multiple days can be read together, allowing the last story to be read Christmas morning.
Time for Reflection
The daily readings take between 10-15 minutes to read, and a discussion and application section is at the end of each of the daily readings (see example above). I love that this is included because Advent is intended to be a time for pausing and reflecting – something each chapter gives you a chance to do as a family.
Bring the Book to Life!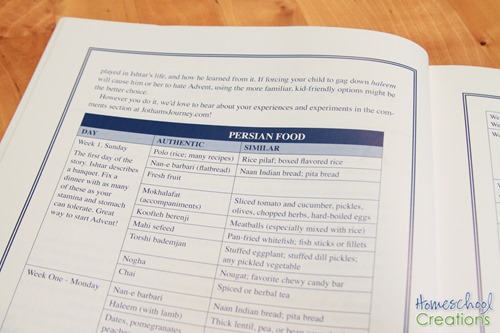 Ishtar's Odyssey (aff link) also includes explanations of different Persian foods – which would be SO much fun to tie in with the readings! Children can experience a little taste of what Ishtar might have eaten and in doing so – create a lasting memory of their Advent learning.
A Little More about the Jotham's Journey Series
One thing our kids groan about with each book are the chapter endings. Somehow each chapter manages to leave you on the edge of your seat, wanting to read more (and that's a GOOD thing). There have been days when we've read an extra chapter (or two) because we didn't want to stop!
Even though each of the children in the story ultimately end up in the same place, their paths are all different. There are similar scenes in the various books as the characters meet one another at separate times, and it is much fun to see a character from a different perspective.
Overall, these are books that you will want to cycle through and re-read over the years. We've read the first three books in the series (two of them twice), and the kids cannot wait to start Ishtar's Odyssey this year!
There are a few parts of the story that can get a little intense for younger children, but when our youngest was reading along, I just modified the story a bit so it wouldn't be quite as overwhelming for him. You may want to pre-read each chapter and decide for your family. The Amazon recommended ages are 8 and up, but we have read these with our youngest (so around age 5).
Purchase the Jotham's Journey Series
Your family can start the Jotham's Journey Advent series with any of the characters (although I would recommend Jotham first!). These are four stories that your family will be re-reading for years to come and establish a wonderful Advent tradition: Jotham's Journey, Tabitha's Travels, Bartholomew's Passage, and Ishtar's Odyssey.

Win a Copy of Ishtar's Odyssey
Kregel Publications has generously offered to give away FOUR copies of the book Ishtar's Odyssey by Arnold Ytreeide – so four winners!! Yay!!
Giveaway is open to those with a  US address and will run through Monday, November 16, 2015 at 11:59pm. Winners will be chosen and verified via Rafflecopter and have 48 hours to respond to email or another winner will be chosen.
This book and giveaway items were provided to me at no charge by Kregel Publications. All opinions expressed in the post are solely mine.