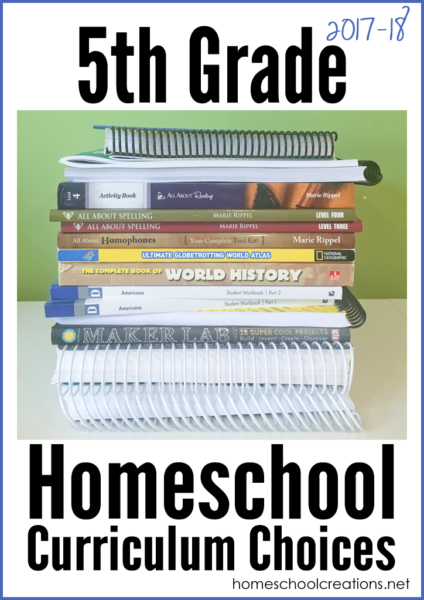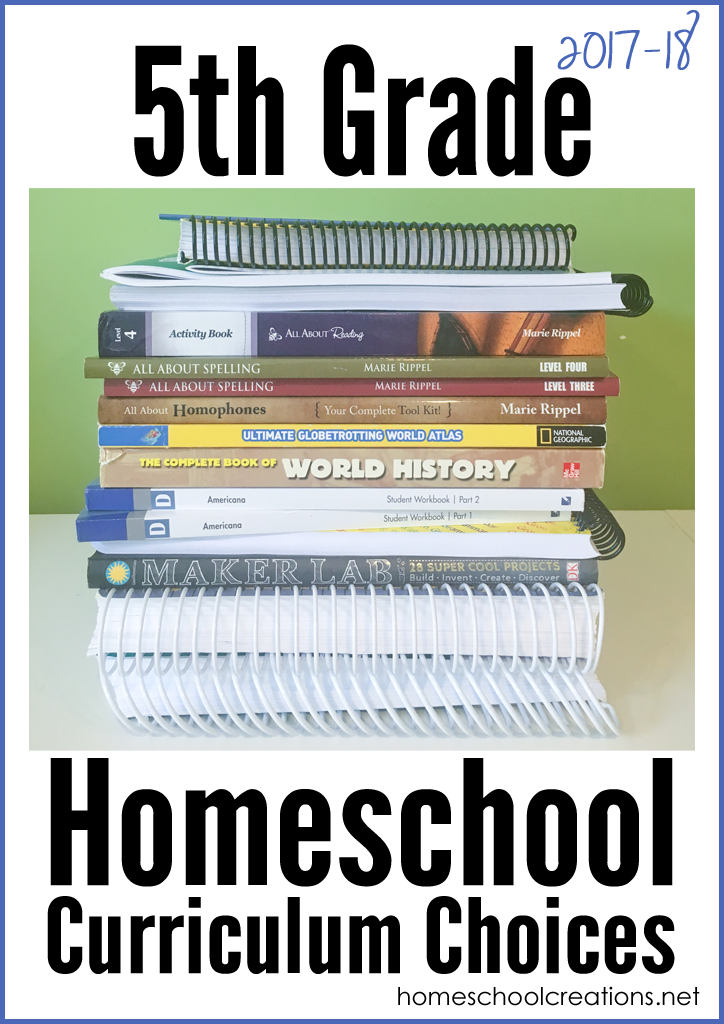 Even though we've been homeschooling now for almost 12 years, each year our curriculum changes based on the child and something new that may have caught our eye. This 5th grade year for Kaleb will be one where we continue to focus on his independent reading and comprehension as well as handwriting and spelling. Typically in the fifth grade year we add in another independent subject (or two) and walk toward fostering as much independence as we can.
Kaleb is one who enjoys worksheets and things that are cut/dry in what needs to be done. He is our science and math boy. Reading and writing aren't necessarily his favorite things to do, unless it's on his terms (more on that below). I've tried to cater to those likes and dislikes to push him a bit and yet make it easier for him to grow in the areas he struggles and that can be a difficult balance at times.
Below you'll get a peek at our 5th grade homeschool curriculum choices – a look at the new (and favorite) programs we are using for the upcoming school year.
*feed readers, please click over to the blog for some of the additional links to curriculum
5th Grade Homeschool Curriculum Choices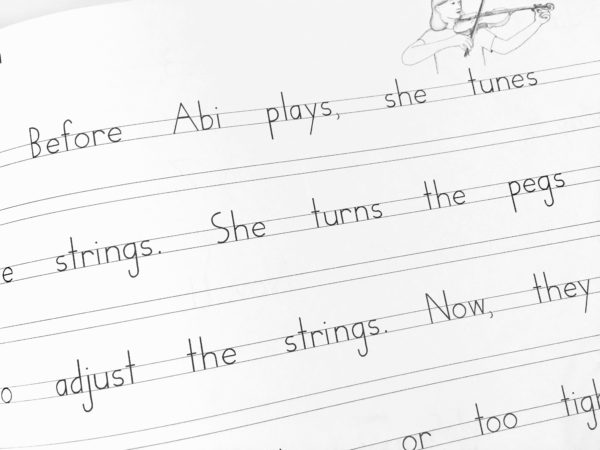 As I mentioned earlier, Kaleb really enjoys the subjects that are do "this" and you are done. He struggles with his handwriting and keeping his letters smaller, so we are including several things that will help along those lines this year (Print Power Plus). While he hates writing overall (I typically let him dictate his stories to me and write them out), he loves copywork. Go figure.
That's one reason you'll notice several workbooks focused more on that aspect (Spelling You See D and Soaring with Spelling). All About Spelling Levels 3 & 4 will be our primary spelling curriculum, and the other two programs are more for handwriting and extra practice. :)
Kaleb has also loved Nancy Larson Science in years past, and he is looking forward to using that again this year. Last year we held off on the Level 4 program because his reading needed a little more targeting, but one thing I love about this program is the focus on reading aloud (and following along) as well as learning study skills (see more on why we love Nancy Larson science here). He is also very much into learning how things work, so Little Bits and EEME projects are going to be a 'bonus time' at the end of each day for him for some STEM work.
Overall, we are SO excited for his year to start and see how he grows this year!
Co-op Learning
The fact that Kaleb is technically in middle school is about to make me cry. Our co-op class has a group of all boys in this age group, so Kaleb will be working on two classes with them twice a month. We are tweaking the classes we will do with the boys, but they will likely be science-based and we are hoping to do one with a little more cooking/science fun. Explosions and anything that involves eating is typically a huge hit with the boys!
I've listed some of the books we'll be using to go along with our studies above (feed readers can see them by clicking over to the blog post).
Curriculum in Year's Past
In case you are interested in seeing the curriculum that brought us to this point, here's a peek at what we've used with Kaleb the past few years: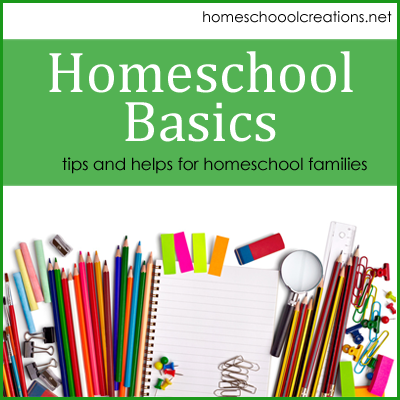 If you are new to homeschooling and aren't sure where to begin in choosing homeschool curriculum, please don't let this post overwhelm you! Check out the entire Homeschool Basics series for answers to more frequently asked homeschool questions.
See What the Other Kids Are Up To…
I'll be sharing more in the upcoming days and weeks on what our other kids are studying this year, so stay tuned for those posts.
| | | | |
| --- | --- | --- | --- |
| | | | |
What subjects are you excited to work on this year with your kids?