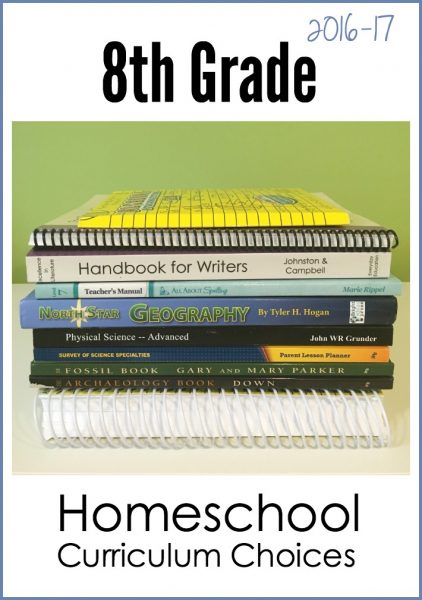 McKenna is a wee bit anxious about the upcoming year, even though she honestly doesn't have much to worry about. Last year she made huge strides in working independently, but the thought of earning high school credits this year is a little daunting to her. We are so glad to be a part of a small co-op where she has good friends to learn alongside in two subject areas (and make it even more fun too).
Our biggest hurdle this year will be getting her daily routine in place. McKenna is our late riser and while that can be a lovely thing, it also puts a kink in the day when everyone else is ready to go early in the day and then finished up early as well. While this 8th grade plan isn't quite as high school ambitious as Laurianna's was, it will be a great "easing in" for her. The credits she is earning will give her a good jump on her high school years.
8th Grade Homeschool Curriculum Choices
Credits to earn: 5.5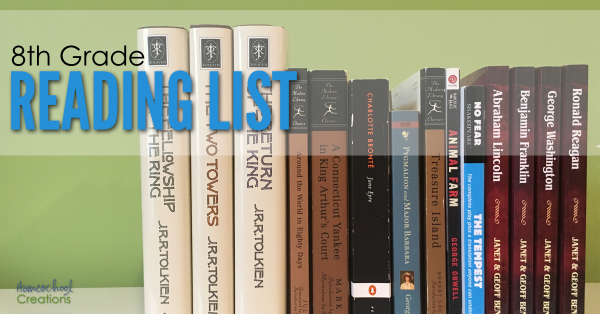 Out of all the subjects, McKenna is most excited for Visual Latin and Physical Science. Literature and Algebra 1 are the most intimidating to her, mainly because – ALGEBRA – and the thought of writing three papers a month is something that seems overwhelming because they are a new style of paper for her.
We opted not to include any additional grammar program this year because McKenna has a solid grasp of grammar and will rely heavily on it for her literature class (and a mother who is a stickler for writing well and editing). Both her physical science and literature classes will be a part of our small co-op group, although she will have a full load during the week in preparation for the classes.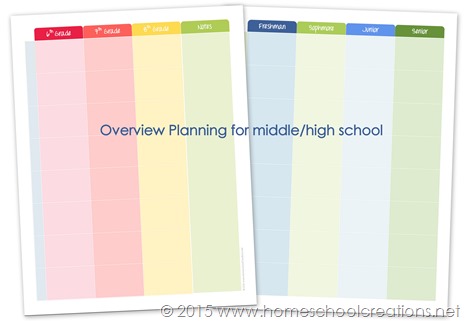 One thing that has been a huge help to me in mapping out the upcoming years with McKenna (and Laurianna) is this middle school and high school planner. Essentially I am able to get an extended view and map out the future years to see what we need to work on and when it might fit in best -and make sure we aren't missing anything overall.
Curriculum in Year's Past
In case you are interested in seeing the curriculum that brought us to this point, here's a peek at what we've used with McKenna the past few years:
If you are new to homeschooling and aren't sure where to begin in choosing homeschool curriculum, please don't let this post overwhelm you! Here are a few posts that you might find helpful as you discover what is best for your family. Be sure to check out the entire Homeschool Basics series for answers to more frequently asked homeschool questions.
See What the Other Kids Are Up To…
Click any of the images below to see our homeschool picks for the current school year. You'll also find links to past years choices in each post.