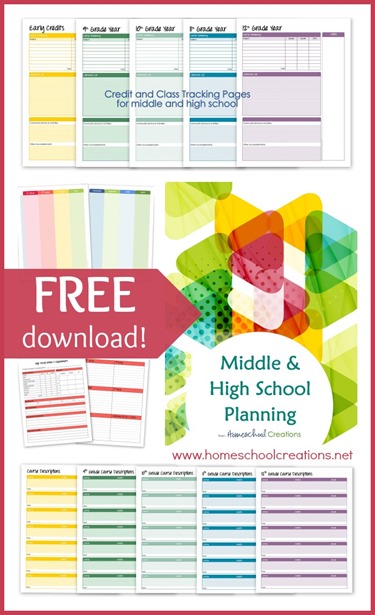 Now I don't know about you, but despite my best intentions, I seem to always forget something that has already been purchased, curriculum ideas for upcoming years, or what may already be on our bookshelves to use for our younger children. Sticky notes and random sheets of paper just don't cut it, so the Middle and High School Planner pages were put together to make life a little easier for myself overall. (And let's face it, these are a lot prettier than the random sheets of notebook paper that were accumulating in my binder).
I'm printing off a copy for each of our children and it gives me a central location to jot down notes, ideas, and what we're doing as we go along. Overall, there are sixteen pages in the Middle and High School Planner pages (plus one that you don't have to print at the end), and two different versions – a blue/green color-themed set and a rainbow color-themed set. Laurianna saw me working on them and said she thought hers should have more color, so I had to readjust them. (grins)
If you'd like to see what we've been planning for homeschool high school so far, don't miss our Homeschool High School Plan post that was shared earlier. In addition to walking through our overall plans I share how overwhelmed I was to begin with and some tips on laying the foundation for the upcoming years. There is also a link to a simple overview printable that you may prefer to this more in-depth one.
A Quick Look & Overview Planning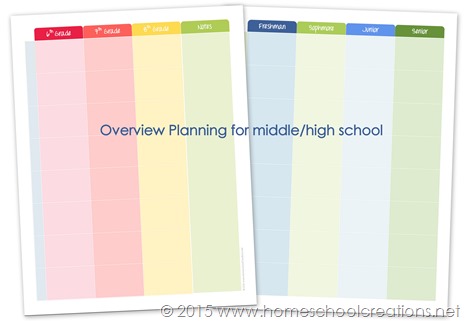 Use the first two pages to plan out subjects and curriculum for each year. In the left side column there is room to track the subjects and then plan out what you will use from 6th grade through 12th grade. Be sure to keep track of what you already have on hand – and don't need to purchase!
High School Outline, Requirements, and Schedules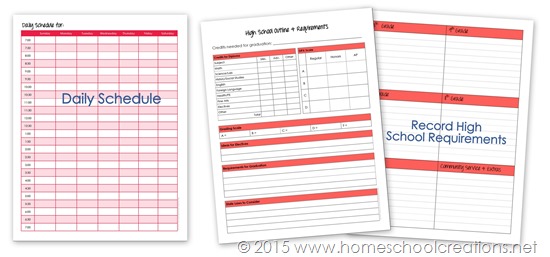 This section allows you to plug in all the information that your state may require for graduation, AP placement, decide your grading scale, and brainstorm elective ideas for your child. There is also a sheet that can be printed off yearly to create a weekly schedule for your child.
Tracking High School Credits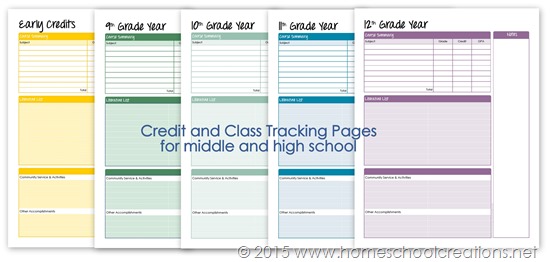 Keep track of the credits your child is earning, books read, extra curricular activities and other important information you might need for high school transcripts. There are five pages for this section: one for early credits (prior to 9th grade if your state allows it) and four pages, one for each year of high school.
Course Descriptions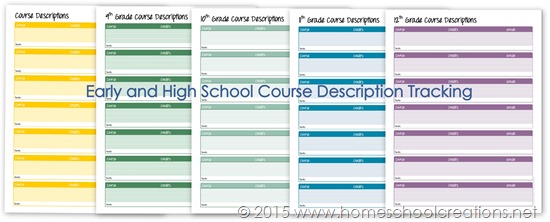 This section allows you write a short course description of each class that your child takes for credit (may come in handy for college admission later).
–> Download the Middle School and High School Class Planning (blue/green) <–
–> Download the Middle and High School Planning Pages (rainbow) <–
Questions about Homeschooling in High School?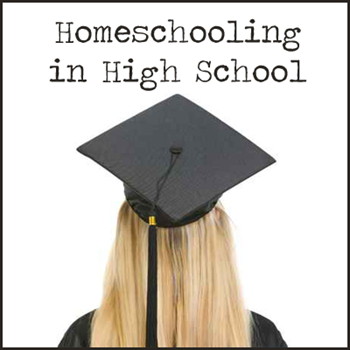 There's nothing that can strike fear in the heart of a veteran homeschooling parent like the thought of homeschooling high school. Despite what may be years of successful homeschooling, thinking of high school can bring all the fears and doubts of the early years resurging in a homeschool parent's heart. Read the post Homeschooling in High School for tips and resources from a veteran homeschool mom who has homeschooled and graduated a high schooler.
Have a Student in Need of Organization Help?

If you have a child in middle or high school that needs some organizational help, be sure to check out our Weekly Student Planner! The planner is undated and can be used year after year and has plenty of room for writing down daily assignments, goals, and accomplishments. Learn more HERE.
If you would like to share, please share a link to my blog or to the page that hosts these files. Please do not link directly to just the PDF files, but directly to this post. Please feel free to print this pdf file for your own personal use. They were created for private and non-profit use. Please do not sell or host these files anywhere else.