The past three weeks have been a blur, quite truthfully. We've been plugging along in our school work. Really – nothing overly exciting. Just routine. Normal. And life as it happens. But that's what it's all about, right?
This past week was more of a 'catch-up' week where we were tying up any loose ends, doing some review, and I spent some time packing and doing some last minute prep for speaking at Teach Them Diligently in Nashville (I'm sharing more on that below, so keep reading!).
The End is in Sight!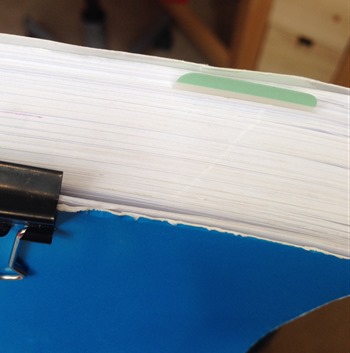 The winter months can be hard on a momma…and the kids. It was really exciting for the boys to see that we are 'this' close to finishing up science for the year. Once we're done, we will work on some fun projects together, but science is one subject they love working on together, so if they ask – we do it!
Most Mornings…
This is the view that I have many mornings before school even starts. Kaleb is a get-it-going early boy. He typically pulls out his independent work long before school even starts (see – the blinds behind him aren't even open yet!!!), pulls up a stool at the counter, and begins his work. If only I could pull some of that motivation and pour it into a few other kids…
Life with a Pre-Teen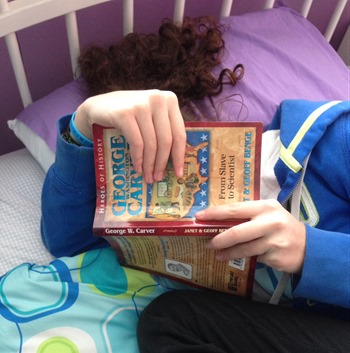 One of my 'goals' the last few weeks was to take more pictures of a certain 6th grader residing in our home. I finally (after 2 weeks) realized why it's so hard to get her picture. She intentionally hides when she thinks there is picture-potential. I'm dead serious.  So this is my attempt to document that she does indeed exist and participate in school with us.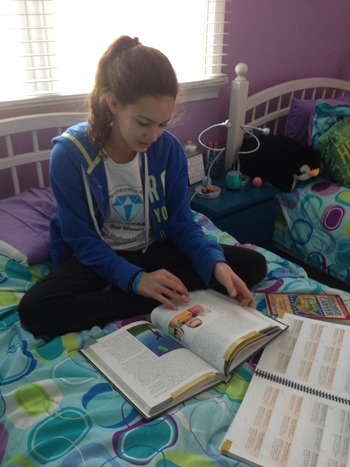 I was able to sneak in an extra picture before she realized that I was snapping it (and held the dog up in front of her as a shield). She uses her bed as her reading space every day, just for a little added quiet time.
Hands on Multiplication and Division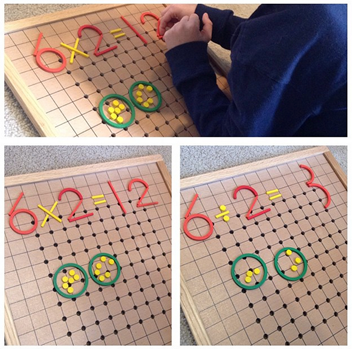 Math with Kaleb has been – well, math. To make multiplication and division a little more hands-on, we've been using our Spielgaben set to create the numbers and show how the problem would be divided or multiplied out. It's been a great tool to help him visualize the problems and put his problems into practice.
Moving into World War 2

There are two boys that are rather thrilled with all of the lessons on World War 2 (minus all the stuff on the Holocaust – that's not so thrilling). There are endless tanks, weapons, and scenes being drawn during our lesson time.
McKenna loves to draw stick figure comic strips of each lesson – and I have to say, her 'retelling' of the Germans invading Russia in the middle of the cold, cold winter was pretty hilarious. While I never would have thought that comic strips would be a learning tool, it's really amazing how much she retains from our lessons with her drawing. (And no, I don't have a copy of it because she was a little too self-conscious about it. You'll just have to take my word on all the laughing that went on when we saw her depiction of the Russians wearing puffy coats and staying nice and warm while the unprepared Germans shivered in the -60 temps).
Games and More Games
One thing that's been happening every single day in our house – games. Between Battleship and Settlers of Catan, the kids have been little game fiends. Most mornings are started with Battleship before they even have breakfast (someone please tell me why I waited so long to buy this game?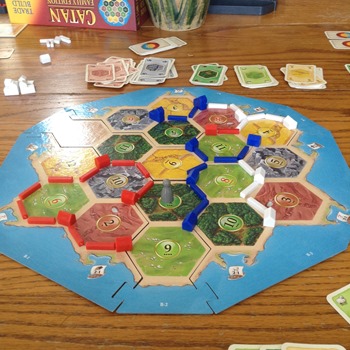 Settlers of Catan has been one of my favorites though too. We're going to start adding in some of the extensions this week and I can't wait to see how that goes. I know that they are just games, but the conversations and time spent together have been so much fun – and there have definitely been some character-building moments as well too.
The Crazy Dog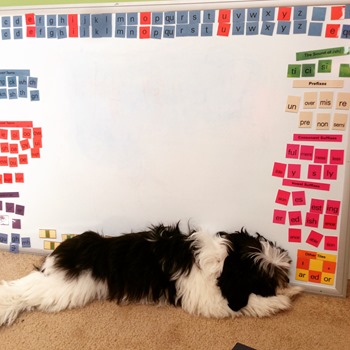 Now that our puppy Addie is pretty much house-trained (PHEW, people – can I just say, PHEW!!!), she is up in the school room with us most of the time. She has an affinity for Ticonderoga pencils (what can I say, she has great taste). Unfortunately, she manages to ferret out every single pencil that we somehow missed picking up from the floor. On the bright side, the school room floor is looking DIVINE lately). Between the kids breaking the erasers off and her chewing the other end, I'm going to need to break the bank getting more pencils.
Flying, Speaking, and Learning at Teach Them Diligently
I cannot even begin to tell you how much of an HONOR it has been to be a part of Teach Them Diligently last year and this year. Before I go any further, I'll tell you that I may have been mildly freaking out in the week or so before I had to fly out to Nashville. Like any momma, I may have been looking forward to a few days of no kiddo demands, but there was a new session that I was working on and frankly – it was a bit overwhelming for me.
Ironically, it was on balancing life and homeschool – and not being overwhelmed. (Oh yes, the IRONY people. It is not lost on me.)
But trying to figure out how to fit everything into a one hour session and actually have it be helpful to others – well, that right there can be just enough to throw me over the edge. My heart is SO MUCH to help and encourage you all – and I really didn't want to have it be a big, fat bust. Yes, there's a bit of pride in there too.
And can I tell you a little secret? I'm really truly not one that enjoys getting up and sharing in front of a large group of people. I'm more comfortable sharing with a small group, more like friends chatting over a cup of coffee. Or tea. Or water, if you prefer. This computer screen offers a whole lot of buffer in some ways, but I really know how much hearing something in person, from someone's heart, makes a difference too.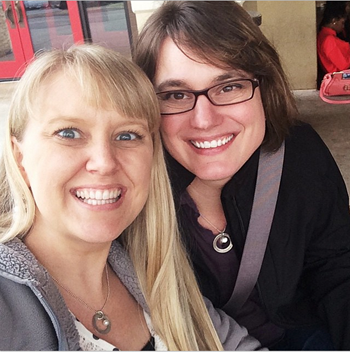 This girl, my fabulous wonderful in-real-life friend Carisa from 1+1+1=1 has been such an amazing encouragement and well, FRIEND over the years. We joke that we are proof that you can meet normal people over the internet, but she is one person that I know God brought into my life at just the right time and I am so thankful that she is also a part of Teach Them Diligently as well. We have one session together and a few separate, and I am not afraid to admit that the opportunity to spend uninterrupted time with her is a huge bonus!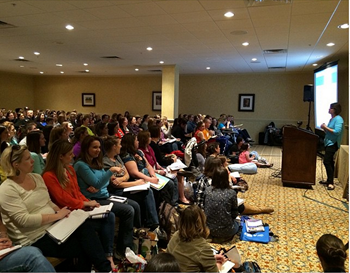 All that said, once the conference started and the sessions were underway, I felt such a peace and excitement. For those of you that came up and introduced yourselves to me – thank you! It is so wonderful to connect with you and hear from you all in person and means more than you will ever know. Your sweet patience as we waited for the tech guy to get started, sharing seats and spots with other parents – just made it something absolutely amazing. For those of you who had to sit behind me and had a lovely view of my bum instead of the powerpoint – you have huge hugs (and apologies) from me.
(And if you were in my session, you'll understand when I say I'm crying right now – but also laughing because of the entire bum comment above).
For those of you not in the Nashville area – well, I'd love to connect with you in either Atlanta, Ohio, or Dallas for Teach Them Diligently. I had the opportunity to sit and listen to a few sessions and can't wait to hear more at the upcoming events. I promise you will be encouraged beyond measure! 
Well, that's the super-long wrap up of the last few weeks. What have YOU been up to?
Linking up this week with Collage Friday and Weekly Wrap-up!