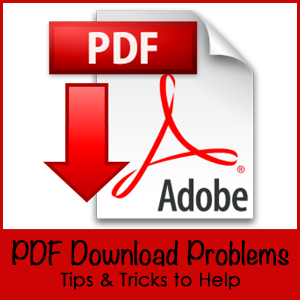 One of the most common emails that I receive has to do with PDF downloading or printing errors. Maybe you've experienced them when trying to download a file on my site or somewhere else. Just today, I've received six emails that said essentially the same thing.
I'm trying to download and print one of your files, but it keeps telling me the file is damaged/corrupted every time I try to open it in Adobe. Can you help?
You are not alone! BUT the problem is typically very simple to solve. Here are a few things to try the next time you run into the problem. The first one on the list solves the problem 99% of the time – I promise!
Try using a different internet browser. If you are a Chrome or Safari user, the problem seems to pop up the most in those two, so try using Firefox or IE instead. That typically does the trick!

Be sure that you have the

latest version of Adobe Reader

installed. Don't ask me how the file knows that there was an update, but those files can be picky. Adobe Reader is free and takes just a few minutes to update.

Are you a MAC user? You may want to set Adobe Reader instead of the Mac Viewer as your default for opening files. That could be causing the glitch.

Is the text in the file printing as 'gobbledygook'? Images look ok but the fonts are unrecognizeable? Look under your 'advanced' settings tab when you click print and chose the 'print as image' option.

If you are having trouble printing directly from your browser, try downloading a copy to your desktop and then opening the file and printing directly from the file.
Have you ever had trouble downloading or printing PDF files? What trick worked for you? Please share any tips you have in the comments.