Poetry is one of those areas that I'll admit to having dropped the ball on a bit with our kids. It's an area we plan to tackle more in depth in the upcoming year.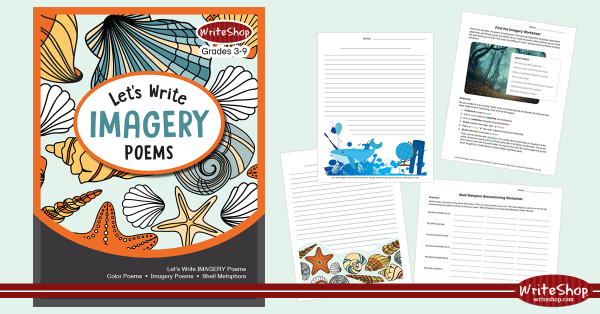 BUT – April is national poetry month, and WriteShop has a freebie for us to use and get moving on some poetry learning: Let's Write Imagery Poems.
The unit study is geared toward children in 3rd-9th grade with a focus of learning to write three different poems that come to life through the use of imagery and sensory detail:
Color Poems Using similes, metaphors, and emotion words, students compare a favorite color to objects and experiences they can see, hear, touch, smell, and taste. Their five senses will help them come up with descriptive words and phrases. The result is a vibrant sensory poem that paints beautiful word pictures.
Comparison Poems How is a fox like a cloud? How is a toaster like a dragon? While most poetry includes some form of imagery, the poems in this lesson are especially rich in figurative language. Children learn to combine poetic devices with descriptive adjectives, strong nouns, and active verbs to create a striking, imaginative poem.
Shell Metaphor Poems As your kids study a seashell from every possible angle, they'll begin to see how it reminds them of many things. From one angle, a shell might be a unicorn's horn or a mighty drill. From another angle, it could be an ice cream cone or an Olympic torch. Your child's point of view and vivid imagination will bring their Shell Metaphor to life!
The freebie includes twenty printable activities and worksheets with:
practice exercises
brainstorming worksheets
poem planning worksheets
word banks
colorful lined writing pages
The best part is – it's free (and we all like that!) for their subscribers. This study is a great way to wrap up your year or give yourself a little "spring" break from your day-to-day studies and still learn together. Here's to lots of fun poetry!