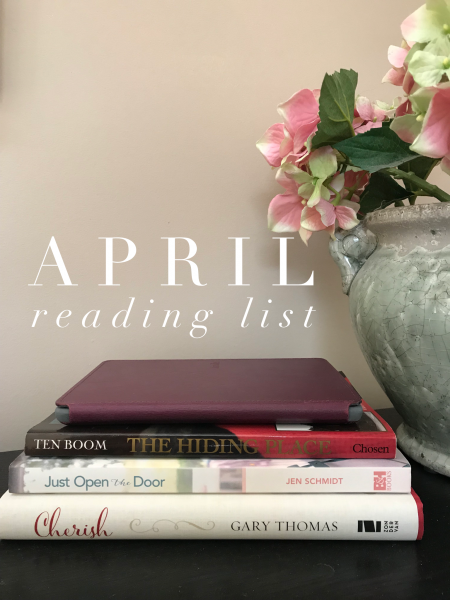 What have YOU been reading this month?
This month I did branch out a little genre-wise, but also ending up adding some last minute finds to my book stacks. I'm a sucker for a soft cover, great title, and authors I love!
Despite traveling this month, it wasn't a huge chance to read since I was driving 9 hours each direction. I will say I miss plane flights with uninterrupted time to read! :) And lately – sleep is my buddy and I'm falling asleep within a few pages of reading.
One of the books (All the Light We Cannot See) has been great, but somehow seems to be a bit long. It could be because I keep falling asleep while reading (with my Kindle). I'm honestly not sure how I found the book, but it is set in WW2 time and two different countries (France and Germany) telling the story of two different individuals. I haven't quite figured out where it is headed yet, but seeing the war from two opposing perspectives has been interesting as well.
Even though I haven't put as big of a dent in my 2018 Reading List, I'm adding a few books to the stack – I'm telling you, I'm a sucker for a new release! I'm also excited to be a part of the launch teams for both Just Open the Door and Raising World Changers. Both of the authors are ladies I know (and love), so reading and hearing their heart makes the books even more special!
Feed readers can click here to see my books for April.
Just Open the Door (finishing)
Raising World Changers
The Lifegiving Parent
The Great Alone

All the Light We Cannot See
I'm very much enjoying Just Open the Door so far, and really can't wait to dig into Raising World Changers and The Lifegiving Parent!
What the Kids are Reading
I'm so looking forward to finishing up reading with Kaleb – not because I don't enjoy it, but because it will be such a huge milestone for him. Zachary and I also decided to change our read-aloud this month to include The Hiding Place, since we are hoping to visit her home when we visit the Netherlands in May.
Read aloud – The Hiding Place
McKenna – The Importance of Being Earnest
Zachary – A Day No Pigs Would Die by Robert Newton Peck (we got sidetracked with another book last month)
Kaleb – All About Reading Level 4 (we're halfway thorugh!!)
What I Read in March (and Quick Thoughts)
The Guernsey Literary and Potato Peel Pie Society – Oh MY WORD. Written with so much humor, description, and at times sobering views, The Guernsey Literary and Potato Peel Society gives readers a glimpse into a post WW2 community after a German-occupied English island shares their stories with Juliet, a writer contemplating her next book topic. As the letters travel back and forth between the members of the society and Juliet, readers are drawn into life on the island as well as the back stories of the various characters. I honestly had no idea what to expect reading this book, but as I finished it I found myself wishing the story would continue. Literal laugh-out-loud moments while reading. (5/5 rating)
Blessed are the Misfits – Hansen writes in such an approachable way that his books are easy to read, digest, and apply practically. So much food for thought in this book – and even if you aren't sure you are a "misfit" – it's likely you are. So many dog-eared pages in the book I need to go back to and re-read. (5/5 rating)
Orphan Train – Some tough content at times, but an interesting look at the life of an orphan in "modern" times paralleled with an orphan from about 80 years prior. The friendship between an 18 year old with a troubled past and a 90+ year old with hidden secrets develops and blossoms as the story progresses. (4/5 rating)
Also read the following:
Romancing Daphne – sweet story and love this author (4/5 rating)
The Innkeeper's Daughter – newer to me author (3.5/5 rating)
The Truth According to Us (by one of the authors of Potato Peel Society) – not worth the read. A disappointment after the other (2/5 rating)
My Sister's Intended – a new to me author (not Christian), but clean and sweet (4/5 rating)
You can follow along with me via the Goodreads app where I share my reviews and additional thoughts. What have YOU been reading this month?