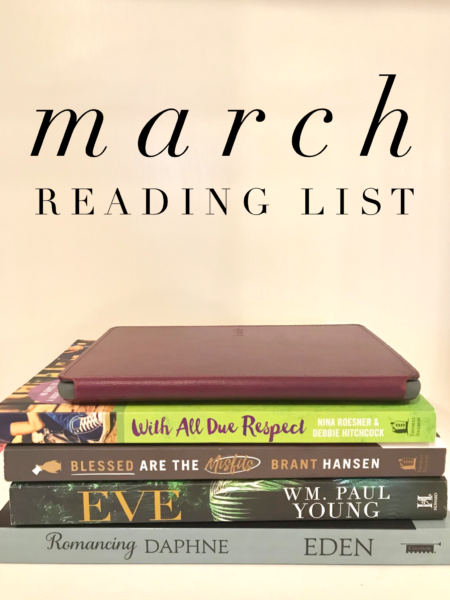 What have YOU been reading this month?
I've been trying to branch out some in my reading genre (i.e. I'm a huge historical fiction fan and tend to get stuck in an era or genre). There are some books coming to movies and also a few that people have been raving about, so I added a few of those to my February reading list.
One of those, The Girl on the Train, is a title I read incorrectly, and consequently read The Girl FROM the Train first – and the two are very, very different. The second title was a translation and I believe there were some things a little lost in translation. Overall it wasn't bad (and honestly I enjoyed it more than the one all the fuss is about), but when I realized I'd read the wrong book – oy.
I honestly don't feel like I read a lot during February (in comparison to my normal book intake), but overall finished six books – five fiction and one non-fiction and started a few others. While my Kindle is my "go-to" at bedtime, I've literally been falling asleep almost as soon as I'm in bed, so reading is a moot point. For this upcoming month, I've picked one additional book from my 2018 Reading List to focus on along with finishing one I started last month, and have at least two non-fiction books I'd like to read as well.
Feed readers can click here to see my books for March.
Blessed Are the Misfits
With All Due Respect
Just Open the Door
Eve
Romancing Daphne
The Guernsey Literary and Potato Peel Pie Society

I'm very much enjoying Blessed Are the Misfits so far, and really can't wait to dig into Just Open the Door by Jen Schmidt!
What the Kids are Reading
Something has truly "clicked" with Kaleb over the last bit and reading has been less of a struggle – which is beyond thrilling (really, truly). February had us going back and forth a lot in the afternoons, so we didn't accomplish a lot of reading aloud at all, hence the reason we are still reading Gregor together. :)
Read aloud – Gregor the Underland Chronicles
McKenna – Ivanhoe
Zachary – A Day No Pigs Would Die by Robert Newton Peck
Kaleb – All About Reading Level 4
What I Read in February (and Quick Thoughts)
Godspeed by Britt Merrick – This book still has me mulling over so many things. The overarching theme is that we are called to "mission" in our lives – and it doesn't necessarily involve a going out all over the world, but can mean little things (mission vs. missions). It isn't that it's super earth shattering, but it's practical and presents topics in a way that you really stop and re-think the why behind some of your beliefs. Honestly one of my favorite books read to date.
For Love or Honor by Sara Eden – if you love period dramas, this was another fun book in the Jonquil brothers series by Eden. I read it in a little over a day and a sweet story. Not my favorite in the series, but still fun to read and see past characters.
The Pearl Sister by Lucinda Riley – fourth book in the series of six adopted sisters who lost their father. Each book chronicles the life of one sister in the months following their father's death as they search deeper into their birth heritage. This has been a really interesting series as it flips back and forth between present time and back sometimes a hundred years or more to share history (one included Beatrix Potter). This one had a little more 'edge' to it, but nothing explicit.
I'm trying to balance out my reading genres a little, but bedtime is typically my "pick up a piece of fiction" time, sometimes via Kindle and other times a good ol' paperback book. Here are links to four of the six books I read in February.
You can follow along with me via the Goodreads app where I share my reviews and additional thoughts. What have YOU been reading this month?