This last week you've likely heard snippets about this "huge homeschool sale" via graphics, giveaways, and social media. The Build Your Bundle sale officially kicked off on Wednesday, May 15th and will end on Wednesday, May 22nd.
In case you're uncertain how it all works, I'll tell you this – the first year it was held I was so very, very confused. There was a lot to wrap my brain around and by the time the end of the school year rolls around, my head is full of just wanting to be d.o.n.e. with all things school related.
(Can I get an amen?)
BUT saving money on homeschool curriculum is something I do like, so I jumped in, trying to fully understand, and realized how much the could really benefit our family! Since then it has become one of my favorite homeschool sales of the year.
In case you are feeling overwhelmed and haven't quite figured out the ins and outs of the sale, be sure to look at this post for a more in-depth explanation on how the sale works. Definitely take a peek before May 22nd though – because the sale ends at midnight and then you can't take advantage of the deals you find now! (Scroll down to see what we will be purchasing).
In case you missed it, here's the post that goes a little more in detail on the bundles:
The Items That Made My Basket
While I LOVE the pre-assembled bundles that have been put together, I opted to build my own bundle. This year, the format of building your own has changed to make it even easier. Essentially, the more you buy, the more you save!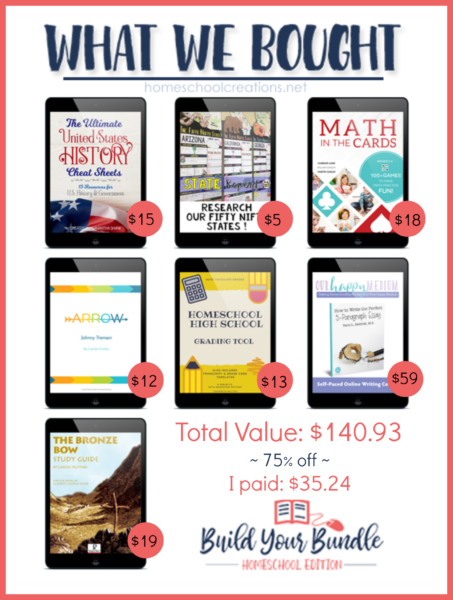 Above is a graphic showing the items I purchased this year. There are several things that I am REALLY excited about: The Arrow book study, Math in the Cards, and the Ultimate US History Cheat Sheets.
Here are the items from my bundle:
Math in the Cards: The Ultimate Math Card Game Collection
The Arrow: Literature Guide for Johnny Tremain
The Ultimate US History Cheat Sheets
Homeschool High School Grading Tool
How to Write the Perfect 5-Paragraph Essay
The Bronze Bow – Study Guide
State Research Project with Bonus Lapbook
Overall the total value of my bundle was $140.93, but with the 75% discount, my cost was $35.24. Here's a quick look at the discount structure for building your own bundle. Essentially, add WHATEVER you want to your bundle and at each level you save more.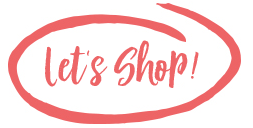 Themed Bundles
There are 15 themed bundles to choose from, ranging in price from $10 to $49 and the above graphic shows what is included in
The Planner Bundle
(my Weekly Homeschool Planner is included!). Save up to 96% on the pre-assembled bundles that range in topic from Early Learning through High School.
Most popular Bundles:
Most popular Courses & Memberships:
Start a Blog and YouTube Channel for Kids
Total Time Makeover for Kids
Spanish for Kids
The Joy of Handwriting Success Course Plus Copywork Bundle
Accounting Fundamentals
Really – there is a LOT, and it is easy to get overwhelmed because of the bundle varieties. It took me quite some time to finally decide what to choose, especially because I wanted to make sure I got the best deal for us money-wise.
BUT, all that said, there are some amazing deals to be found! Set aside a little time today and start browsing.
Just remember, you only have until Wednesday, May 22nd at midnight to purchase.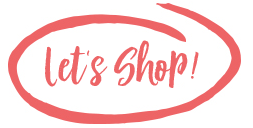 If you have any questions about the bundles or the sale, feel free to email and ask too!
This post may contain affiliate or advertiser links. Read my full disclosure policy here.