If you could save up to 95% on some of your favorite resources from preschool up through high school – well, you'd jump on it, right? With many families in the midst of planning and buying homeschool curriculum for the upcoming school year, it's helpful to see the ways in which money (and time) can be saved!
From now until May 14, 2018, the Build Your Bundle sale offers amazing savings along with well-known curriculum. It is packed full of resources for both your home and your school – a little something for everyone.
There are SO many things in the Build Your Bundle sale that I am excited to share with you! Several of the products are ones that we have used in years past (or highly recommend), including Mystery of History, BiblioPlan, The Crafty Classroom, and our own Weekly Homeschool Planner. I'm planning on taking advantage of a few of the bundles myself and will be sharing my choices with you all tomorrow.
Bundle sales can often seem overwhelming – I know! The first year of this sale, I felt completely backwards. There is so much to dig through but so many gems to find, so here's what I recommend after you download and print this FREE shopping list.
1. Create an Account
Create an account and make sure you are logged in before you start shopping. That way if you leave the site and it times out, all your browsing and shopping is saved.
Ask me how I know this is important. :)
Now – take a deep breath and have fun looking. Really – there is a LOT, and it is easy to get overwhelmed because of the bundle varieties.
2. Look at the Pre-assembled Bundles
The Build Your Bundle Sale gives you some great choices – 20 pre-assembled bundles based on the ages/grades of your child or the option of putting your own bundles together. And all with some AMAZING savings. From preschool through high school to planning for school or home, there are a wide variety of bundles you will love.
Even better, if you buy 2 Individual Bundles you will get the 3rd one for FREE! Click here for complete details about the Buy 2 Get 1 FREE offer. This deal continues to stack too. Buy 4 and get 2 free, etc…
3. Check out the Contributors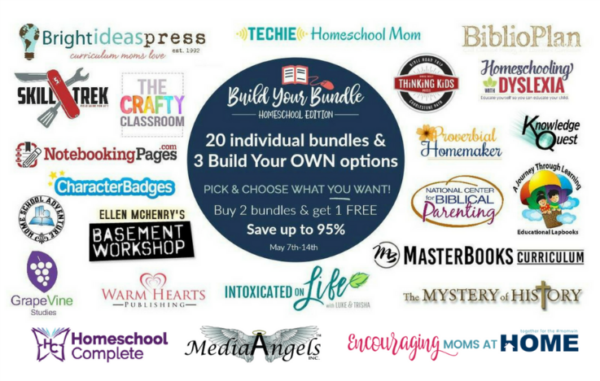 There are over 125 authors in this bundle and many well-known companies and authors. If you see a favorite, be sure to look and see what they are including in the bundle sale this year.
4. Consider the Build Your Bundle Option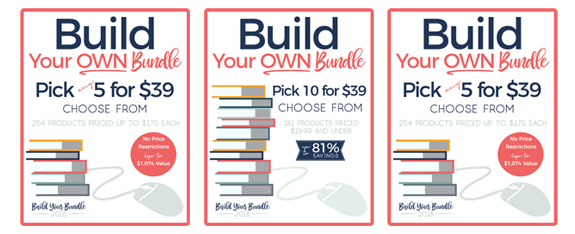 If you'd rather mix and match individual pieces of curriculum, choose the Build Your Own Bundle option. This is one of the ways I will purchase this year since there are several pieces I wanted, but they are in separate bundles. It has worked out great for me in the past(and I even used the buy 2, get 1 free deal for this option).
While you are on the site, don't forget to look at the the 50% off courses and memberships (those of you with high schoolers – pay attention to this one!).
5. Buy Every Single Bundle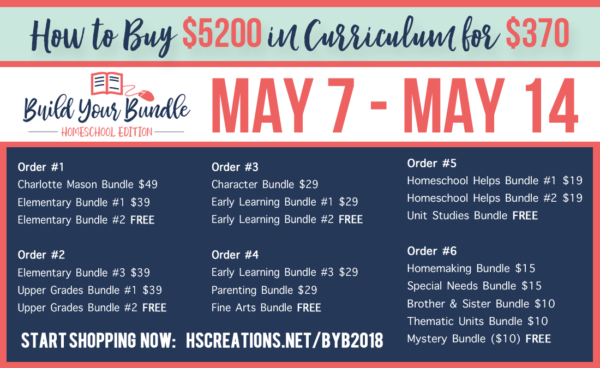 This might seem a little crazy, BUT – consider this. You can purchase over $5200 worth of curriculum for $370. The above graphic shows how to create your bundles to get the best possible deal.
With the Buy 2 and Get 1 Free option that Build Your Bundle offers, you can save HUGE from preschool all the way through high school!
Don't Forget the Bundle of Bonuses
Last thing – and then I promise, I'm done! Every customer receives a big ol' bundle of bonuses – so many great coupon codes and freebies are included (you'll love it!).
That's it! Time to start shopping and saving!