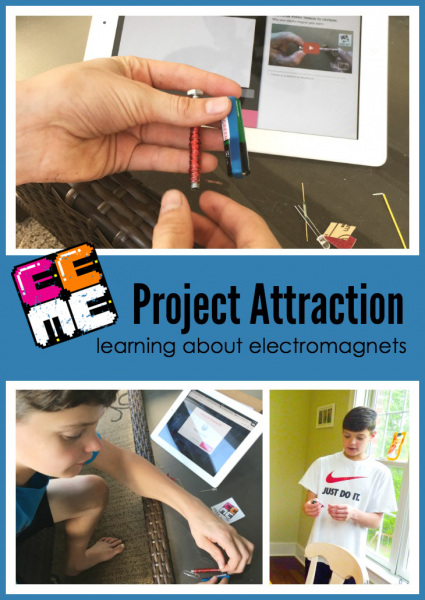 One of the best additions to our homeschool time this year has been the projects from EEME. Zachary has absolutely loved the hands-on learning and put it well into practice. One could say he is 'wired' this way (and yes, the pun was definitely intended)!
Learning about electronics one project at a time and gaining the knowledge of the 'why' behind how things work has been encouraging and confidence-building for Zachary. He has since started asking his dad to help out with projects (or may have attempted some on his own – cough), but it has given him a much deeper interest in how and why things work the way they do.
Learning How to Make an Electromagnet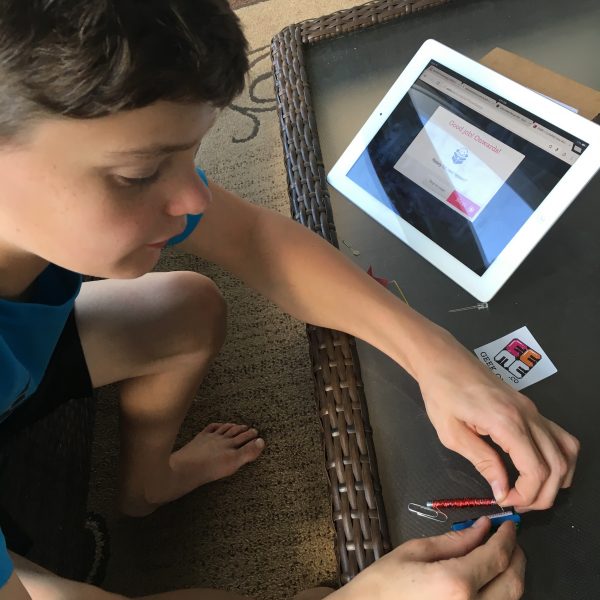 Using Project Attraction from EEME, Zachary learned how magnetism is related to electricity and built an electromagnet. The project taught about:
reed switches
electric current and heat
Overall, Zachary was able to finish the project in about an hour and a half (build time is approximately 1.5-2.5 hours) because he had a little bit of a hang up on one portion of the process and needed my help. Typically, he is able to work through the steps without parental help (I love that), but the fine wire used in the building of the electromagnet was more challenging and required a little assistance from me at that point in the project.
As with all of their projects, there are short step-by-step video tutorials to follow along in the building process. All of the materials needed for the project were enclosed in the box and detailed in the first video:
a small magnet
an LED
a 2″ wire
a resistor
a reed switch
a metal bolt with tape around thread
a thin wire coil
sandpaper
AA battery
rubberband
paperclip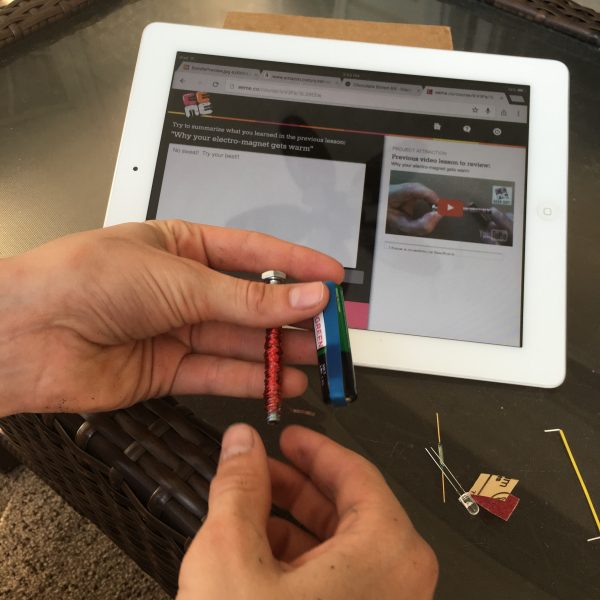 The timing of this project from EEME couldn't have been better. As part of one of our co-op classes for The Mad Scientists Club book, the kids participated in a science fair where they chose a short story read during the year and then worked on a project based on what they learned. They needed to explain the scientific principle behind the project and create a display to showcase their learning.
The electromagnet project fit in perfectly with the story "The Voice in the Chimney," and Zachary was able to base his entire science display on this project. (We won't talk about the short detour he took after putting together the project when he considered creating a much larger electromagnet using his father's riding lawn mower battery. Fortunately, someone caught onto the boy's mind meandering and he lived to see another day.)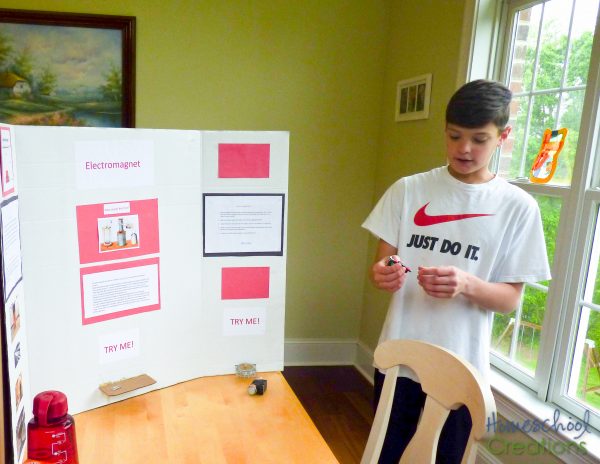 On a much more sane note, Zachary put together a science board explaining how electromagnets worked and showed the one he had created using Project Attraction and then another he tried on his own following the same principles learned in the video clips from EEME. I love that he was able to use the one project as a jumping off point to create more and learn more!
One of the big things learned during this process was the heat generated when creating the electromagnet (the bigger one he created generated more heat, so THANK GOODNESS he didn't get far on the one with the lawnmower battery). The current flowing through creates the warmth/heat and the battery can also quickly drain if left connected.
Things to LOVE About EEME
Aside from the fact that all the supplies are included in each of the EEME project kits, the video curriculum is well put together and explain the building process in detail. Each of the videos is between 2 – 10 minutes long. In addition:
videos explain the step-by-step process AND the principles involved (how/why something works) – a huge help for parents who don't know the answers themselves (cough)

shorter videos help those with limited attention spans

comprehension questions ensure kids are understanding what you are doing

videos can be stopped/paused if needed during the process
The projects would be wonderful extensions to current curriculum or even as after school learning – or even make a great gift! There are different purchase options available, including a basic monthly subscription, individual projects, and a 6 month Project Set. They have different purchase options, and we've completed the first four projects so far from the basic subscription. You can find more information on the EEME website, or follow them on Facebook, Pinterest, Instagram, and Twitter.
Learn More About EEME
EEME makes hands-on projects and provides FREE online lessons to teach kids electronics, fostering their curiosity for how things work and prepping them for the STEM opportunities of tomorrow.

Each project kit is paired with online curricula to not only show your family how to assemble the kit, but more importantly, teach them how it works.

They also have FREE interactive online lessons to teach your family the fundamentals of electronics. Sign up for FREE to access EEME's online lessons.
Project Attraction is one of the projects in the Builder Basic 6 Project Set and also the fourth project in EEME's monthly subscription program. Zachary has thoroughly enjoyed all he has worked on (especially Project Amp) – a HUGE thumbs up from our family!
As I mentioned, we've worked on several other projects from EEME. If you're interested in learning more about their monthly subscription program, be sure to check out the below posts for more information: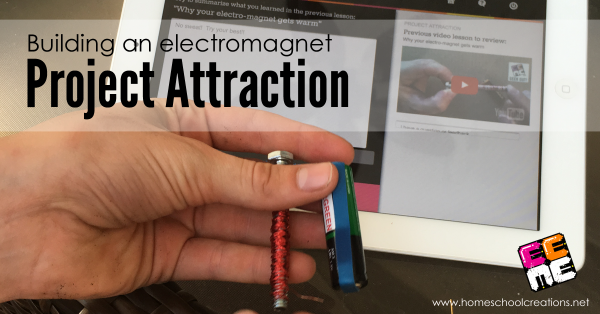 Project Attraction is perfect for ages 7+
Time Required: 1.5 – 2.5 hours
Parental involvement: varies based on child
We received this kit as part of a review campaign, and this review is our honest opinion. Our family has loved the various projects and highly recommends them.