Educents is a blog sponsor and provided a digital copy of Times Tales for our review.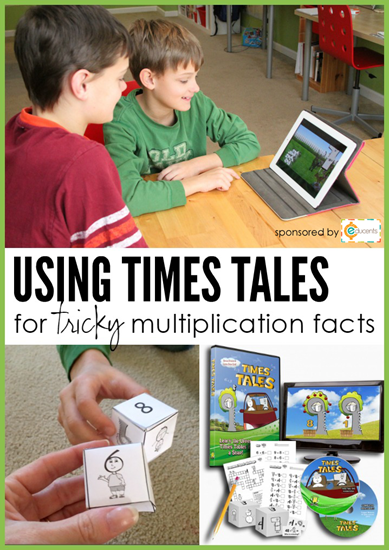 Multiplication facts have been a bit tricky for two of our kids, especially many of the ones in the 6, 7, 8, and 9 tables. Drilling wasn't effective and was making life unpleasant. Flash cards were not our friend.
Our fifth grader is constantly trying to sneak answers out of me, and although he eventually does get the correct answer when he thinks it through, recall isn't as fast as it could be. Our youngest is beginning his multiplication journey, so over the last few weeks both he and his brother have been working together to learn their facts using Times Tales. Instead of groans and frustration, the two are learning together and remembering (without needing to ask me for help!).
As I've been sharing our progress via Instagram and Facebook the past bit, I LOVE hearing your comments and hearing how successful it's been for your families also! I am so excited to share a more in-depth look at the program with you all. Be sure to read through as well, because there is a 15% off coupon code for you to grab!
How Times Tales Works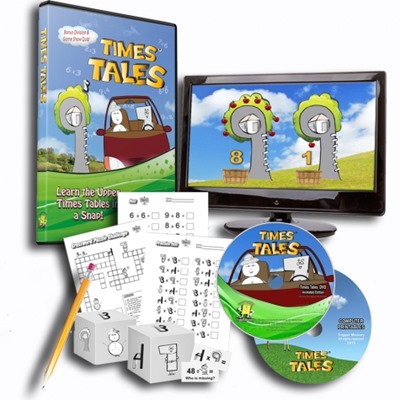 Although it may seem like pictures and silly sentences, Times Tales is a digital video program that teaches the following multiplication facts using visual mnemonic stories: 3×6, 3×7, 3×8, 3×9, 4×6, 4×7, 4×8, 4×9, 6×6, 6×7, 6×8, 6×9, 7×7, 7×8, 7×9, 8×8, 8×9, & 9×9.
The program includes two DVDs or video downloads, each focusing on a set of problems: the lower facts and then the upper facts. Multiplication facts based on 0, 1, 2, 5, and 10 are not included in the program since children typically have an easier time learning those facts. DVD 1 covers the upper 3s and 4s times tables and DVD 2 covers the uppers 6s, 7s, 8s, and 9s.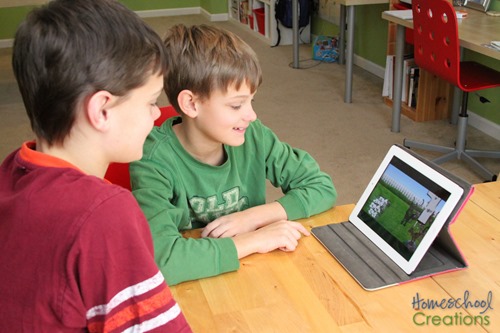 Each number is given a visual clue to help children remember the prompt. We used the Times Tales download, so I transferred the videos to my iPad and the boys watched it together that way. We focused on Part 1 immediately after our break, waited two weeks, and then worked on Part 2 together. (Note: it is recommended that you work with the first DVD for at least one week before you begin the second.) We followed along as they recommend and the results have been FABULOUS!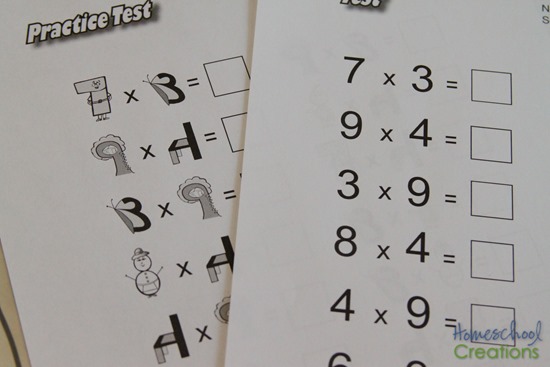 Our oldest isn't needing any help with his facts and able to immediately answer the multiplication facts – and has easily translated into division as well.
Here's a quick look at the steps of the video (about 30 minutes each) and also a short video clip to show our boys 'in action' with the program.
Part 1
Learn the characters – kids are introduced to the different characters and the numbers they represent.
Part 2
Learn the Stories – Kids learn the multiplication facts by watching the short video story clips (less than 10 minutes).
Part 3
Beat the Clock – play a game and answer the questions within 3 to 5 seconds. The questions are based on the stories the kids learned in the prior part.
Part 4
Flashcard Practice – the problems/flashcards are shown on the screen and kids can either pause the video to answer, or let it run and see if they can beat the video. A division challenge is also included as a part of this section and kids see if they can guess who is missing from the problem.
There are also flashcards available as a part of the printable portion of Times Tales that can be printed off, both with prompts and as straight multiplication and division facts.
Final Step – The Written Test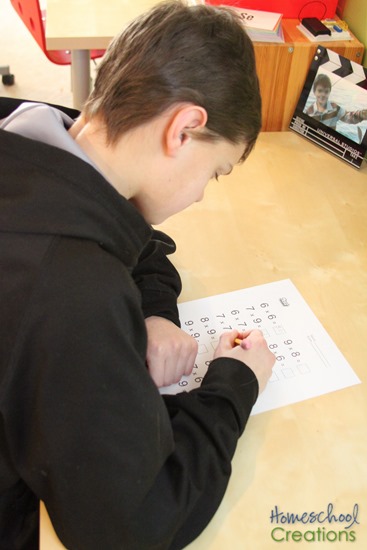 In this step, kids work on the written tests that are included as a part of the program. There is a crossword puzzle challenge, a practice test (including the characters for visual clues), and also a full test with only the numbers and no clues.
What Mom Loves About Times Tales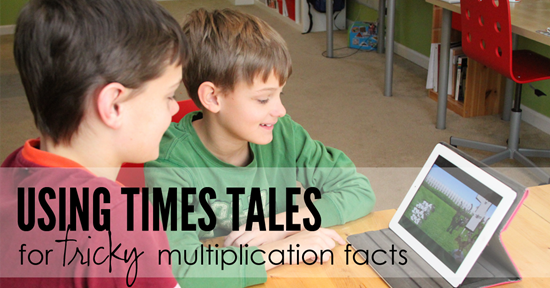 Other than printing things off to use later with the kids, there was really little that I had to do prep-wise for the boys. I did sit with them while they watched the video to observe what was happening. A few things I love:
The characters are memorable and 'translate' well. The boys haven't had any problem learning or remember the numbers that each character represents or translating them to actual numbers for math facts.

The stories stick with you. Our girls used Times Tales years ago and were chiming in with the facts (and still remember them!). In the days following our first lesson with Times Tales, I would hear the boys stop for a moment in their math program and repeat one of the stories to solve a problem they were working on.

All the printables are included with the program. The only pesky part is putting the dice together (but I promise it isn't that hard!). Otherwise you can save it to use with younger children and print off as many copies as you would like.

Two sets of flashcards help with recognition. For younger children, or those needing a little prompting, there are two different sets of flashcards included: one with visual prompts of the characters and one with the straight facts. Cards for division practice are also included with the program

It is a fun way to learn, rather than rote repetition. The boys have especially enjoyed this part and the more 'hands-on' aspect the program brought to math. Instead of pulling out flashcards, the boys enjoy rolling the dice to work on their math problems.
One reader emailed to ask if I thought the videos were cheesy. Now personally, I might not have thought our boys would like them, but since the clips were so short (30 minutes each), they were short enough to engage them while teaching the facts – and the stories stuck! Knowing the program works is a huge encouragement to me.
The day after we watched the second part of the Times Tales focusing on the upper multiplication facts, I pulled out the dice to see what Kaleb would remember. All we had worked on the day prior was the video itself and the practice test, with no review after that. Here's a peek at how Kaleb did remembering the facts he learned:
I was really blown away! He gave the correct answers right away without even hesitating. For a boy that has only worked on his lower multiplication tables and not had any prior work with the upper facts – I was amazed!
Overall we have LOVED using Times Tales (and I may be a wee bit upset with myself for not pulling it out earlier for Zachary). It was a short time investment (and not a huge out of pocket expense either) for something that clicked with our kids and helped knock out something that was difficult for them.
Start Using Times Tales
The Times Tales programs are available through their website HERE.
Purchase the Times Tales on DVD here (21.95)!
Download Times Tales Digital version here ($19.95)!