Lately it seems as all we do is go, go, go. Between carting the kids to swim practice and now adding in Scouts for Zachary, there is little time in the evening to sit, put our feet up, and read together. Winter especially seems like the perfect opportunity.
Somehow (in my head – where many misconceptions reside) evenings seem like the perfect time, even though there are twenty-four hours in a day and reading can happen at any point during that timeframe. (I tell ya – sometimes I just get a little stuck in my head).
We've had audiobooks galore accompanying us in the van, but the kids are just plain burned out and getting p.i.c.k.y. on what they like or how the book is read. Apparently they prefer the way I read (I suppose I shouldn't complain, right?). Needless to say, we're switching around our day a bit so we can enjoy read alouds together – the way we love to.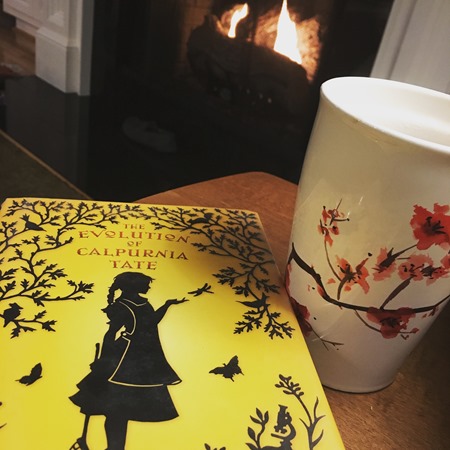 Tonight, with the weather cold, a pot of tea brewed, and a fire burning, we cracked open a NEW book and have been instantly taken back to 1899 and pulled into the world of Calpurnia Tate, an eleven-year-old girl living in Texas. We may be a bit into the book The Evolution of Calpurnia Tate (aff link), but the kids are engaged and enjoying the descriptive writing style and phrasing, laughing as we go.
Here's a quick look at what the book is about:
Calpurnia Virginia Tate is eleven years old in 1899 when she wonders why the yellow grasshoppers in her Texas backyard are so much bigger than the green ones. With a little help from her notoriously cantankerous grandfather, an avid naturalist, she figures out that the green grasshoppers are easier to see against the yellow grass, so they are eaten before they can get any larger. As Callie explores the natural world around her, she develops a close relationship with her grandfather, navigates the dangers of living with six brothers, and comes up against just what it means to be a girl at the turn of the century.

Age range: 9-12
Parent note: the book does talk about the theory of evolution. As a family, we learned about Charles Darwin and The Origin of the Species last year, so as we are reading through this story, we are talking and comparing our thoughts/beliefs to what is in the book. (Just wanted to let you all know.)
I'll keep you posted on our thoughts as we continue reading together. What books are you currently reading as a family?