Our family received access to the Wonder Crate Bill Gates subscription box in exchange for our honest review, and I was compensated for my time writing the review. All opinions are our honest thoughts and we have been using the program during our school time. Please see our disclosure policy.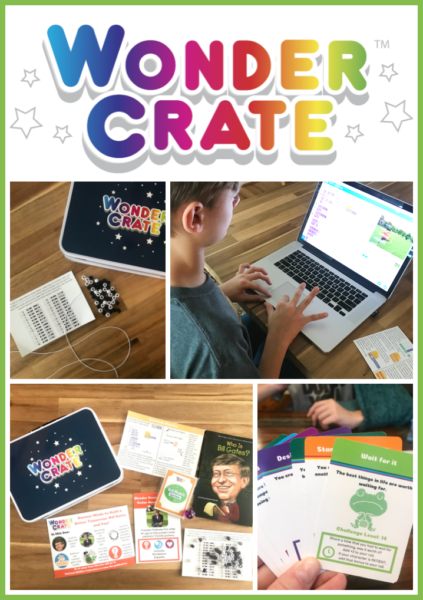 Learning through literature is one of my favorite ways for our kids to gain knowledge. When we can tie-in fun activities that go hand-in-hand with our reading and deepen our understanding on a topic – well, that connection can be priceless.
The past two weeks Kaleb has been working through a new subscription box called Wonder Crate, based on inspirational role models and providing activities that will spark curiosity in kids. We received Curious Minds to Build a Better Tomorrow: Bill Gates and You!
Each Wonder Crate is based on three core areas –
A BOOK to Inspire – each Crate includes a book from the Who Is book series.
Activities to Empower – fun activities to spark curiosity and connect children to their own possibilities.
Ways to GIVE BACK – a portion of sales from each box goes to a child that is making a difference.
What's Included in Wonder Crate
Wonder Crate is targeted toward kids that are 7-11 years old. Our youngest son is 12 (6th grade), but his current reading level is right on target for this program. EachWonder Crate includes the following:
A Who Was book to introduce kids to brave, forward-thinking role models.
Fun activities to spark curiosity and connect children to their own possibilities.
Stories of kids their own age that are making a difference.
A collectible "Roll Models" card game to make inner exploration FUN.
A subscriber email with additional resources and links to videos for families.
The first month of the subscription program also includes a metal carrying case and fun decorations for your Wonder Crate.
Our Thoughts on Wonder Crate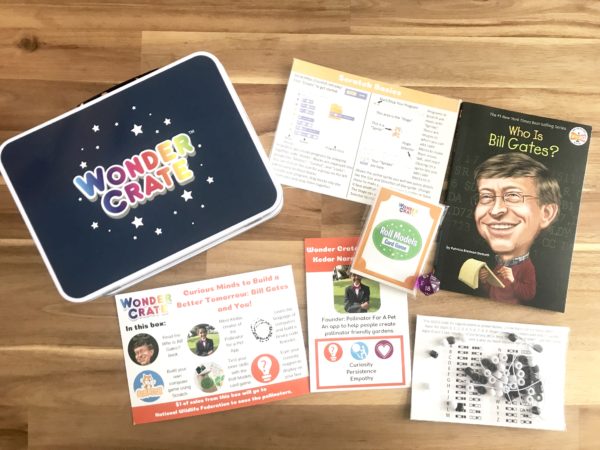 I am a huge fan of the Who Is / Was series, and we have read through several of the books with our kids. For those that are struggling readers, they are a perfect length and not too overwhelming, but chocked full of great information on influential leaders in our world, both past and present.
The first step for us was reading through the Who Is Bill Gates book that came in our Wonder Crate. Since we were learning about the life of Bill Gates, our activities focused on coding and computer activities: creating a binary code bracelet, creating our own games using scratch, the roll models game, and learning about the young inventor of the month who has created his own app.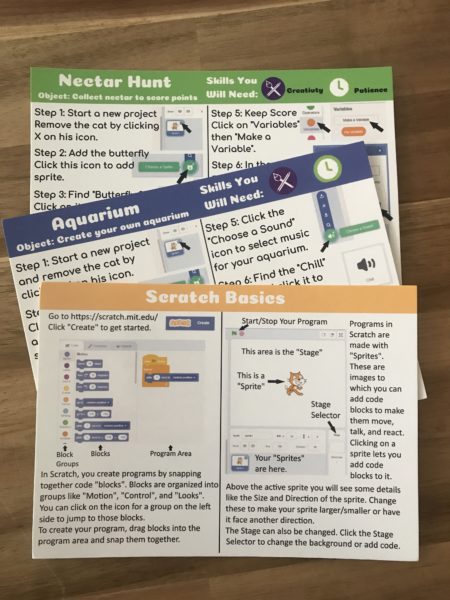 The scratch activities were some of Kaleb's favorite activities (mine too). Wonder Crate provided three step-by-step scratch programs for us to create from simple animation to an interactive game.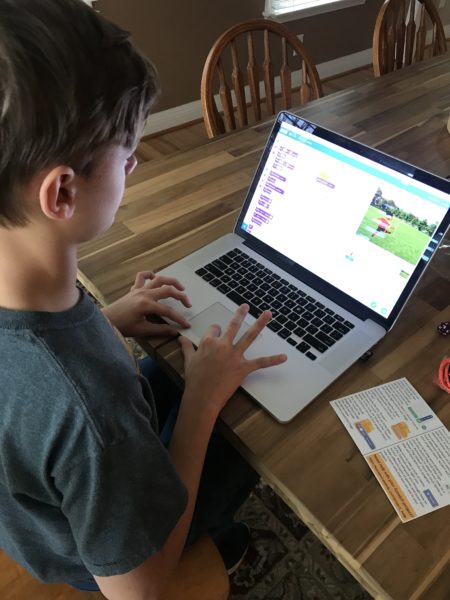 Kaleb started with the simple animation scratch activity, and this is one that turned into a more extended activity for us. He used the card to create the animation and then decided to mix it up a little more by changing the background and having his character kick a ball into a goal. From there we added in an additional character and had them kick the ball back and forth as well as had the activity "reset" when we pushed a specific key on the keyboard. (I'll admit that I was really having fun with this one too!)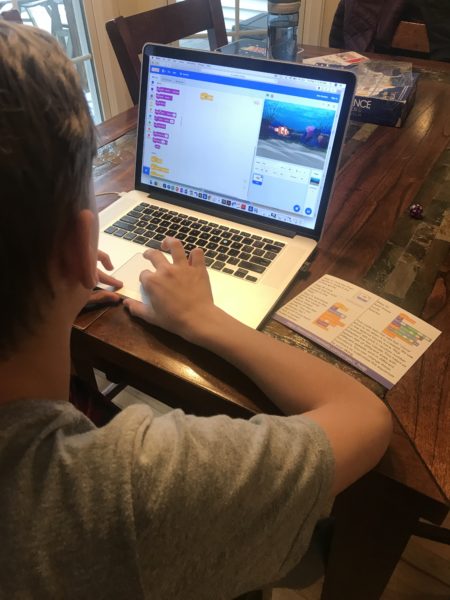 The second scratch activity we worked on showed us step-by-step how to create an aquarium and animate fish to randomly swim across the screen. Kaleb learned how to add sound and change "costumes" on the fish, filling his aquarium with fish of various sizes.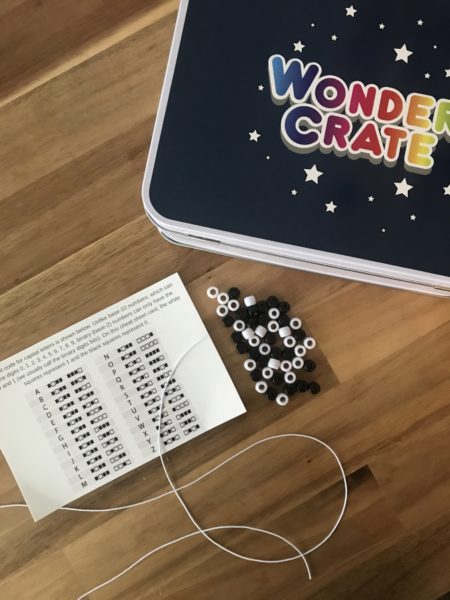 Our crate also included an activity (and video link) to learn about binary code. Instead of spelling out his entire name, he chose his initials and made a smaller bracelet.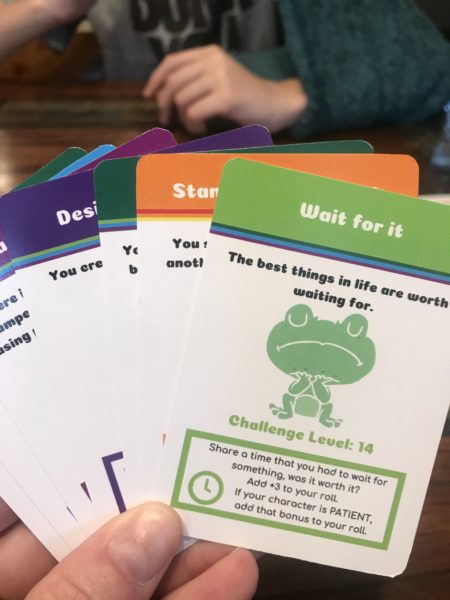 Each Wonder Crate comes with the Roll Models game that isn't quite as much about "winning" as it is about being more aware about our actions. Players roll a multi-sided die (many more than 6!), draws a card from the pile, and answers the challenge question.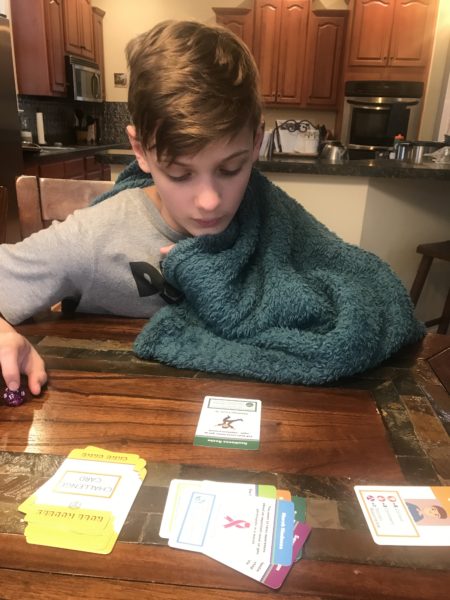 Each of the questions requires a little thinking and the opportunity for kids to share a real life experience and tie-in their learning. It's a great opportunity for conversation and encouragement. Kids can earn points based on their answers, but we didn't keep score – the conversation was better.
Overall some of the activities were easy enough for Kaleb to complete on his own, but a few required a little more assistance from me (the scratch activities online, for example). Younger kids would likely need a little more assistance in working through their Crate, but truthfully I had just as much fun as Kaleb working through our Wonder Crate – and may have worked on one of my own animations when he was done.
Subscribe to Wonder Crate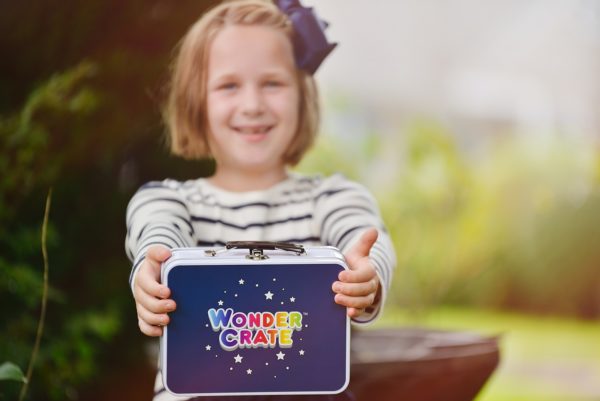 Wonder Crate offers single crates, or a monthly subscription option of 1, 3, 6, or 12 months. Choose the option that works best for your family and your Wonder Crate will be on the way to your home! Bundled options offer additional savings if you choose to prepay.
If your family is interested in adding Wonder Crate to your homeschool time, be sure to use the coupon code HOMESCHOOL and get 15% off a 3,6 or 12 month subscription. Please note – if you would like the Bill Gates Wonder Crate, orders must be placed by February 15, 2019.
Single boxes and tees are also available in their store https://www.wondercratekids.com/shop/all/