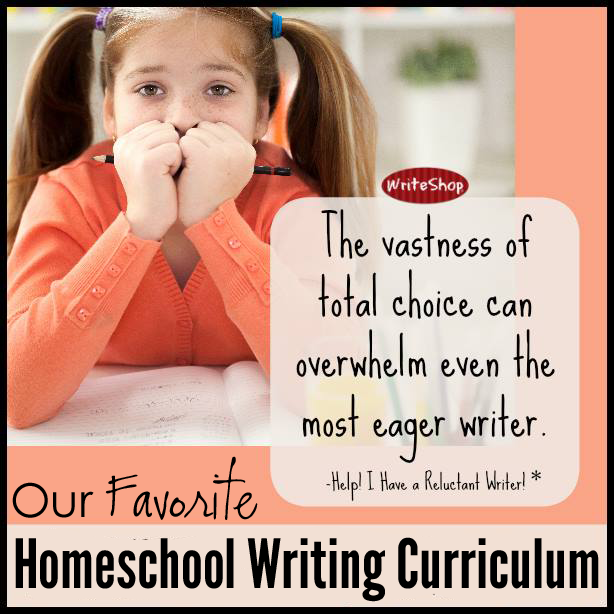 There was a time period many years ago where both of our girls hated writing. All the joy, fun, and creativity had been sucked out of that subject thanks to me and the belief that writing could only be done one way (thank.you.very.much), and there was no wiggle room allowed.
(I was desperately wrong, in case you were wondering).
Many of us get caught up in the 'right way' to teach something (or maybe that's just me), and in the process we often forget that learning should be fun and something our kids desire to do. When the creativity literally shriveled up in our girls, it was a moment when I realized we needed to stop and bring the life back into a subject that was dry, dry, dry – and make it fun!
Enter WriteShop…
We picked up a set of holiday StoryBuilder cards from WriteShop before one Christmas break and suddenly, based on three little prompts, the writing floodgates opened and stories began to pour out of our girls. Notebooks were filled (and kept going and going) in just a short timeframe. The love for writing returned.
Ironically, we already had one level of WriteShop on our shelf, but I had put it aside for something else (hello, shiny). We pulled that book back off the shelf, ordered additional levels, and haven't looked back since! WriteShop has become the writing program of choice for our children, and one that I wholeheartedly recommend to other families.
A Solid Writing Base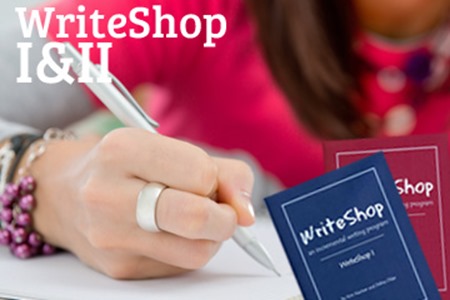 This year, Laurianna (11th grade) has been taking dual credit English classes at our community college that require a lot of detailed writing assignments. I'll admit that at first I was nervous – would she be able to handle the requirements?
In her sixth and seventh grade years, she completed both WriteShop I and WriteShop II and went on to work through three years of a high school literature program in which I based the writing rubrics off our time with WriteShop – and you all, she has been SO prepared! The foundation those two years gave her were truly the core of her writing.
Not only did the WriteShop I and II programs prepare her, they prepared me as a teacher to truly instruct her in the writing process (from essays to research papers), evaluate her work, and offer constructive feedback. As I mentioned before, the grading rubrics were highly instrumental in our high school literature program as well and helped in various co-op classes when needing to provide instruction and guidance to those students.
Really truly, the one thing that I keep repeating to my high school lit classes – being able to write a strong paper is one of the most important things in education. Choosing words carefully, writing a persuasive argument, proper spelling – writing is a part of almost every facet of our lives!
A few words written poorly can make all the difference, and I want our kids to have a strong writing background, which I know they will thanks to WriteShop.
I'll also admit that the teacher's guides in the WriteShop 1 and WriteShop 2 levels have greatly spoiled me. The grading rubrics and instructions are very clear – such a huge help to a busy homeschool mom, and the step-by-step program is easy to follow for both students and teachers.
Something for EVERY Grade Level

While I've shared much of our love for the WriteShop I & II programs, they truly have a writing program or tool for every grade level, and it's never too late to jump in and start. Our younger children are also using their programs (Junior and now WriteShop I), and we have worked through all the levels of their programs in recent years. We really love it that much!
From grades K through high school, there is truly something for each of the children in your home to use.
FREE Writing Prompts
Don't miss their FREE writing prompts either! These are a fantastic way to get a peek into the WriteShop programs – and get hooked as our family did! From elementary through high school, there are mini-lessons, story prompts, word prompts, and programs to encourage and help even the most reluctant writers! Here are a few reviews that's I've written in the past:
Writing doesn't have to be another chore you add to your homeschool day. It can be fun and productive – and inspire your family to creative writing for years to come.