Eight years ago we made a mid-year math switch and started using Teaching Textbooks. It's been a decision we haven't regretted and love to this day, especially now that they have added a *new* feature – online subscriptions!
While I am typically a "have the book and disks in front of me" kind of mom, the new online feature became a necessary component for us this past year. Our oldest needed a new laptop, and we purchased a Chromebook for her. No CD-Rom. For a bit, we were having her work on a laptop here at home, but that quickly became an issue because she couldn't bring that laptop back and forth to her classes at the community college with her – and the laptop was also falling apart (literally).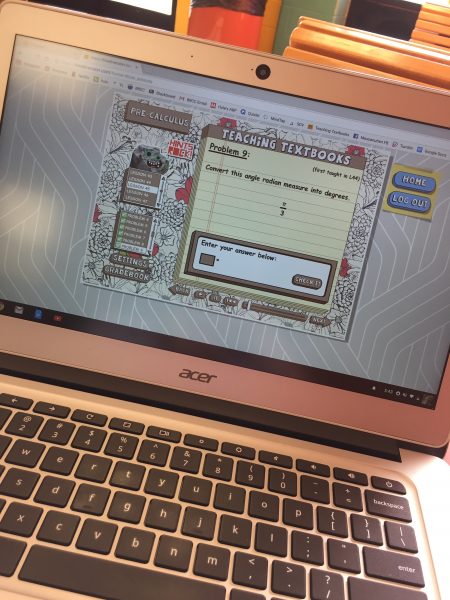 She started getting behind her math schedule which frustrated her. Needless to say, when we found out Teaching Textbooks was scheduling the release of their 3.0 online version, we were rather excited!
Here's the thing: version 3.0 has all the great qualities Teaching Textbooks is known for, but now has the added features of being online, accessible from any wifi, and yearly subscriptions! It's the best of everything rolled up into a convenient format. There's more too, but that's just a quick look.
Why We (Already) Love Teaching Textbooks
We already love Teaching Textbooks as our math program. Hands-down it is one of the best curriculum choices we've made in our eleven years of homeschooling. We've been using their programs for a little almost eight years now, and that alone should speak volumes. Here are a few reasons why we love it so much.
The lessons are all taught via the program, meaning you as a mom get a break! Each lesson has an instructor who walks kids through the concept being taught, works through sample problems, and then kids work on daily problems.
Each lesson is self-graded. There is no grading needed by mom or dad. Period. The lessons automatically let kids know if they were correct and score the overall lessons and tests.
Extra chances have been huge for our kids! When we first started the program, it was one of the things that helped make math FUN for the girls and not frustrating. If they made a mistake, they could take a second chance and try again to get the problem correct.
Lessons can also be "re-set" if kids are really struggling with a concept. You can delete answers to single problems or all of the problems in a lesson and give kids a do-over.
Print gradebooks anytime. Maybe I'm not the only one who struggles to keep up-to-date records on subjects, but Teaching Textbooks grades it all for me, and gradebooks can be printed off at any time.
The program provides constant review. Once a topic is taught it is reviewed in subsequent lessons. One additional helpful feature is problems reference what lesson a concept was learned, so kids can flip back to the lesson and review if needed.
Features to Love in 3.0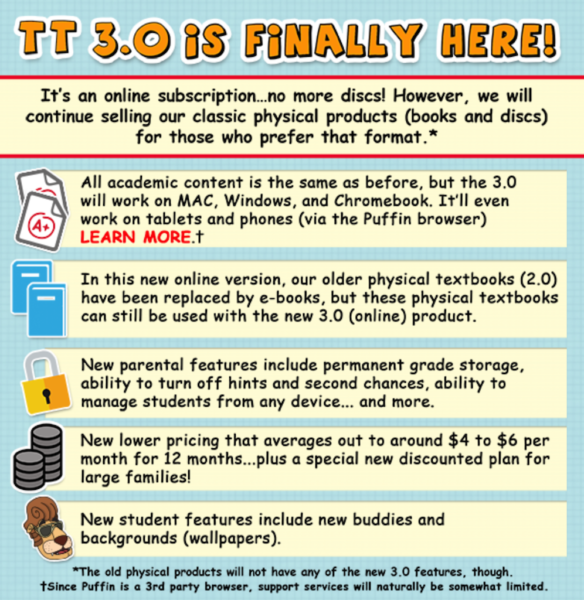 In addition to the above, the Teaching Textbook 3.0 online versions offers even more!
ANYWHERE access. If you have internet access, you can work on math. The kids may not be as thrilled to hear this, but it is a great feature.
No disks or books to carry around. My boys are famous for causing covers to magically disappear from books. The 3.0 version has an ebook that can be viewed in a different browser window or even printed off if you choose. One thing I love about this: I can pull up my browser and flip back to a specific lesson we may need to review a concept on while working on a problem on one of the kid's computers. More than one person can be logged into the account at a time.
Grade storage. We won't talk about how many computer issues we've had over the years and how many hard drives I have in a drawer (for real). With the 3.0 version, Teaching Textbooks stores your grades for you, even after your subscription is over. You don't have to worry about where that grade book disappeared to. They've got you covered.
The programs work on MAC, Windows, and Chromebooks. Tablets and phones can be used as well with the Puffin browser (3rd party browser, support limited). For our family, the Chromebook aspect has been HUGE this year and having the 3.0 version has been a lifesaver!
You can "pause" your subscription – each subscription lasts for 12 months (per student, per course). Each subscription also allows for 90 days' worth of pause time. You may activate the pause any time you choose, but you must use at least 7 days of pause time before unpausing.
No more disks to lose/scratch. While our girls kept things all neat and tidy, the boys have been a little harder on their curriculum. With online subscriptions, we don't have to worry about losing a disk (or having that excuse!) and not being able to complete a lesson
BETTER PRICING – Whether you have one child or eight, the subscription prices are lower than purchasing the physical products AND if you have a larger family (up to 8), their is a price cap of $199.08. The more kiddos you have – the lower the cost!! Read more about the Teaching Textbook family plan here.
p.s. if you still want to use the textbooks and CD-ROMs, you can still purchase those. :)
Try Teaching Textbooks 3.0 for FREE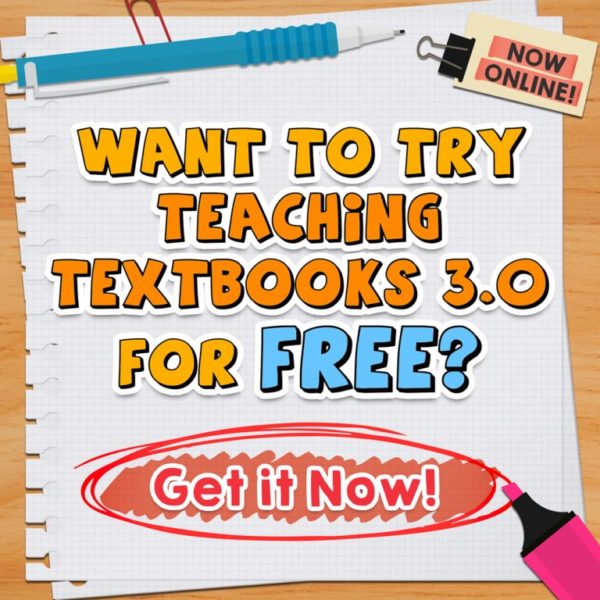 If you'd like to test out the 3.0 version, you can start a Free Trial of the complete program, up through Lesson 15. The trial includes lectures, solution, eBook, and grading on each of the products. If you decide to purchase the full version, everything transfers over for you! Learn more HERE.
Not sure where to start? Download and print a placement test online.
Win a Subscription to Teaching Textbooks 3.0
We'll be sharing more of a step-by-step through a lesson with Teaching Textbooks 3.0, but want to get you all a bit excited about this new release – AND offer a giveaway to go along for ONE FREE SUBSCRIPTION (any level) to Teaching Textbook's new 3.0 version. The Rafflecopter widget below will give you instructions below, and includes the option of the free trial as well. :) Because it is an online platform – everyone can enter, provided they are 18 years of age or older. Giveaway ends Monday, July 30th at midnight EST.