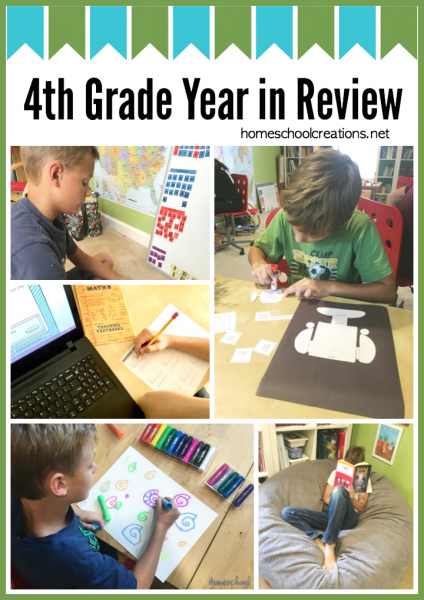 It is always VERY helpful for me to sit back and reflect via a few blog posts on what worked (and what didn't work) during our homeschool time. While sometimes I can be really hard on myself in some areas, it's always good to see where we can improve in areas – or where we really excelled.
Looking back also helps me with my overall look at the upcoming year too. You can see all of our curriculum choices in the linked posts, but I wanted to focus this post more on Kaleb's 4th grade year and how everything worked out overall.
Patience and determination – those are the two words that I think of most to sum up Kaleb's year. I've shared quite a bit about our struggles and celebrations over the last year, but those two really hit home for me this year. Sometimes it's the little things that matter most and leave the biggest impact.
Our 4th Grade Plan
Here's a look at what the overall plan was for 4th grade…
Science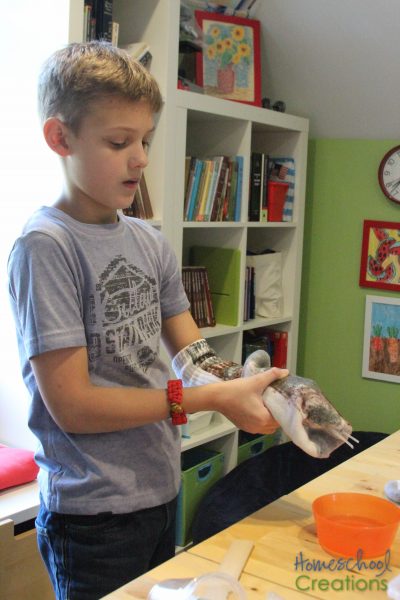 While we didn't start out with a formal curriculum for this area, it was an area that we moved to having more structure. This is probably one of Kaleb's favorite areas of learning, so we started using A Reason for Science (Level D) in January.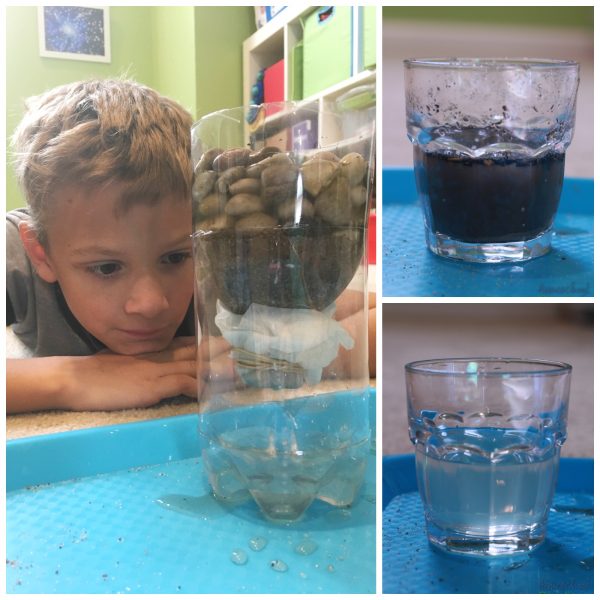 We also worked on quite a few projects and experiments with Little Bits, Insight to Learning, and several other hands-on extras. Kaleb LOVES these hands-on projects! Next year we will be switching over to a more formal year-round science program, Nancy Larson Science 4 (not grade level specific) and I'm hoping to add in several of the Tinker Crates from Kiwi Crate.
Reading & Spelling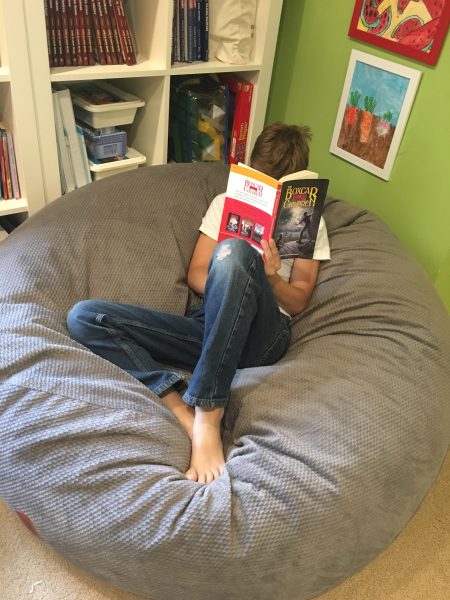 This is probably the BIGGEST area of achievement for Kaleb over the past year. Truthfully, I'd call this year a success no matter what based solely on the progress made in this one area and wouldn't care how any other subject area went. That may sound off, but reading has been the hardest struggle for this boy and one that led to tears (from both him and myself) but also huge celebration.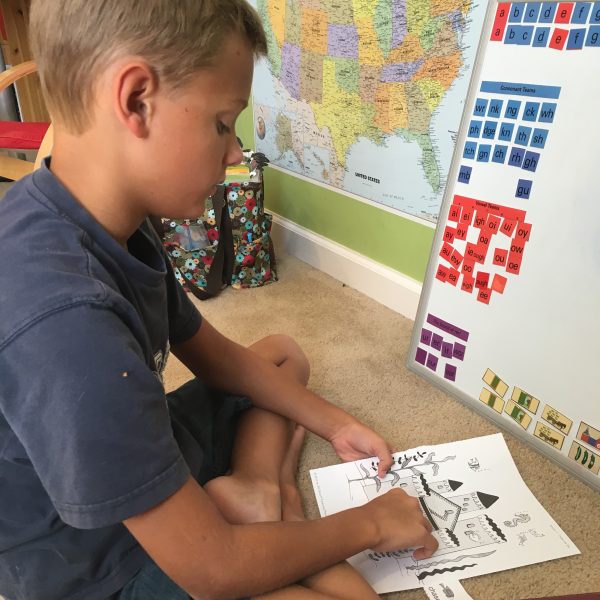 We didn't finish our entire reading curriculum (the plan was to work on Level 3 and 4 ofAll About Reading) – and that's ok! We're going to continue on with it next year and move at the pace that Kaleb is comfortable with. The big thing is – KALEB READ TWO CHAPTER BOOKS! We worked through the bulk of the books on his 4th grade reading list (woot!), but once we moved to those chapter books, he didn't want to go back. That was probably one of the most exciting moments – rather than choosing an easier book, he made the decision to keep going. :)
Math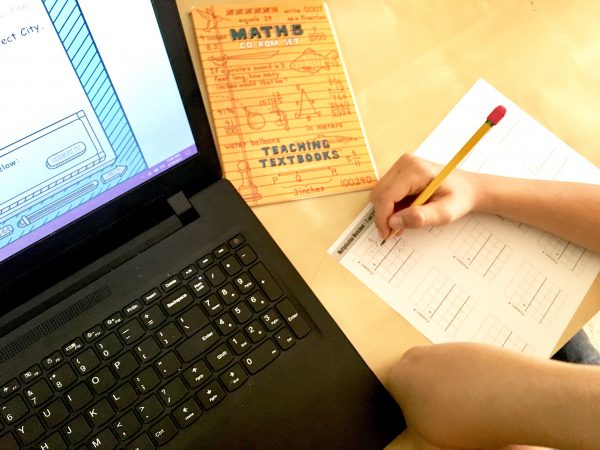 One of the biggest helps for Kaleb this last year was using these multiplication worksheets I put together to keep those numbers lined up. Teaching Textbooks Math 5 worked wonderfully for us (as always) and we will continue on with the next level next year.
History & Geography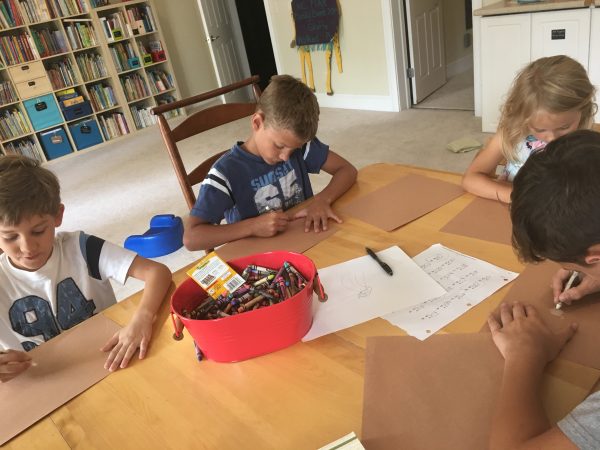 This year another friend and I used the same history program and once a week a few of her kids and our boys would work on related projects together. Sometimes we cooked. Or learned how to fold a flag together. Traced the path of Lewis and Clark. Or built miniature teepees together. Overall – SUCH FUN! But things are always more fun with friends, right?

While we didn't cover as much geography as I would have liked, we used a variety of printables, our Little Passports, and other hands-on materials and did manage to get around the world quite a bit. This is definitely an on-going area that will carry over into next year.
Grammar/Language
So there aren't many pictures to share of grammar, because diagramming isn't that exciting for many, eh?

Periodically we also spent time working on Ivy Kids Kits. Sometimes it was a simple activity like creating a puzzle or a writing activity, and other times we had a chance to play with some fun new art products. For us it's very reminiscent of our Five in a Row work, but also another excuse to cuddle up with a good book together. :)
Writing

We love using WriteShop and I realized this is about the only documented image I have from this last year. One of the best parts about the program is the hands-on aspect it offers, other than just 'writing.' Early on kids learn the process through different means and it ties in so well with our grammar program as well.
Bible
Quite honestly, this was one area we decided to let go early on. Between what the kids are doing at church (I love our children's ministry) and
Art

Art has been and continues to be one of Kaleb's favorite areas. While we didn't do quite as much as I would have liked to do this year (we skipped some of the lessons in our Home Art Studio dvds), we will definitely continue with both the structured lessons next year as well as impromptu ones such as our fun with Kwik Stix.
Handwriting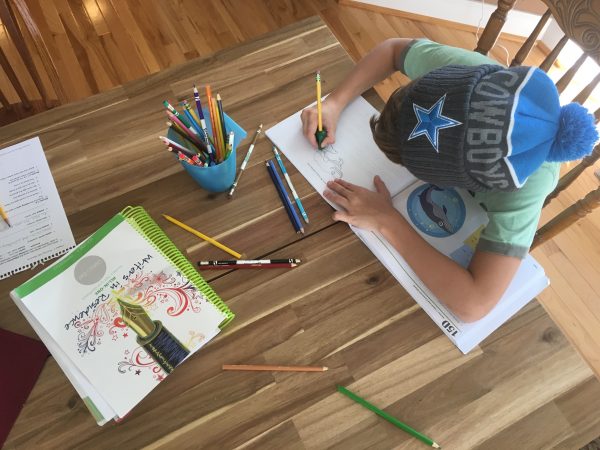 One of Kaleb's favorite additions this year was Spelling You See C. We used this primarily as our handwriting program and also for additional reading practice. He loves the daily practice and it has also been great for him to work on daily identifying various vowel blends and additional reading and dictation work. Definitely planning to keep this on our list for next year.
Co-op
This past year we participated in only one co-op group. The chance to get together is so much fun, especially when we have the chance to work on a few classes that we might not put in our normal day. Different classes Kaleb had this year were Five in a Row books and Spanish.
The kids were also a part of a year round swim team until the end of February when my energy began petering out. Kaleb is one of our strongest swimmers and truly loves it, but it involves a lot of driving and time in the evenings, so sometimes finding the balance is tough!
I'll be sharing our year end review of 6th, 8th, and 10th grade soon, so be sure to check back – as well as our plans for the upcoming year as well!
New to Homeschooling?
If you are new to homeschooling and aren't sure where to begin in choosing homeschool curriculum, I have some helps for you! Check out the entire Homeschool Basics series for answers to more frequently asked homeschool questions.
Curriculum We Used This Year
Click any of the images below to see our homeschool picks for the 2016-17 school year. You'll also find links to past years choices in each post.