I'll admit that this year I was a little anxious about how McKenna would fare taking high school credits. While she was almost completely independent her 7th grade year in most subject areas, her load was going to increase quite a bit and with that – her stress level – and this is a girl who gets overwhelmed quickly. Typically it isn't ever as bad as she believes it is and she settles down, but it can be rough going for a little bit.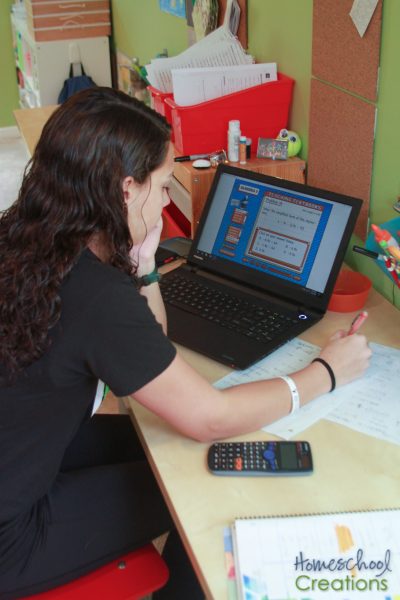 The first few weeks were hard and required copious amounts of patience on my part as she tried to find her own balance. About 4 weeks into the year is when she found her rhythm – and this momma was able to exhale. Granted we still have days of craziness, but she is very dedicated to her studies and doing well, and truly I am so proud of this girl!
8th Grade Homeschool Curriculum Choices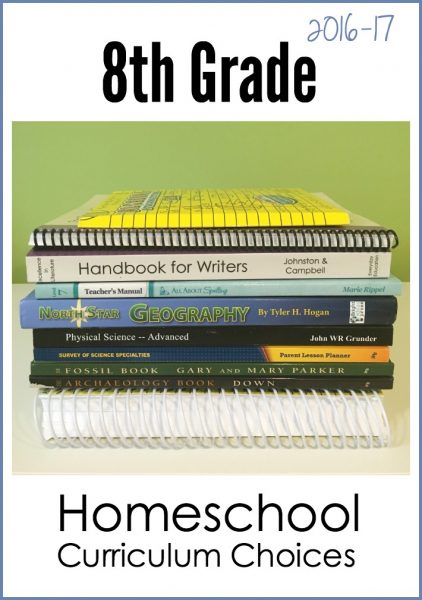 Credits to earn: 5.5
Latin – Overall McKenna is LOVING Visual Latin (probably her favorite class by far). She is happily flying through spelling at this point as well.
Geography – While memorizing maps with North Star Geography isn't necessarily a favorite thing of hers, this girl excels as memorization and is doing very well with the class.
Literature/Writing – I'm take a minute to brag on McKenna – she is a fabulous writer! I know her literature load has been heavier this year than in years past, and involves many books she'd probably rather pass over, but her insight and writing capabilities have far exceeded what I thought she had in her (and I LOVE that surprise!). I definitely credit WriteShop in prepping her the last few years for these assignments.
Math – Not necessarily her favorite class. At all. She is very thankful for Teaching Textbooks, but not a fan of Algebra. Period.
Science – The physical class, while challenging for her, is definitely more fun with friends! This is one class we meet together with a few other families each week and another mom teaches the group. The hands on projects have been fabulous (we used this same program with Laurianna and loved it). McKenna has finished the Archaeology part of her science and will be starting the next book this month.
Spelling – Level 6 of spelling is done – woot!
Swim – We've wrapped up our swim season for the year – PHEW! – but it has been wonderful to see McKenna push herself even harder this year in this area. She is discovering the strokes she loves and her new coach also had her try some things she didn't necessarily want to do, and shockingly she even liked some of it. Because the back and forth travel was getting a little overwhelming for us (separate practices for the boys and girls), we decided to stop after our most recent meet and the kids will pick back up with summer league in May.
Click any of the images below to see our homeschool picks for the current school year. You'll also find links to past years choices in each post.