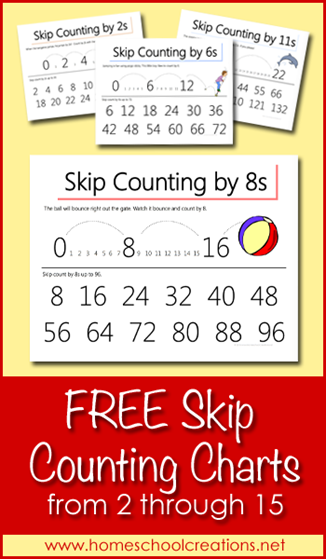 This year our skip counting charts will be making a reappearance during our homeschool time. We're moving into more multiplication facts and a certain 3rd grader can use help to make sure he has his facts down well.
Why skip counting? Essentially, skip counting helps our kids learn the concept of multiplication and gives them a great foundation for grasping math facts. Once they have mastered skip counting by 3's, it is easier to grasp the concept of 3 x 4.

The skip counting charts cover the numbers from 2 up to 15. The number pages up to 12 each have a little 'rhyme' at the top, show how skip counting with that number works, and then skip counts up to whatever 12x that particular number would be.
The numbers 13, 14, and 15 do not have a rhyme, but each number skip counts to a number that is the same as the number being counted: for example 13 x 13, 14 x 14, and 15 x 15.
Hope these are a help to you!