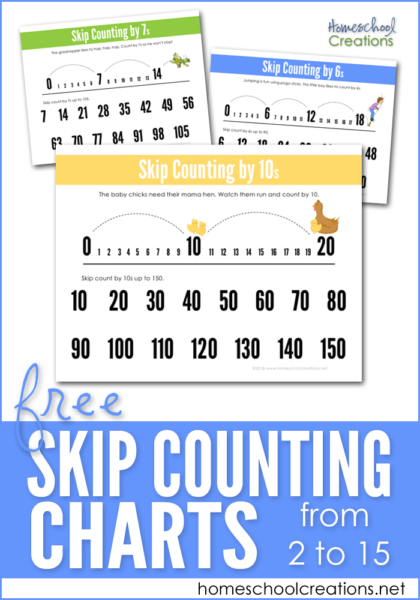 * file updated 10/17/18
Our skip counting charts have been in our classroom over the years in one way or another, either as posters for our morning board routine, or more recently we have printed them out postcard size (four to a page) and on a jump ring for handy reference.
Let's face it, sometimes multiplication facts can be a little tricky.
Why skip counting? Essentially, skip counting helps our kids learn the concept of multiplication and gives them a great foundation for grasping math facts. Once they have mastered skip counting by 3s, it is easier to grasp the concept of 3 x 4.
The skip counting charts cover the numbers from 2 up to 15. The number pages up to 12 each have a little 'rhyme' at the top, show how skip counting with that number works, and then skip counts up to whatever 15x that particular number would be.
The numbers 13, 14, and 15 do not have a rhyme, but each number skip counts up to the number 15 (per reader request for their Classical Conversations study).
Hope these are a help to you!

*updated October 2018 to reflect multiplication for all tables up through multiples of 15.